Damon Wilson was the name on everyone's lips after his knockout performance at CW 126, back in August in San Diego.
"The Nomad" delivered the first finish of the night, knocking out John Buttner in the second round of the two's featherweight clash, earning Wilson another chance to perform on Cage Warriors, at the upcoming CW 130 card in San Diego.
"My camp has been good;" Wilson tells Cage Warriors ahead of his fight with Theodore Macuka on Sunday, "I'm always in camp.
"I train full time, I'm trying to do this for a living so I'm in the gym every day and not a whole lot changes as far as camp goes.
"I just keep working and improving!"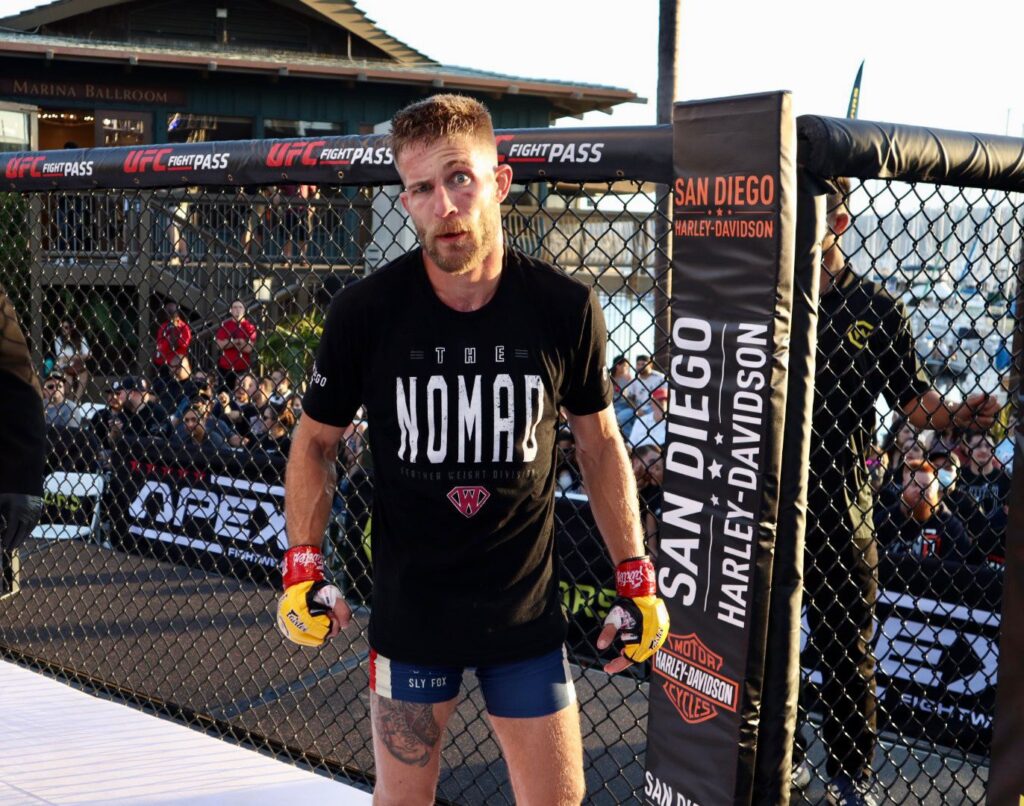 Wilson brought a big following out to CW 126, labelling themselves as "The Nomad Army" and on the announcement of his fight, took to social media to voice their support for Wilson: "I've only been out here (California) for a year and a half, maybe two years, and I've been able to meet a lot of people in the community.
"I've got a good base around me here in San Diego and I have a lot of people who travelled in from back home in Illinois and some people from other states as well to see me in action.
"I had a little more support than I expected last time and I'm hoping to have more people there this time.
"I'm looking forward to the event, Cage Warriors is doing a phenomenal job with these shows!"
Wilson is a self-professed fight fan, revealing he hasn't missed a single UFC event in years, and when asked if he had looked at who else is in the featherweight division, told Cage Warriors he had actually watched the previous Trilogy series: "Cage Warriors produces a lot of good fighters.
"My goal is to get to the highest level which is the UFC and try to make a run there. Whatever it takes to get there, I'll do it.
"If that means winning the Cage Warriors featherweight title then I'll hunt that down.
"I tuned into the Trilogy last week…the featherweight title fight was a fun one to watch.
"I'm starting to keep my eye on some of those top guys and I'm looking forward to following in the footsteps of the likes of Paddy Pimbleet and Conor McGregor!"
The atmosphere of those shows enthralled Wilson, and he revealed that given a chance, he'd love to fight in the UK: "The atmosphere was wild with that balcony setup!
"If I showed up in that arena (York Hall), I dare say I wouldn't get the support that I do over here.
"But I'm not opposed to that, especially if it means winning Cage Warriors gold!"
Looking closer to home and nearer the future, Wilson gave a prediction ahead of his fight with Macuka at CW 130: "I have all the respect for my opponent for stepping in there.
"I'm blessed to have someone to agree to step in there…but he doesn't make it out of the first round!"
Wilson fights on the prelims of CW 130 on Sunday, starting at 6:30pm PT live on UFC Fight Pass and Cage Warriors' global broadcast partners.