France's Karl Amoussou will face Manchester's Matt Inman for the vacant Cage Warriors welterweight championship of the world in the main event of CW80 in London on February 18.
In the lead-up to Cage Warriors 80 we sat down with welterweight title challenger Karl Amoussou during a promotional video shoot to get his thoughts on his upcoming title bout with Matt Inman.
Karl spoke about his desire to capture Cage Warriors gold and earn a spot in the UFC, and also opened up on the situation with MMA in his home country of France, and why he's opted to represent Germany instead.
Below is a full transcript of the interview. Limited standing tickets are available here: http://bit.ly/CW80tickets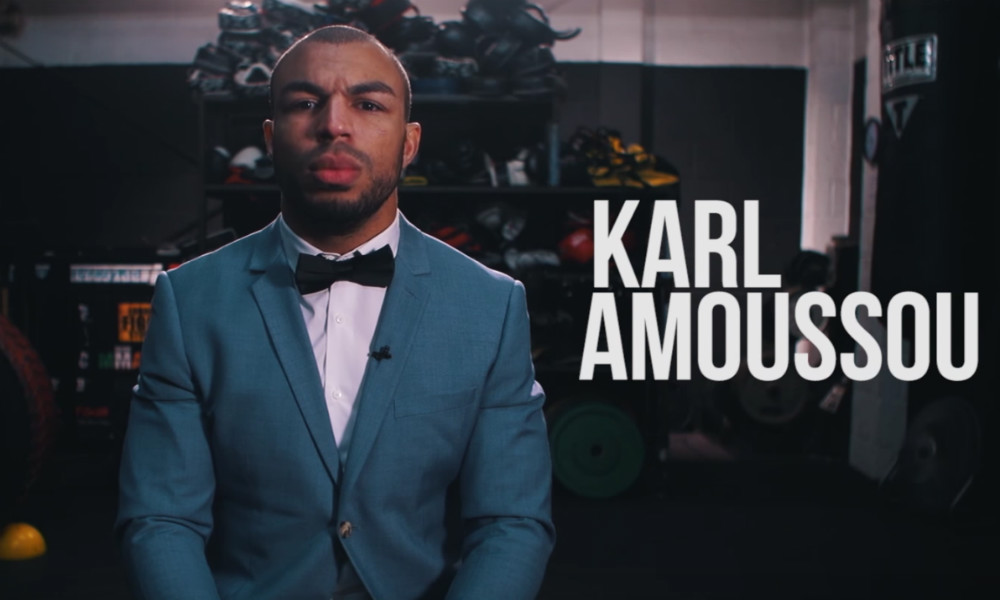 HOW HAS TRAINING GONE FOR THIS FIGHT?
Training for this fight has been absolutely amazing so far. I feel great. I have been training non-stop for almost a year now, so I really feel like I am in the shape of my life and I am really going to show an absolute crazy display of skills.
HAVE YOU BEEN ADDING ANY NEW SKILLS TO YOUR REPERTOIRE IN THIS TRAINING CAMP?
I am always adding new skills to my repertoire. It is like I am constantly evolving and now you are going to see new things. You are going to see an improved version of Karl Amoussou with better boxing, better ground game, better everything.
WHAT WOULD YOU SAY IS THE STRONGEST AREA OF YOUR GAME?
Definitely my ground game. My BJJ has really improved over the years, but I really feel like I'm really well rounded. As you can see when you look at my stats I can finish a fight anywhere, anytime, and often in a very brutal way. That's what's going to happen.
A LOT OF FANS HAVE SAID MATT INMAN IS VERY GOOD ON THE GROUND AS WELL. HOW DO YOU THINK YOU COMPARE?
He's good, I think he's very good on the ground, but I am better. I have never been submitted, he has been submitted three times. I have submitted so many people. Basically if you put anybody on the ground with me it's over for you, it's finished, I'm going to submit you. So you better stay standing but if you stay standing then you're going to get knocked out. The moment you accept the fight you know its over for you, or you should know because that's what's going to happen.
YOU'RE ON A SIX-FIGHT WIN STREAK AT THE MOMENT. HOW CONFIDENT ARE YOU THIS WILL BE NUMBER SEVEN?
I think you can tell how confident I am, how confident I feel. I feel great. I feel unstoppable.  All my wins have come through finishes. My last six fights have finished in a very brutal fashion, quickly against strong opponents. It's just going to continue this way, and I'm ready for it. He better be ready for it as well.
FIVE OUT OF YOUR LAST SIX STOPPAGES HAVE BEEN IN THE FIRST ROUND. DO YOU THINK FANS CAN EXPECT AN EARLY FINISH ON THE NIGHT?
I think fans can expect an early finish indeed, but I'm ready for five rounds, ready for six rounds. Wherever the fight goes I'll be ready, I'll be ready for the best version of Matt Inman and he better be ready for the best version of 'The Psycho", because that's what he's going to have in front of him. I'm coming there to finish him, and I'm coming there to finish him in Round 1, Round 2, Round 5, whatever. But I'm going to finish him.
THE FIGHT TAKES PLACE AT INDIGO AT THE O2. ARE YOU LOOKING FORWARD TO FIGHTING AT SUCH A LANDMARK VENUE IN LONDON?
I am definitely looking forward to fighting in The O2. I think it's a huge arena, it's really famous and I'm really happy to be fighting there.
DO YOU MIND HAVING TO FIGHT AWAY FROM MAINLAND FRANCE?
To me it absolutely doesn't feel like I'm fighting away from home because it's super close to France and many of my people in France are in London. My wife grew up here so I have half of my family here in London. Loads of my friends, my Brazilian friends, my English friends, they are all here. So many people are going to come and watch the fight from France, England and Germany as well, so to me it's going to feel like I'm fighting at home. Plus I absolutely love England and London so it's as good as fighting at home.
COULD YOU EXPLAIN THE SITUATION WITH MMA IN FRANCE AND WHY YOU'VE CHOSEN TO REPRESENT GERMANY RATHER THAN FRANCE?
I am definitely representing Germany now. I have both nationalities, French and German, because my mother is German. MMA has officially been forbidden in France, so as a sign of protest and I'm just saying 'OK, I won't represent France anymore. If you don't accept us, if you think we are bad people, why would I fight for you guys if you don't respect me or my sport?' I'm going to give my skill to a country that respects my sport. That's what I'm doing now. It doesn't mean France is not in my heart, France is always first in my heart obviously. But I just don't accept submitting to these political things, I just refuse. I am not happy, because I love France, France is my country. Germany is my country too but I was born in France, grew up in France so France is number one in my heart. I would love to represent France in MMA but they don't let me, so I'm not going to beg anyone, I'm not a beggar. I'm not going to beg France to accept me. If they don't want me then OK, bye.
HOW WOULD WINNING THE CAGE WARRIORS WORLD TITLE CHANGE YOUR CAREER?
I definitely think if I win the world title I'm going straight to the UFC, I'm pretty sure of this. I should be there already, I think many people know it. I've shown it, you can just look at my past fights and my experience, that's the place I belong and that's where I'm going to be after the win. It's my time, I'm going to get my title and then I'm going to the UFC and I'm going to break everybody in the UFC.
HOW DO YOU THINK YOU WOULD GET ON IN THE UFC RIGHT NOW?
I think I'm going to smash everybody in the UFC when I get there. I'm not going there to say, "Hi guys, how's it going. It's great to be in the UFC!" No, I'm going there to beat everybody up. I'm the best European fighter outside of the UFC right now, I know where I belong and when I get there, there is going to be another story. The fun is going to start.
SO IS THIS THE LAST CHANCE FOR CAGE WARRIORS FANS TO SEE YOU IN ACTION BEFORE YOU MOVE TO THE UFC?
I hope so, because I hope I get the (UFC) contract after this. This could definitely be the last chance for Cage Warriors fans to see me live before I go to the UFC. I can never be sure they will sign me straight after this but, believe me, after the performance I'm going to bring to the table the UFC is going to be wanting me on their roster ASAP.
THERE'S A LIVE SPECIAL GUEST DJ PLAYING BETWEEN ROUNDS. WHAT WOULD YOUR REQUEST BE?
I'm sorry for the DJ because he won't be able to play any music between the rounds, because Matt Inman is going to sleep after Round 1.
THERE SEEMS TO BE NO ANIMOSITY BETWEEN YOU. IS IT HARD TO GET INTO FIGHT MODE WHEN THERE'S NO TRASH TALK?
I have no problem with no trash talking, I can talk trash but to me it's a bit pointless. I have a goal, he has a goal, I think it's the same goal and we are both going for it. We are both training hard doing our job as professional fighters. I have nothing personal against him but he is another obstacle who wants to stop me achieving my goal and that's not going to happen. I don't need to talk trash to know what I'm going to do to him – I'm going to absolutely break him. I don't say that to talk trash but that's what's going to happen because that's what I train for. So he better be ready and he better know it.
CAN YOU GIVE US A BIT MORE BACKGROUND ON YOUR CAGE WARRIORS JOURNEY SO FAR?
Cage Warriors has pretty much been my debut in MMA, I fought for the first time there I think 10 years ago so I'm an old fighter now. I fought there twice and had two wins, both by submission, and I'm looking forward to getting my third win. Cage Warriors was a great experience and I'm coming back 30 fights later for the belt. It's a pretty cool experience for me.
WHAT WOULD IT MEAN TO LIFT THE CAGE WARRIORS BELT OVER YOUR HEAD?
Lifting the Cage Warriors belt will be absolutely amazing. I fought for Cage Warriors 10 years ago. I was an absolute beginner, I was a young 20-year-old guy, I could barely speak English and now I'm coming back with all my experience and my level has really improved. I'm going to lift that belt, it's going to be mine and I feel great about it.
HOW DID YOU GET INTO MMA IN THE FIRST PLACE?
I started MMA at the age of 18 after doing judo for 15/16 years. My older brother started teaching MMA – he was my judo teacher at the time too. When he switched to teaching MMA I followed him too and I was completely in love with MMA. I was a massive fan of Wanderlei Silva at the time and that's pretty much how I started.
HOW DID YOU FEEL WHEN YOU FIRST STARTED TRAINING AND STEPPED INTO AN MMA GYM?
The first time I stepped into a gym was cool. It was my brothers judo gym, it was not a shock to me, there was the same mats, the same environment and everything – just a new discipline to learn to get hit because I had never been hit to my face before. It was just a different experience but I loved it from the beginning.
SHOULD FANS AT THE INDIGO EXPECT A DRAMATIC FINISH?
Certainly, fans are going to see a dramatic stoppage. That's what you expect when you have Karl Amoussou on your fight card. I think that's why they gave me to title shot too, they know that's what happens. I'm going to go in there and finish they guy, I'm going to finish him badly… BADLY. You guys better be ready. British fans, I'm sorry it's going to be your hometown guy but I'm going to have my hand raised at the end of the day and I'm going to have the belt around my waist.
IT'S A WELL-WALKED PATH BETWEEN CAGE WARRIORS AND THE UFC. IS THIS THE REASON YOU TOOK THIS FIGHT?
As I've said it's more than my time to be in the UFC, I think I just need that belt around my waist to be one of them and the future will tell us. I'm pretty sure it's going to happen. Cage Warriors is definitely the best way to get into the UFC and that's why I'm here, I'm going to make my way as well.
IS THIS YOUR LAST CHANCE TO EARN A SPOT IN THE UFC?
I'm not at an age to retire yet and I think I've done great for the past two and a half years so no, it's definitely not my last chance.  If it doesn't happen after this fight I'm going to keep breaking people and I'm going to get into the UFC. I won't stop until I get there and when I get there I won't stop until I get to belt.
Limited tickets for Cage Warriors 80 are available via the AXS website, priced from just £20. Included in the ticket price is a free meet and greet with UFC stars including Dan Hardy.
For the latest Cage Warriors Fighting Championship news and updates, keep track of us on Facebook, Twitter and Instagram.