With Europe's Leading MMA Organisation set to return to Italian soil this weekend, what better time to look back at some of the host-nation's biggest triumphs in the famous yellow gloves?
Tickets for CW 158: Rome are available here!
From glorious title victories to standout performances in the face of long odds, Italian MMA is thriving in under the CW banner.
Resident Play-By-Play man Brad Wharton runs down the top 5 Italian Cage Warriors victories!
5: Dylan Hazan vs Josh Reed
Drawing former CW title contender Josh Reed in your promotional debut is a pretty big ask whoever you are, but for the then-undefeated prospect Dylan Hazan, it was a challenge he relished.
Meeting behind closed doors during the lockdown era, the Italian wrestling standout put his mat skills to the test against 'The Crazy Horse's veteran savvy at CW 124.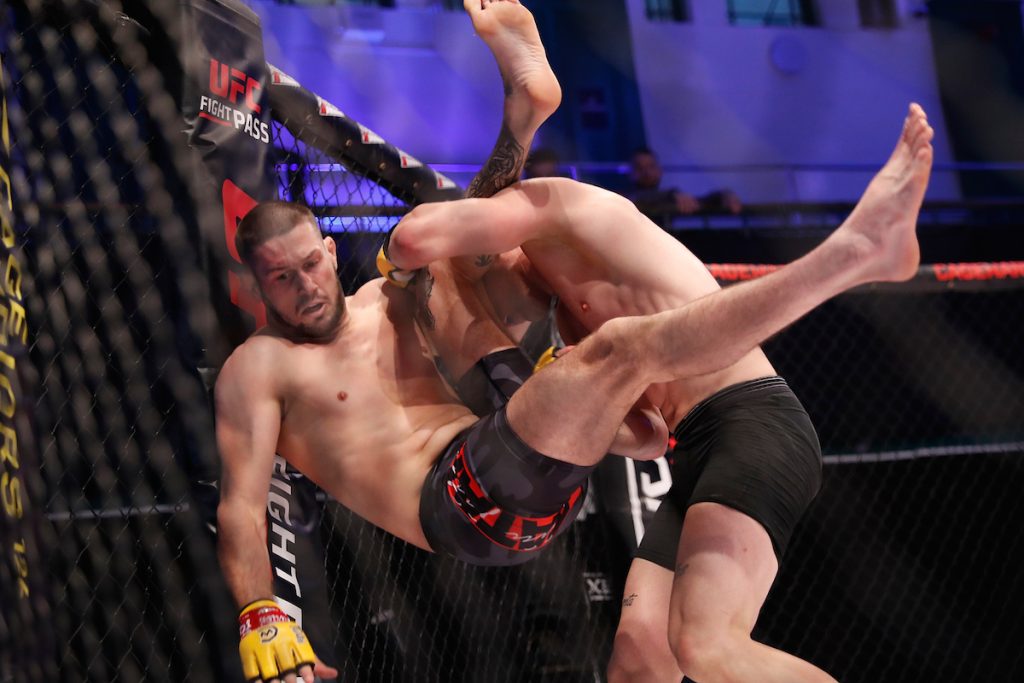 After having his way for the majority of the first two rounds, Hazan was forced to endure a late rally from Reed; it cost him few teeth and a gumshield, but the Italian proved his worth against a more experienced opponent and kicked off a phenomenal CW run.
4: Carlo Pedersoli Jr vs Nicolas Dalby
Speaking of tough debuts, they don't come much tougher than two-time Cage Warriors champion Nic Dalby, on Scandinavian soil no less.
That's what welterweight standout Carlo Pedersoli Jr had to deal with in his maiden bout in the organisation though, and it was a stern test indeed.
After a nip-and-tuck first two rounds, the Italian channelled the spirit of his legendary cinema tough-guy Grandfather Bud Spencer, and dropped the home favourite with a head kick.
While he wasn't able to put 'Danish Dynamite' away, it was enough to separate the pair on the judges scorecards and grant 'Semento' his biggest win to date, attracting the attention of the UFC in the process.
3: Mauro Cerilli vs Karl Moore
There isn't a whole lot to say about this one, as at just fifteen seconds long, it is by some margin the shortest CW title fight of the modern era.
Cerilli had picked up the vacant heavyweight title with an impressive stoppage of Dutch veteran Nills van Noord his previous bout, and with light heavyweight champion Moore moving up to challenge him on 'Super Saturday', the stage was set for a five-round thriller.
Fifteen seconds was all we got though, as Cerilli showed the world exactly why he's known as 'The Hammer', dropping Moore with a devastating punch in the opening exchange.
2: Stefano Paterno vs Mehrdad Janzemini
Mehrdad Janzemini had earned a reputation as a dangerous submission artist ahead of his shot at the vacant welterweight title at CW 95, so it was something of a surprise that Stefano Paterno was seemingly so eager to engage with him on the ground.
Things became clear when the Italian took mount with less than 90 seconds to go in the first round though.
Rearing back for leverage and letting rip on Janzemini, Paterno knocked him out could with a series of vicious ground strikes, becoming the first Italian national since Ivan Mussardo in 2011 to hold CW gold.
1: Michele Martignoni vs Dom Wooding
It had to be, didn't it?
Michele Martignoni's epic five-round war against Dom Wooding stands to this day as one of the most thrilling CW title fights of all time.
Wooding had been kill-shotting contenders left and right as he ran rampant through the division; many thought his power would be far too much for a natural 125lb'er like Martignoni.
'The Italian Thunder' did have to weather an early storm, but after a torrid first round came back to sweep the board against the Englishman and register a massive home victory to cap off Cage Warriors' first card on Italian soil.
Martignoni is back in action this Saturday night at the Fiera Roma, where he will attempt to go two-for-two in CW title fights against flyweight champion Shaj Haque!