They say that commentators have the best seat in the house, which is both true and untrue in equal measure; Schroedinger's Opinion, for want of a better term.
The view is, admittedly, first-rate. The thuds and smacks of kicks and punches, the laboured breathing as world-class athletes push their bodies far beyond anything us 'normal' folk could possibly comprehend; it all feels that little bit more real in the booth.
But at the same time, we're professionals, there to do a job, remain impartial and narrate the physical drama that's unfolding before our eyes, onto your screens.
It's tough because we are, like you, first and foremost MMA fans, and the best thing about this sport is giving yourself over to the rollercoaster of emotional mayhem a truly great fight conjures up.
I feel like I say this every year, but on that front 2022 was a particularly crazy year for Cage Warriors.
Just take a look at our nominees for 'Moment of the Year'; whittling them down to just five was no easy task…
You had the visceral slog of Paul Hughes and Jordan Vucenic's five-round title unification bout, Shaj Haque cementing his status as Europe's top unsigned flyweight, Michele Martignoni completing the Italian Job and Rhys McKee lifting gold in Belfast.
Outside of the official nominees, who could forget George Hardwick's impassioned post-fight interview after claiming the Cage Warriors lightweight title? Or Caolan Loughran's march through Belfast's SSE Arena to the sound of 'Sweet Caroline'?
For me though, one story thread stood out from the bunch: The resurgence of Jimmy Wallhead.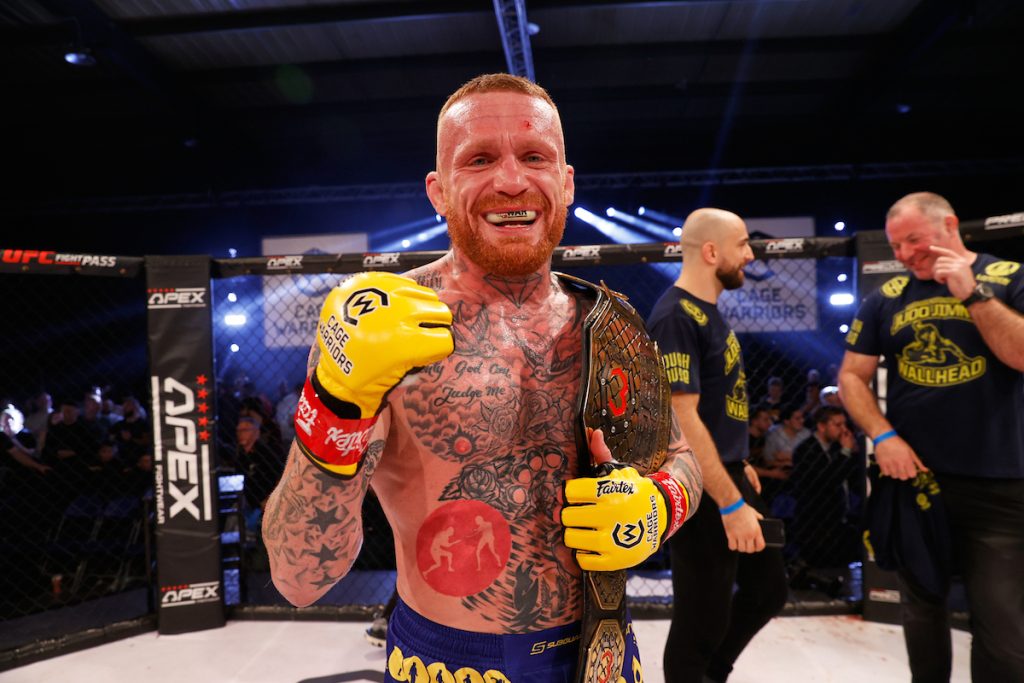 That's not to diminish anything else that happened in 2022, but when stars align in such a manner, you have to sit up and take notice.
Before I was a commentator, a reporter or even a lowly blogger, I was a fan. As anyone who was a fan of European MMA at the time will tell you, 'Judo Jim' was one of the guys. 
MMA is so often a young person's game, and the rate at which it's evolved in the almost twenty years that Wallhead has been active only exacerbates that.
When he fought Danny Roberts in 2014 it felt like a 'changing of the guard' moment; nobody could have predicted that eight years on, he'd be back for another crack of the whip.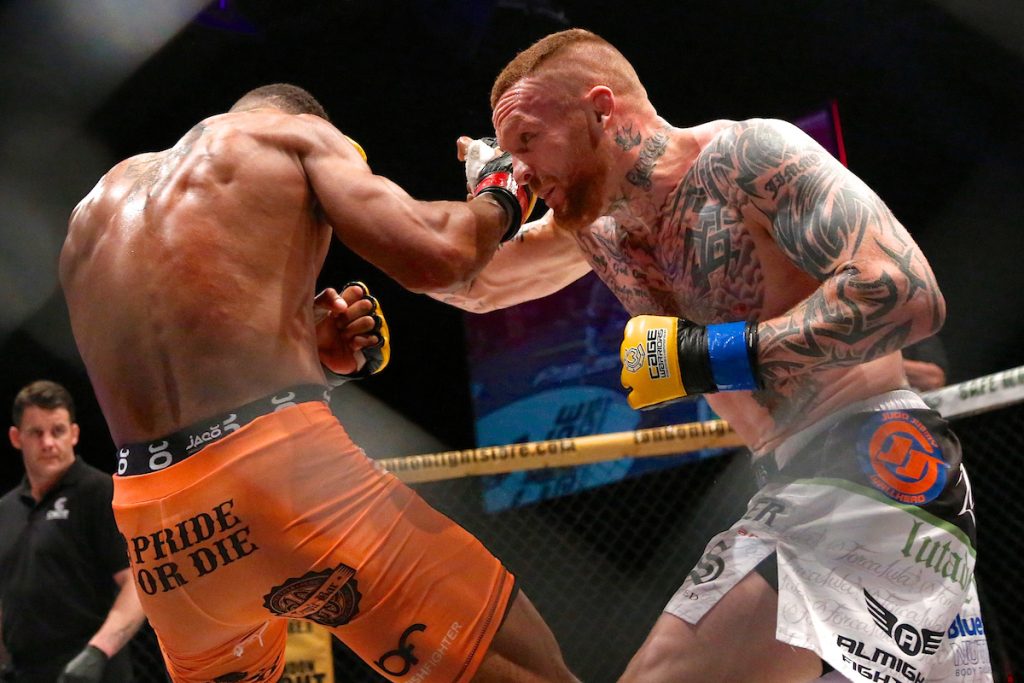 Yet here we are. Wallhead not only came home, he kicked the door off its hinges when he stopped the dangerous and rugged Daniel Skibinski in London last summer.
People started talking. Almost twenty years, over twenty fights in all disciplines, but Jimmy had never fought for the Big Gold Belt.
So, what if?
He was the bookmaker's underdog against a young, hungry Matt Figlak, but then hasn't that been the story of Jimmy's career? Overcoming the odds, dialling back the clock, time and time again.
Never giving up, never saying 'no mas'.
This can so often be an unforgiving sport, but it's that frequent absence of fairytale endings that made Jimmy's big moment in Manchester so special.
2022 will forever be known as the year that 'Judo Jim' became Jimmy Wallhead: Cage Warriors champion, and nobody will ever be able to take that away from him.
It takes two to tango, so let's not forget Matt Figlak in all of this; a worthy title challenger, early in his career; this won't be his last Cage Warriors title fight, you can bet the house on that.
Unfortunately, CW 146 wasn't Figlak's night, but with an incredible 33-11 pro record, Wallhead knows better than most that sometimes you're the hammer in this sport, other times you're the nail.
Of course, it was far from the only memorable moment in 2022.
When Paul Hughes and Jordan Vucenic met to unify the Cage Warriors featherweight titles, London's indigo was filled with unquantifiable magic.
You can sell a fight, but can't manufacture the raw passion that fueled both the fighters and their fans that night.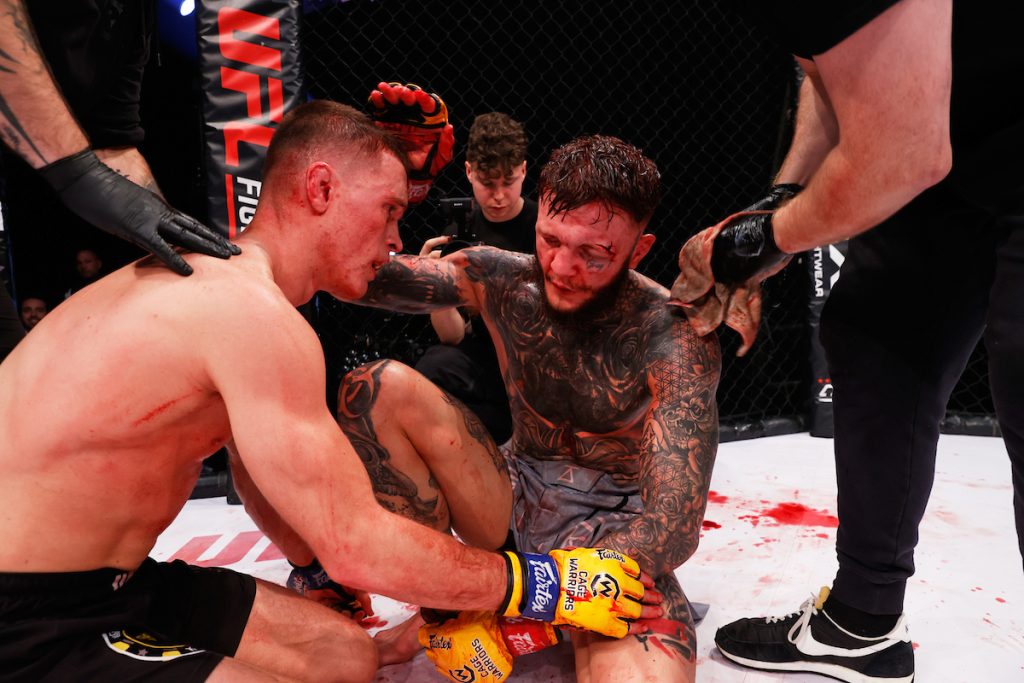 I'm not sure that there's a featherweight in Europe who'd have beaten Paul Hughes that night, and by the same note, I doubt there's a featherweight on earth that'd have made Vucenic quit.
Their rivalry will stick in my mind long after the echoes of the raucous crowd have faded away; one built not on bad blood or name-calling, but of pure, competitive spirit.
Hughes vs Vucenic 2 felt like the biggest fight I have ever been a part of at Cage Warriors, and for that, I thank them.
No reminiscing over 2022 could be complete without a mention of Friday, July 22nd, when we celebrated twenty incredible years of Cage Warriors.
Wallhead's return, Hardwick's coronation, Samuel Bark shocking the world and Reece McEwan putting the bantamweight division on notice; CW 141 had its share of highlights…but much like Cage Warriors as a whole, that night represented something much more than the sum of its parts.
Twenty years is a lifetime in this sport; the UFC itself is only just turning thirty.
Many have come and gone within that time, but CW endures, evolves and encapsulates what, for me, makes MMA in this part of the world so great.
After ten years with Cage Warriors I can confidently say that 2022 was my favourite yet from the commentary booth.
Here's to twenty more for Europe's Leading MMA Organisation, and beyond.