As we approach the halfway point of 2023, it's time to look back at what is already shaping up to be a banner year for Europe's Leading MMA Organisation.
With events in San Diego, London, the BT Sports Studio, Manchester, Dublin and Rome already in the books, Cage Warriors fans have been treated to a host of slick submissions, clean KOs and memorable moments in the famous Yellow Gloves over the last six months.
Having had the best seat in the house for all of them, Play-by-Play commentator Brad Wharton picked out some personal highlights from the broadcast booth.
The world tour started in the Sunshine State, and while the California sky may have been cloudy, Cage Warriors was able to light up the Sycuan Casino Resort at CW 149.
The ageless Wilson Reis pulled off another phenomenal submission victory in the evening's main event, after dropping a competitive first round to Johnny 'Cupcakes' Campbell.
Fight of the Night honours went to the #CertifiedBanger between featherweights John De Jesus and Robert Hernandez though, with the pair slugging it out for three glorious rounds.
Next up, we'll take a whistle-stop tour through London in March, because with two events and three main cards, there was no shortage of action for those who live by the river.
First it was back to the indigo at The O2, as Cage Warriors once again kicked off the biggest weekend of MMA in the UK.
Former champion Jordan Vucenic made a triumphant return in the evening's main event, solidifying his status as one of the most beloved fighters on the roster with another rousing walkout and a seemingly effortless victory over Tiziano Ferranti to cap it off.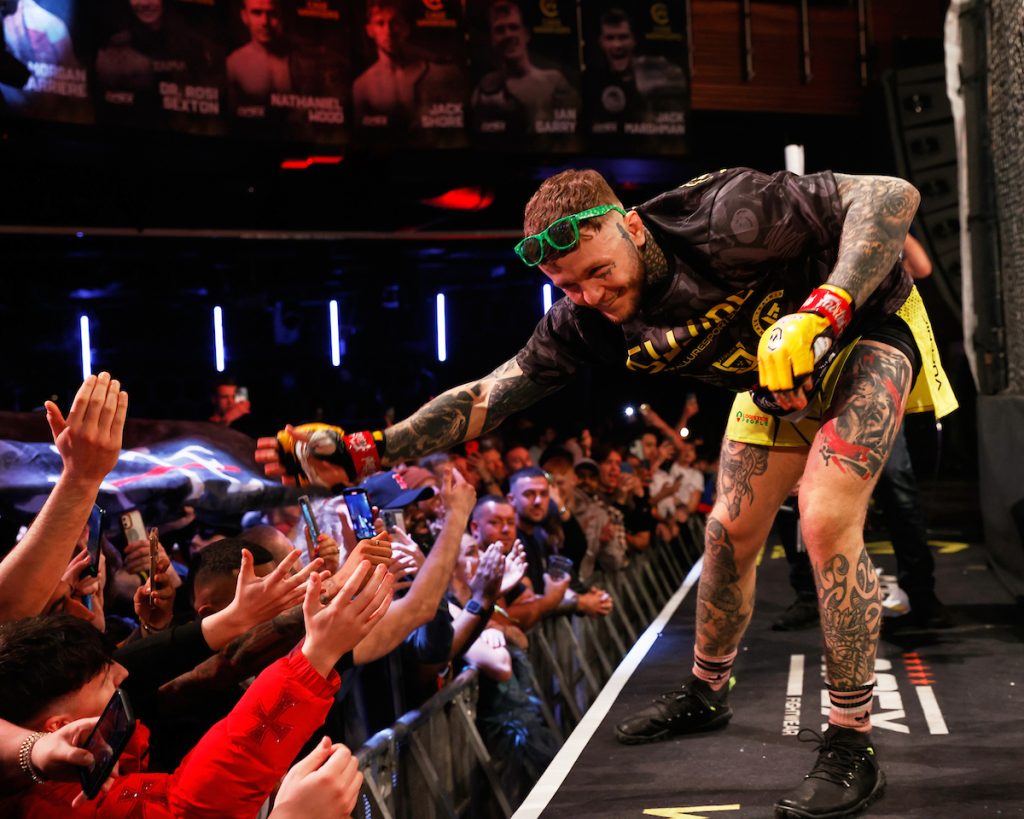 From a bona fide star to a star on the rise, Lone'er Kavanagh once again turned in a finish straight out of the Marvel Cinematic Universe. With CW's resident 'Real Life Superhero' set to return to the O2 in July, I can't wait to see how one of the UK's hottest prospects makes my jaw hit the floor (hopefully metaphorically) this time.
From the O2 to the confines of the BT Sport Studio, and you couldn't throw a dart at the CW 151 card without hitting a mouth-watering matchup.
'The Mighty Mole', Sam Kelly, equalled the CW 'Fastest KO' record, Shawn da Silva became everyone's new favourite fighter with his theatrical antics before, during and after his fight, and Jhonata Silva pulled off this absolute peach of a knee…
The last edition of Unplugged at The BT Sport Studio will most likely be remembered for the epic five-rounder between Will 'Drago' Currie and 'The Huyton Hammer' Mick Stanton.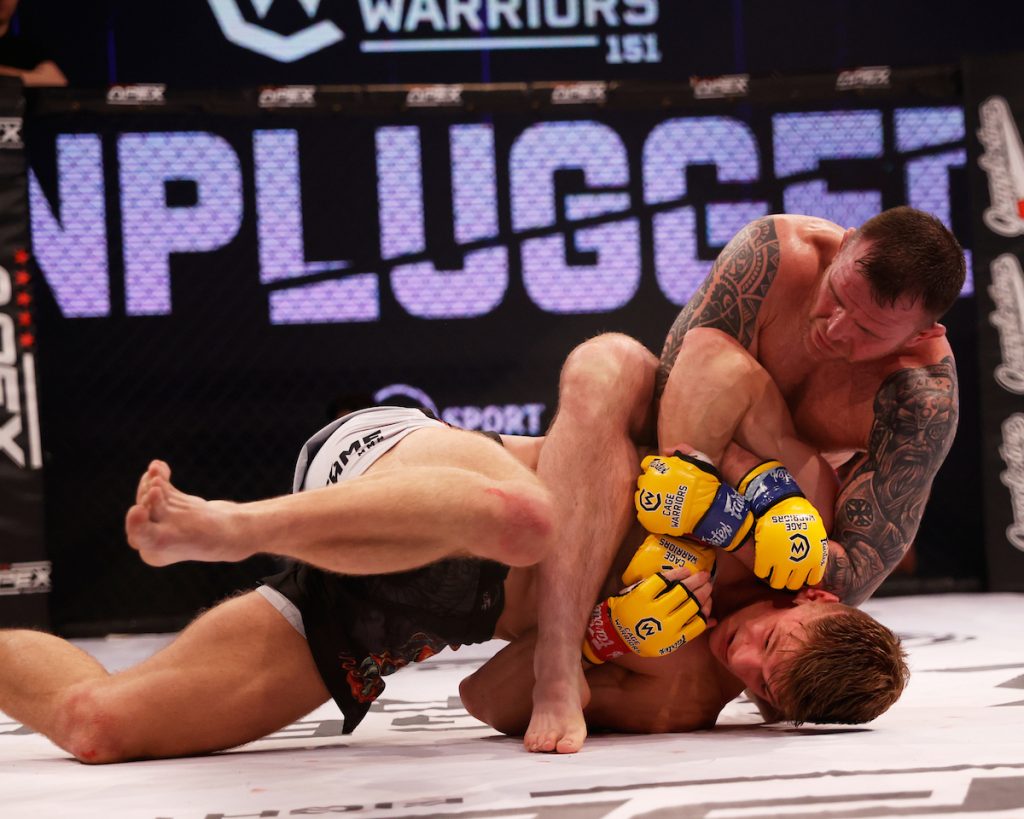 With such a closely contested contest I had to rush home and watch it back immediately…and you should too. It's genuinely one of the more enthralling grapple-heavy MMA title fights I've seen in recent years, with Dan Strauss doing a phenomenal job articulating the action on comms.
Stanton makes his first defence in a rematch against James Webb in July.
"If rain makes Britain great, then Manchester is greater…" or so sang Paul Heaton, and who am I to question genius? Whether it's something in the water or simply a case of the CW roster wanting to prove that Manchester is indeed greater, the BEC Arena has been home to some absolutely ridiculous action in recent years, and CW 152 was no exception.
Lets start with the obvious one…Luke Riley and Callum Parker might just have the 'Fight of the Year' award tied up four shows in with their chaotic three-rounder.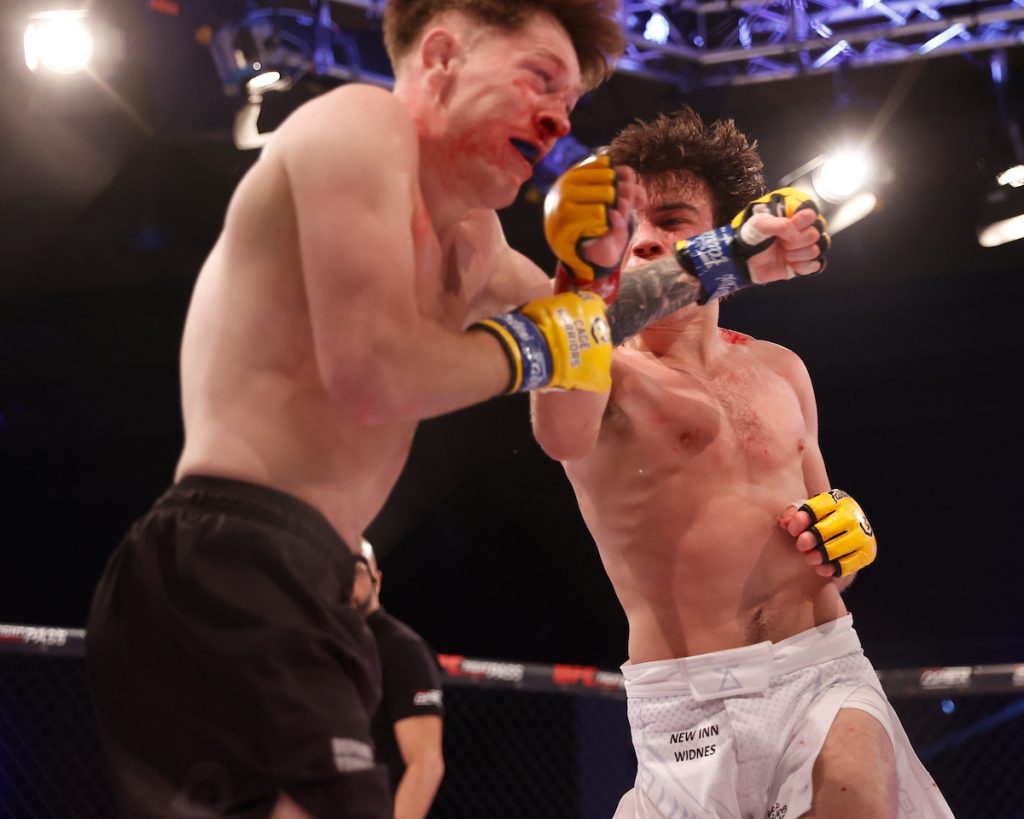 It was fifteen minutes of spectacular violence that certainly got the blood pumping for the rest of the night's action…and there was plenty more to come.
Speaking of those coveted 'End of Year' awards, Dumitru Girlean uncorked what may well be the 2023 'KO of the Year' just four seconds into the final round of his bout with Adam Cullen.
I could hardly touch on Manchester without mentioning what may be the last time we see lightweight king George Hardwick strapping on the Famous Yellow Gloves. Hardwick has been one of the most value for money fighters on the roster in recent years, racking up highlight-reel finish after highlight-reel finish.
After talking him up endlessly as the best body-puncher in Cage Warriors, he did me a solid by going headhunting against Yann Liasse.
'Legend' is a big word, and there are fewer with a bigger legacy in UK MMA than Judo Jim Wallhead. As one legend bowed out at Dublin's 3Arena, a future legend rose to take his mantle, with Rhys McKee unifying the welterweight division.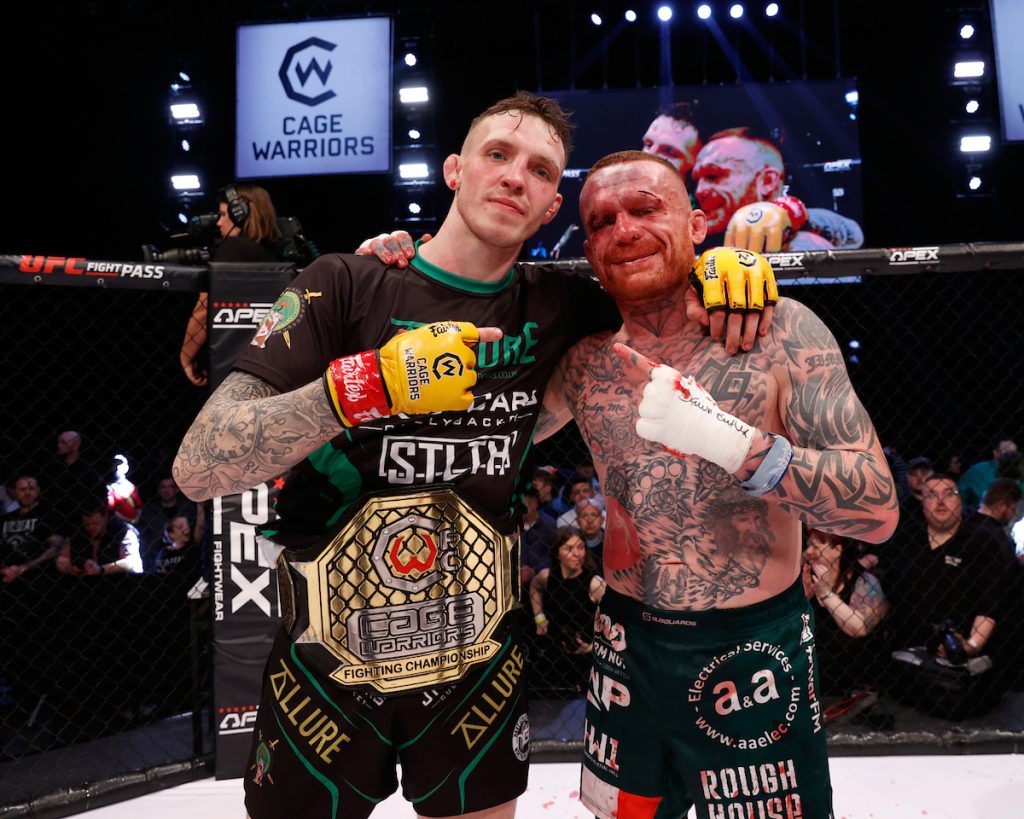 It was an emotional moment for all involved, and one I'll forever be proud to be a part of.
Back to the early award bids now and a Cage Warriors first for me, the rare Bulldog Choke that Nicolas Leblond slapped on Ryan Curtis.
Other highlights from Dublin included Tobias Harila's late stoppage, Adam Shelley's spinning kick and the walk-off knee from Paddy McCorry…ice cold, all three.
"You were only supposed to blow the bloody doors off!!" – So goes the classic quote from Michael Cain's Charlie Crocker in The Italian Job. On May 6th, CW returned to Rome and Dylan Hazan, Caolan Loughran and a few thousand Cage Warriors fans blew the roof off the Fiera Roma.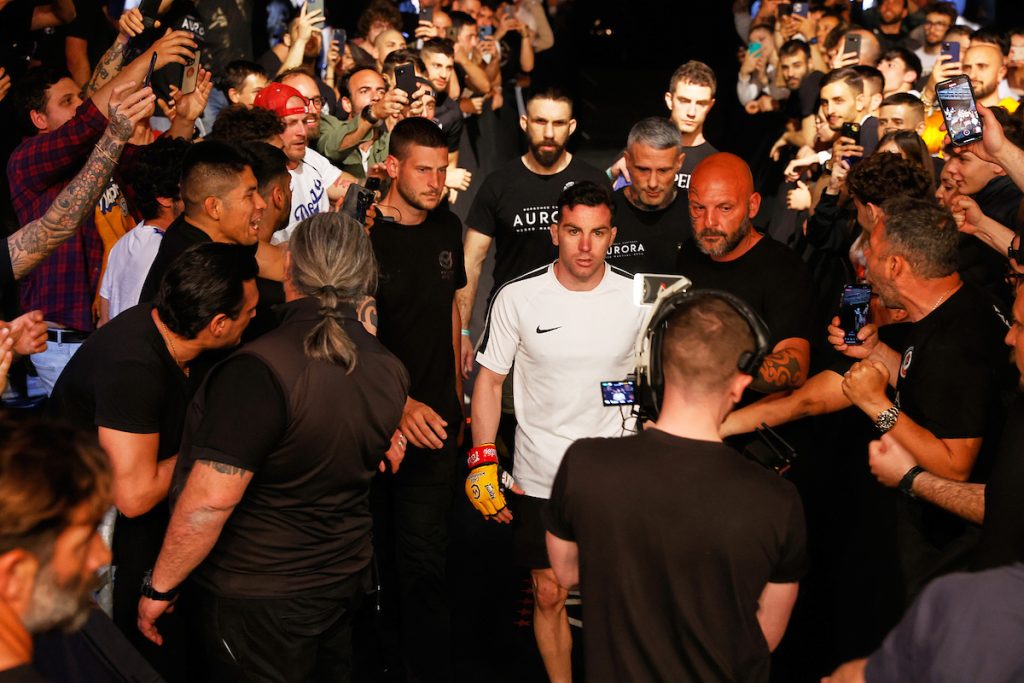 Having missed CW's first trip to Italy last October, I was assured that the local crowd had to be seen (or rather, heard) to be believed, and (bolstered by a contingent of traveling Irish) they didn't disappoint. By the time the main event participants were in the cage ready to crown a new 135lb champion, the atmosphere had hit fever pitch.
What followed was, pound-for-pound, one of the most entertaining title fights I've ever had the pleasure of calling for Cage Warriors.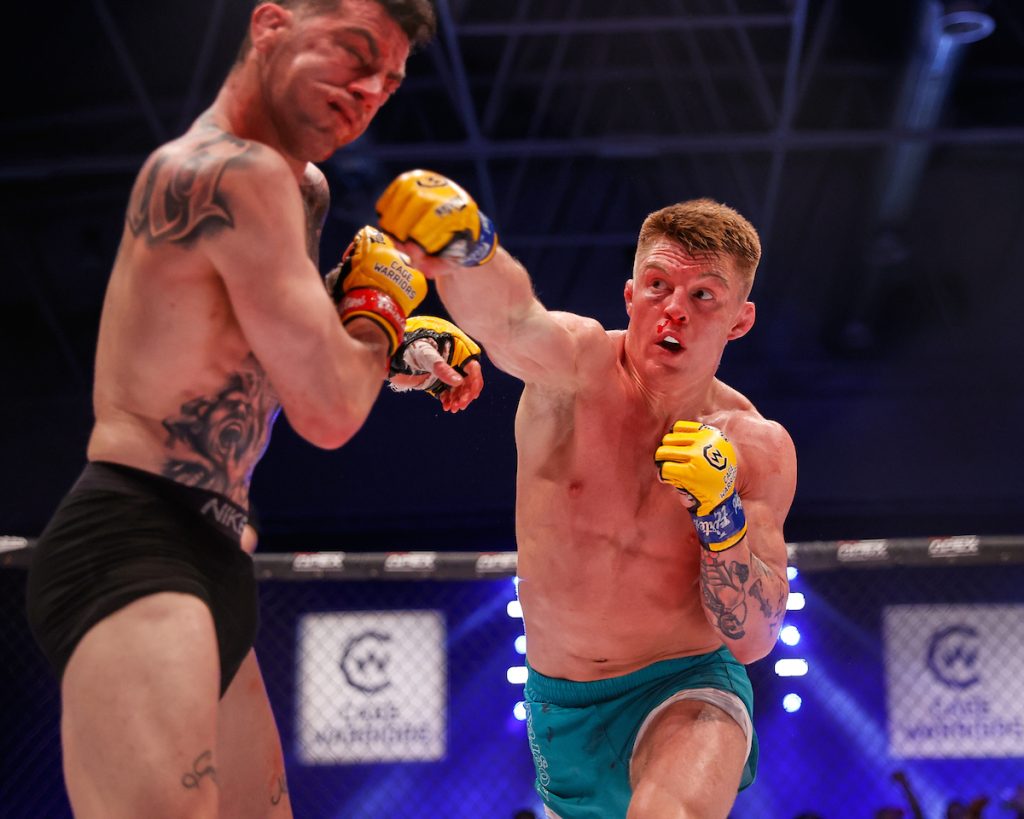 Hazan and Loughran taking each other's best shots on the chin was a sight to behold, albeit not one conducive to a fight that was scheduled for five rounds. Something had to give, and when it inevitably did in the second, Loughran had established himself as perhaps the best European bantamweight outside the UFC.
Cage Warriors returns to Rome on July 29th…whether you're based in Italy or fancy a little summer getaway, it looks set to be the hottest ticket in town.