The Cage Warriors roster has been bolstered by the addition of another crop of talented athletes.
The organisation is pleased to announce that Rory Evans, Jordy Bakkes, Andrew Clamp, Kenneth Evensen and former CW light-heavyweight champion Modestas Bukauskas (pictured) have all signed multi-fight deals to fight exclusively in the yellow gloves.
Bukauskas returns to compete for the organisation following a four-fight run with the UFC. The Lithuanian-born 28-year-old was snapped up after conquering the Cage Warriors 205-pound division in 2019.
Another significant acquisition at light-heavyweight is Englishman Andrew Clamp, who has taken 10 of his 11 professional victories via stoppage.
Welsh bantamweight Rory Evans earns a contract on the back of three consecutive wins, while Jordy Bakkes (Netherlands) and Kenneth Evensen (Norway) will soon debut in the Cage Warriors featherweight division.
"It gives me great pleasure to welcome these athletes to a stable of talent that continues to move in the right direction when it comes to both quantity and quality," said Cage Warriors president Graham Boylan.
"Whether they're established stars or up-and-coming prospects, we are constantly scouting for fighters who are capable of coming in and putting on a show for our fans.
"This latest group of signings demonstrates once again that if you're a fighter on the European scene with ambitions of reaching the very top, Cage Warriors is the place to be."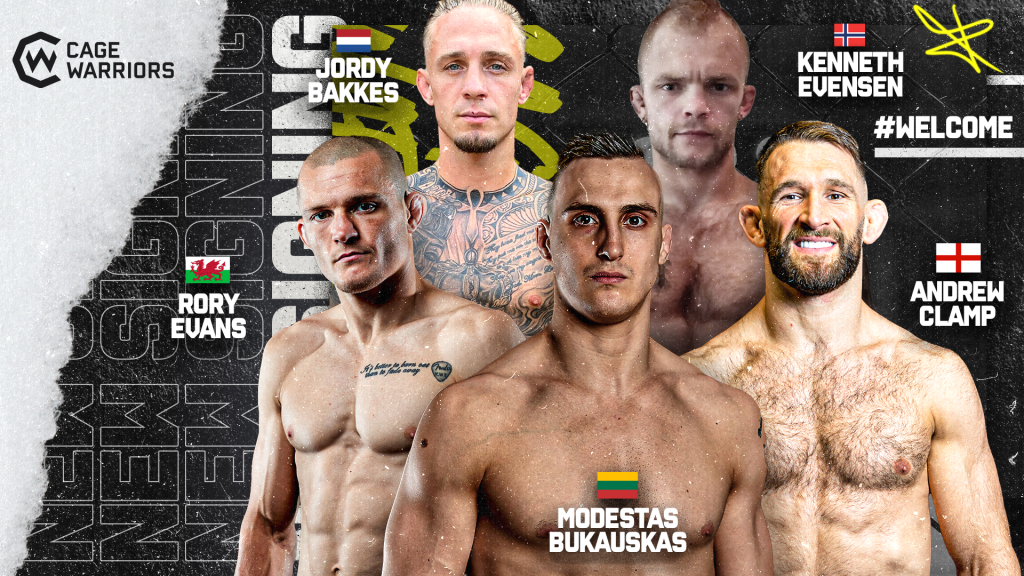 ANDREW CLAMP
Division: Light-heavyweight
Record: 11-1 (1 n/c)
Age: 34
Nationality: English
JORDY BAKKES
Division: Featherweight
Record: 5-2
Age: 28
Nationality: Dutch
KENNETH EVENSEN
Division: Featherweight
Record: 3-1
Age: 29
Nationality: Norwegian
MODESTAS BUKAUSKAS
Division: Light-heavyweight
Record: 11-5
Age: 28
Nationality: Lithuanian/British
RORY EVANS
Division: Bantamweight
Record: 5-3
Age: 29
Nationality: Welsh