Cage Warriors returns to California's Oldest & Luckiest Casino – the Sycuan Casino Resort – tonight for CW 155, the second of four action-packed stateside shows planned for the 2023 world tour.
Set to feature some familiar CW favourites, veteran competitors and a whole host of the hottest up-and-coming talent on the circuit, the sold out CW 155 looks set to continue the high bar set so far this year.
Main Event: Lynch vs Driscoll
CW 155 is set to be capped off by a blockbuster lightweight main event, that could have serious ramifications for the top of the 155lb division.
CW veterans Jamey Lynch and Kyle Driscoll will face off over three rounds in the evening's headliner, and with a combined 8 CW bouts between them, both men know what it takes to get the job done in the promotion's famous yellow gloves.
Driscoll returns to action following a 10-month sabbatical. We last saw the Oklahoma-born battler in July of 2022, when he brawled it out with current CW lightweight champion George Hardwick in a wildly entertaining affair.
He may have come up short on the night (a loss that admittedly looks better with age as Hardwick continues to dominate the weight class), but Driscoll showed an extra facet to his game, boxing his way through the majority of the three rounds and change.
Combined with his high-level wrestling background, it'll be a lot for Jamey Lynch to consider as Friday's main event looms closer; exactly which 'KD' will he have to deal with?
Thankfully 'The MMA PA' is more than happy to mix it up in all areas too. Known largely for his slick, technical takedown entries and Brazilian Jiu Jitsu, Lynch is also in position of a sweet left hook amongst other striking tools.
Coming into the bout as the home town favourite and on the back of a hard-fought decision victory over dangerous KO artist Georgii Eivas in the same venue in March, Lynch knows that a huge leap up the lightweight rankings could be just one slick submission away.
Whether we see a classic wrestling vs BJJ ground battle or a shoot-out on the feet, Friday's main event will no doubt be a wild one while it lasts.
Featherweight Fun Fight Friday
Speaking of wild ones, the meat and potatoes of CW 155's main card is made up of a pair of featherweight bangers.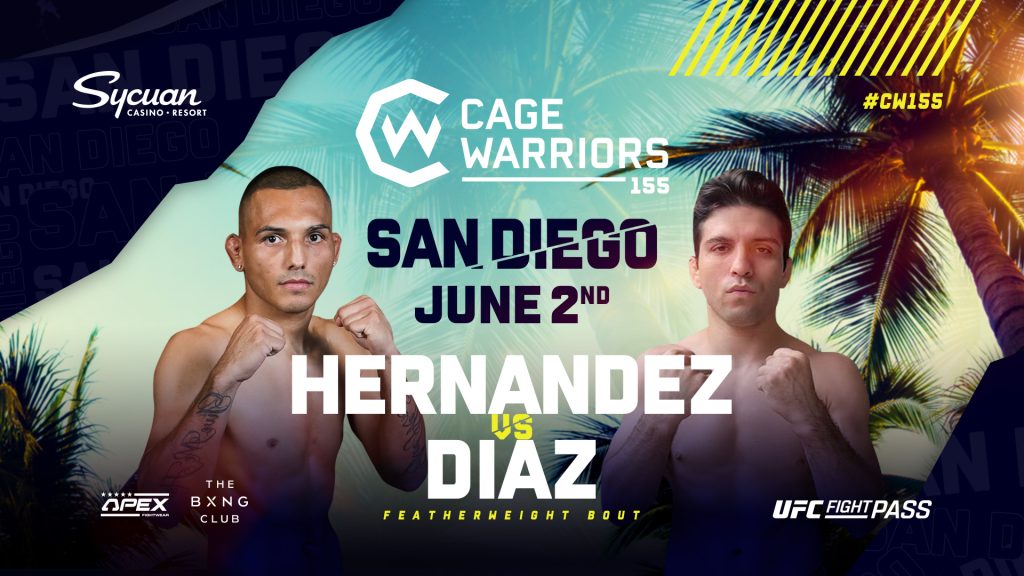 In the co-headline slot, Robert Hernandez (6-1) is on the hunt for his seventh straight victory. With the last four of those taking place under the CW banner, there's no surprise that insiders have him tabbed as one to watch.
A student of MMA legend Joe 'Daddy Stevenson', Hernandez goes into Friday's bout off the back of a 'Fight of the Night' performance against John De Jesus (more on him in a moment) that had the Sycuan crowd on its feet back in March.
Looking to end his momentum is a CW newcomer in Moses Diaz (5-0).
The LAB project is undefeated as a professional and has only gone the distance in one of nine career bouts, a career-best points victory over Juan Porto last October.
Odds are this one does not see the final bell.
One fight fans do hope sees the final bell (purely because of how much value for money both men are in the cage) is what promises to be an all-out war between John De Jesus (15-11) and Damon Wilson (6-1).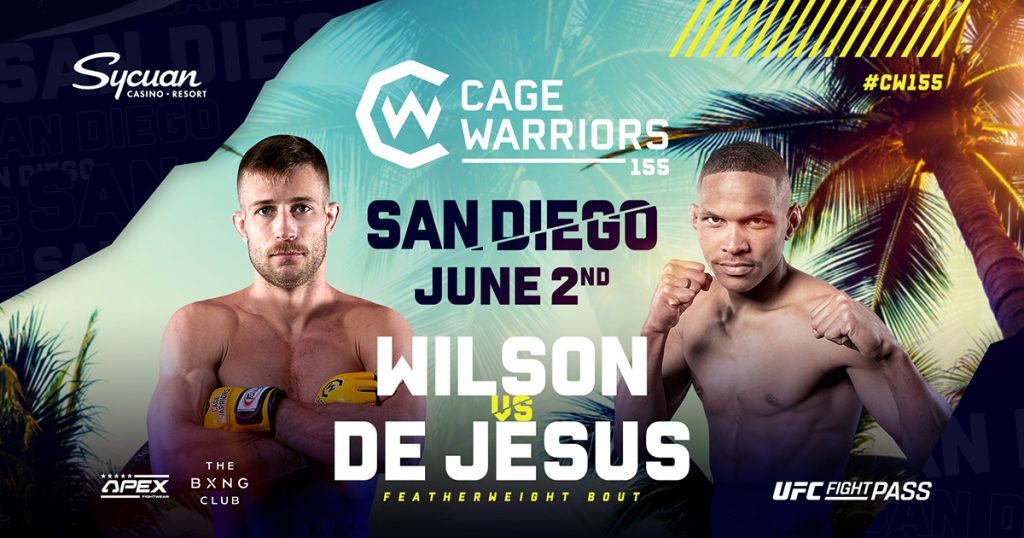 'The Nomad' returned to winning ways at CW 149, outpointing the awkward and scrappy 'Brutal Noodle' Shawn Johnson. The fan favourite also holds notable victories over the likes of James Settle and Ryan Fillingame under the CW banner, and will face his most experienced opponent to date in De Jesus.
'Platano' is a veteran of over 25 pro bouts, and was unfortunate to come out on the wrong side of a split decision loss to Robert Hernandez in March; a bout that could arguably have gone either way.
A long, rangy striker with a venomous jab, much like his opponent De Jesus has a penchant for crowd-pleasing performances in the cage.
Whether it's an all-out brawl or a jaw-dropping finish, fans will have a lot to look forward to when De Jesus and Wilson meet.
Young Guns Set to Shine
Some can't miss prospects will be taking centre stage on the CW 155 undercard, including a number of participants from The MMA Fight Academy reality project.
A teammate of UFC star Paddy Pimblett, Connor Wilson (4-2) has spent recent months training in the US for his return to CW action against American David Lopez (2-1).
Opening the main card is another MMA Fight Academy project, as Jovidon Khojaev from Tajikistan meets LA's Sunni 'The Ghost' Imhotep, who says he wants to turn the CW cage into a bloodbath in his promotional debut.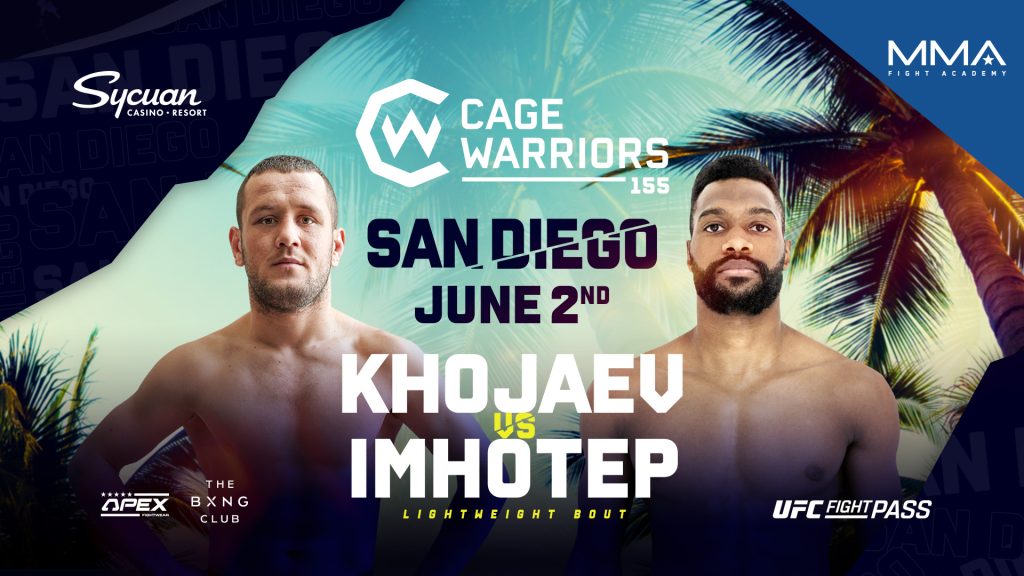 In the evening's featured prelim, Indonesia's Frans Lincol Sormin (4-0) will look to keep his undefeated record intact when he steps into enemy territory against San Diego's James Settle (3-3) at 135lbs.
Elsewhere on the card, 'Mr Samoa' Elijah Harris (4-2) will look to even up his CW record as he moves up to heavyweight to welcome hard-hitting Chris 'The Law' Lewis (2-4) to Cage Warriors.
'The Smiling Assassin' Jeremy Fattorusso (2-1) has the unenviable task of welcoming one of the US' top amateurs, Anthony Orozco (0-0), to the professional ranks in welterweight action.
Orozco took gold at the 2022 Pan American Amateur championships, with the sole blot on his record coming at the hands of eventual 2022 world champion Sultan Omarov.
The long awaited professional debut of one of the UK's most storied amateurs also features, as Teddy Stringer (0-0), a veteran of multiple international amateur tournaments and holder of multiple domestic amateur titles, makes his way to the pro ranks.
He'll face Bryant Shell (0-3) in lightweight action.
Another Team Next Generation prospect makes his pro debut in the flyweight division, as Frances Breen (0-0) looks to follow in the footsteps of the likes of Luke Riley, Nathan Fletcher, Adam Cullen and co to CW success.
He's welcomed to the promotion by fellow debutant Enrique Montalvo (0-0).
Finally, Indonesia's Jon Saragih (1-0) and 'The Hippy Cowboy' Johnny Gill Jr open the show in the bantamweight division, where Saragih will look to get the ball rolling for his MMA Fight Academy teammates.
All the action from CW 155 will air live on UFC Fight Pass and international broadcast partners; check your local listings for times and channels!