With Mick Stanton and James Webb set to determine if the main event will be a case of Revenge or Repeat when they contest the former's middleweight title, and an undercard punctuated by top tier featherweight clashes and more, CW 157 is set to live up to the Fun Fight Friday Moniker once again.
Revenge or Repeat?
That's the question on everyone's lips ahead of Friday night's middleweight title main event, as champion Mick Stanton (11-7) meets challenger James Webb (9-4-1) for the second time in the famous yellow gloves.
When it comes to high-profile rematches, talk often drifts to the subject of the mental edge; after all, one man has already bested the other in combat.
Waters are a little muddier here though. While Webb took a unanimous points victory in their first meeting, Stanton is coming off arguably the biggest win and certainly the greatest triumph of his career; a thrilling five-rounder against young gun Will Currie to capture CW gold.
So if we call the mental side of things a wash, what of the physical? Both have a background in the striking arts (Stanton, boxing, Webb, kickboxing) and both have well-earned reputations as strong grapplers in the cage.
For 'The Huyton Hammer' the grappling came later in his career, but it's a skillset the mastery of which has seen him go on a phenomenal run at 185lbs.
His ability to fight his way out of bad positions served him particularly well against Currie, who was favoured to win their March contest.
He'll need those tools sharp if he is to even the score against Webb, who himself claims six of nine victories by way of submission.
They'll have two more rounds to play with than in their initial March 2020 clash; smart money says that's where this one will be decided.
Featherweights Feature on Fun Fight Friday
The 145lb division is out on force on Friday's undercard, putting the 'fun' firmly in 'Fun Fight Friday'.
Former champion Jordan Vucenic (10-2) will look to build upon the momentum of his comeback win (a smooth submission over Tiziano Ferranti in March), as he faces promotional newcomer Brice Picaud.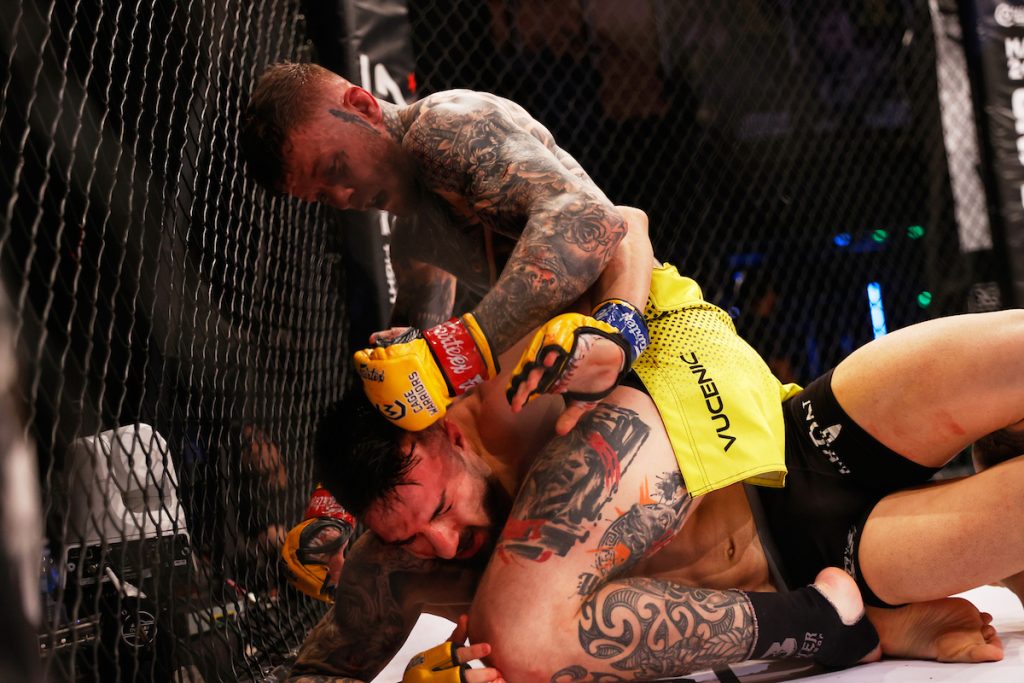 Judo and Karate blackbelt Picaud (13-8, 1NC) comes into the bout on the back of a career-best run of form that has seen him net six wins from his last seven contests, including four straight.
Speaking of former champions, 'The Last Pirate' Morgan Charriere (17-9-1) finds himself in a grudge match of sorts, as he faces Brazilian Diego Silva (15-8).
'Magrinho' was originally flown into Dublin as a backup opponent for Charriere at CW 154, and after calling his shot following the Frenchman's violent stoppage of countryman Pedro Souza, the pair exchanged heated words backstage.
The beef, such as it is, will be settle on Friday's main card.
From former champions to men with gold in their eyes and a dream in their harts, Harry Hardwick (10-3) and Luke Riley (6-0) return to face arguably their toughest tests to date.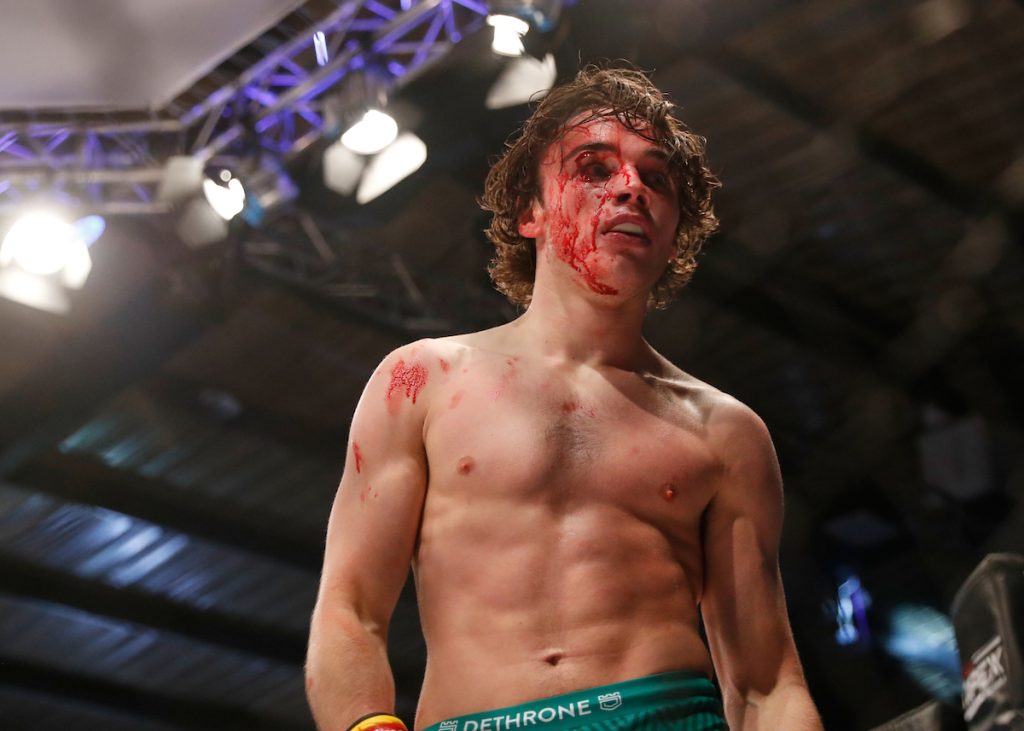 Hardwick, unbeaten in Cage Warriors meets undefeated Team Nogueira prospect Vitor Estevam (6-0), while fellow striking sensation Riley faces Nova Uniao submission wizard Matheus Malta (10-3).
Elsewhere on the card, the always entertaining duo of Daniel Skibinski (19-8) and Madars Fleminas (11-4) clash in a bout that could have serious implications for the future of the recently vacated welterweight title, with both coming into the fight on the back of significant wins.
Speaking of the welterweight division, power-puncher Omiel Brown (5-2) and grappling whiz-kid Jesse Urholin (8-1) will both be looking to bounce back into the winner's circle when they meet at 170lbs.
Newcomer Bailey Gilbert (8-4) is riding a phenomenal six-fight winning streak into his CW debut, where he'll face promotional veteran Tom Mearns (9-8), a man who wouldn't know a dull fight if one jumped up and bit him.
The equally exciting Wesley Maia (7-5) also welcomes a new face to Cage Warriors in the form of undefeated – yet highly regarded – Shirzad 'The Lion' Qadrian (3-0).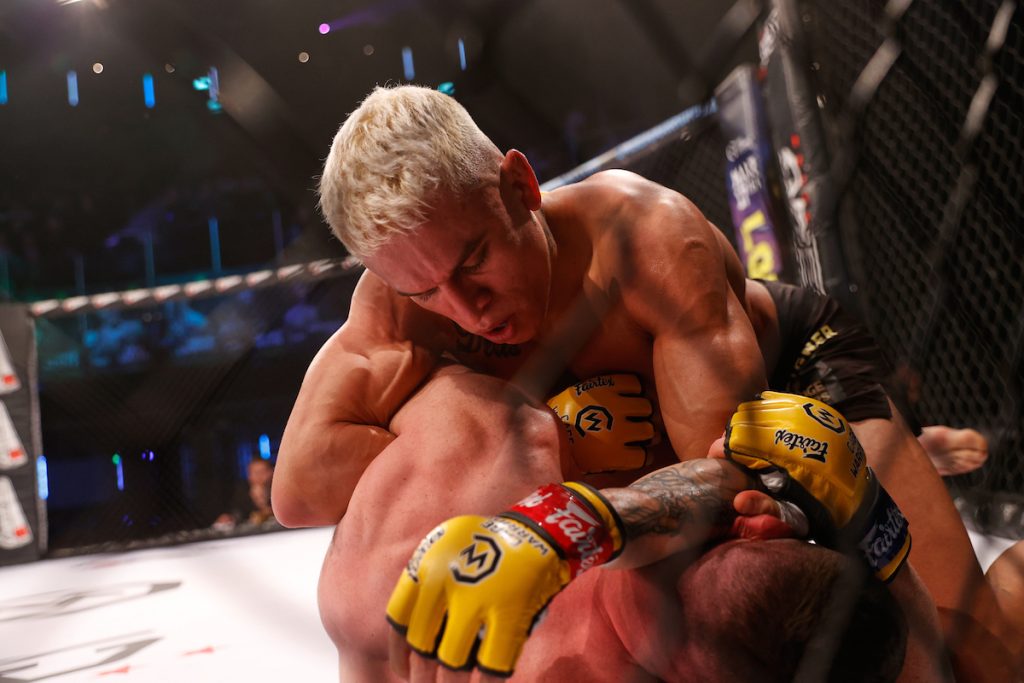 Wesley Machado (3-3) will aim for his first CW win as he faces George Tanasa (2-2-1) at 145lbs.
Tom Creasey (4-1) – brother of former CW champion Sam – makes his debut in the yellow gloves against Spanish submission specialist Ander Sanchez (2-1).
In a clash of former CW Academy amateur champions, CWA: South East middleweight champ Connor Hayes (0-0) makes his pro debut against former CWA:SE light heavyweight champion Angus Hewett (0-1), who will look to bounce back following an unsuccessful professional bow in Dublin earlier this year.
Fresh of his thrilling five round title bout against Mick Stanton, Will Currie will look to restart his run to the top against Jorge 'Jorginho' Bueno.
Finally in a pair of late additions to the card, fan favourite Liam Gittins takes on Finnish MMA veteran Janne Elonen-Kulmala (16-11-1, 1NC), while Team KF prospect Taka 'The Cat' Mhandu (2-2) draws the debuting Grant 'Oggy' Ogborne (2-0).