It was a big weekend of action for the Cage Warriors Academy system last weekend, with a pair of shows in Colchester and Wales highlighting some of the hottest up-and-coming talent on the circuit.
Clean KOs, slick submissions and eventful title bouts were the order of the day, as Cage Warriors Academy play-by-play man Mark Heath reports from CWA: South East, while Brad Wharton was on hand at CWA: Wales.
CWA: South East
It was a night of furious finishes, fantastic fights and future stars at Cage Warriors Academy South East 31 in Colchester.
Hometown favourite Charlie Falco topped the bill at the Charter Hall, and successfully defended his professional strawweight title for the second time, dispatching experienced challenger Benjamin Harrison with a flurry of punches on the floor in the first round.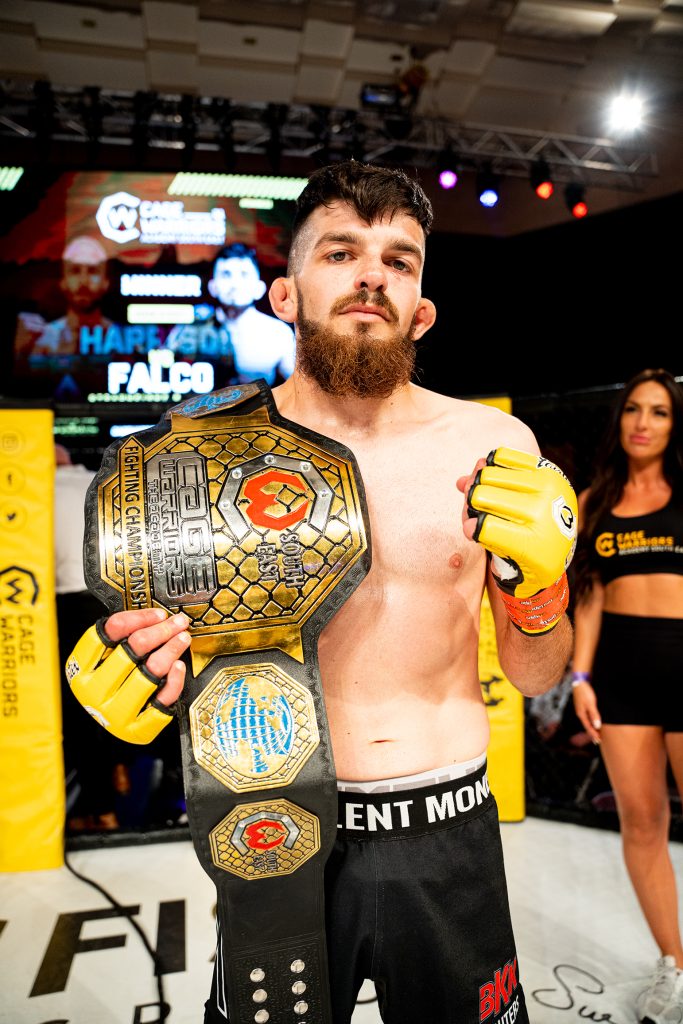 It was Falco's first stoppage win in the paid ranks, improving his record to 4-2 as a pro, and stretching his winning run to three fights. The BKK Fighters talent has found a home at 115lbs, and seems to be growing in confidence with every scrap.
In the co-main event, top Norfolk prospect Tariq Pell extended his pro record to 2-0 with a DQ win over Italian foe Marco Bellantuono.
Pell dominated the catchweight fight, made at 159lbs, taking Bellantuono down at will and coming close to ground and pound finishes on at least a couple of occasions, bouncing huge elbows off the blood-soaked head of his opponent.
But, while Bellantuono showed plenty of heart, he repeatedly broke the rules, raking Pell's eyes and hitting the back of his head.
Referee Dan Movahedi, after docking the Italian two points and issuing several stern warnings, finally decided he'd seen enough in the third round, disqualifying the apparently unremorseful fighter.
It was not the way Pell would have liked to win, but victory was inevitable and he'll move on with another good learning experience under his belt.
Elsewhere on the card, seven amateur titles were decided.
Team Renegade's Mo Zubair dropped to his knees after winning the flyweight crown with a tight rear naked choke finish of the game Alaa Cheaaibi in the second round.
In the leading contender for fight of the night, Rhi Rhi Hudson became a champ champ, adding the strawweight strap to her atomweight title by beating gutsy Italian Federica Di-Filippo in a wild back-and-forth dispute.
While Hudson had her hand raised, both ladies were given a standing ovation by appreciative fans and emerge with reputations enhanced.
A potential star of the future shone brightly in the welterweight title clash, Kadre Dene scoring a massive knockout of home favourite Ethan Barry in the first round with a right hand which put Barry out on his feet.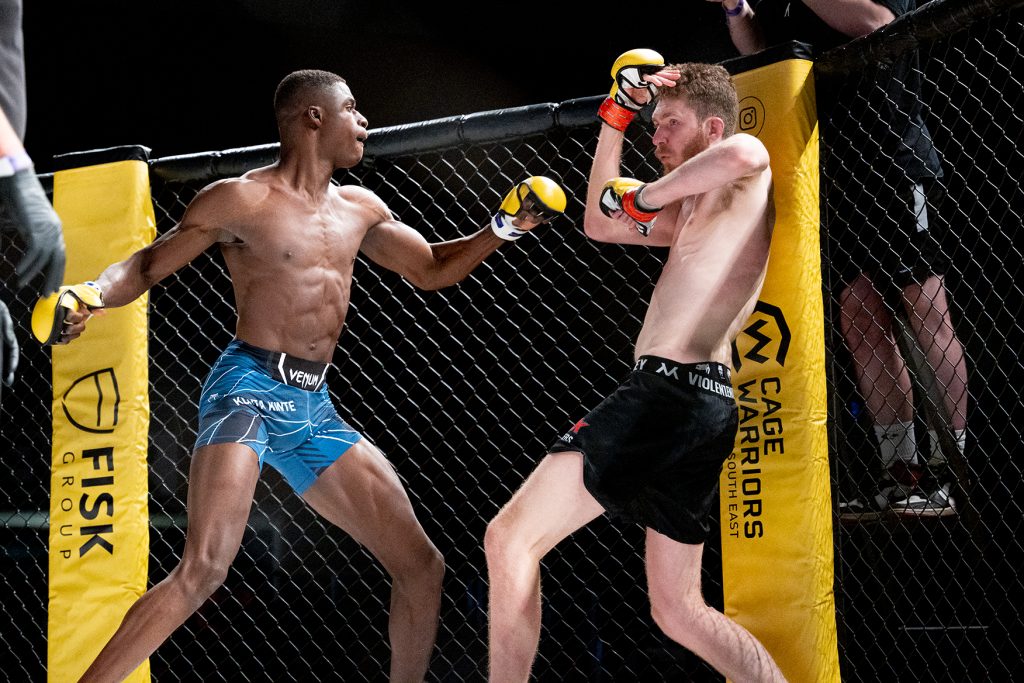 Cage Warriors Academy Lowlands product Dene, now 3-0, then landed a left hook which crumpled Barry as the referee jumped in to halt hostilities. He looks to be a real talent – tall, long, athletic and packing serious power.
Charlie Hatton scored a stoppage win to lift the lightweight crown, battling back from a tough first round to hand Ehson Khudoyorbekov his first defeat via a barrage of knees to the midsection in the second stanza. Hatton, now 6-3, will perhaps seek a rematch with local star Dom Rogers, who bested him last December.
Tommy 'Big Tings' Brunning defended his bantamweight title with another points win over Harry Myers, the same man he beat in the same way last December, while Sineadh Ni-Nullain took a points win against Cherisse Davis in their flyweight title dispute.
CWA: Wales
Wales continues to be a hotbed for domestic talent, with some of the region's finest out in force in Ebbu Vale on Saturday night.
With anticipation building for Cage Warriors return to Cardiff on July 1st, it was the turn of the amateurs to impress at the Welsh Academy.
In the evening's main event, Levi Batchelor moved to 8-1, making the first defence of his featherweight title in the process. "Young Money" rarely looked troubled in the contest with Italy's Yassine El Mahdi.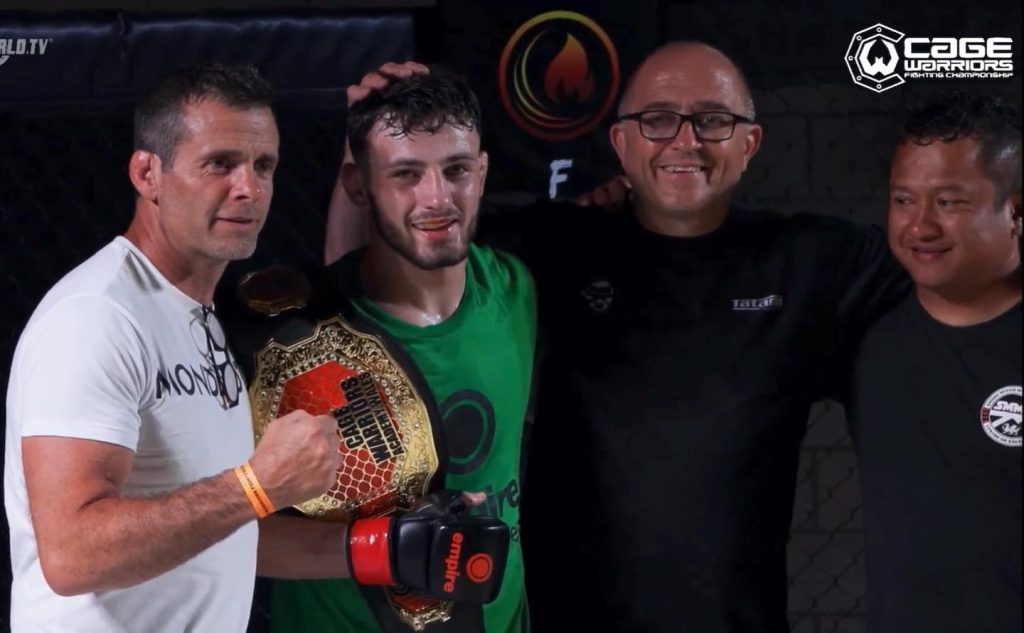 Despite being taken down early, the Welshman countered with a nice Buggy Choke attempt, eventually scoring a takedown of his own after El Madhi was docked a point for an illegal knee.
Perhaps aware that he had ground to make up, the Italian came out strong in the second, but was quickly taken to the mat where Batchelor sank in the fight-ending rear naked choke.
CWA Wales middleweight champ Roan Crocker plans to turn pro soon, but couldn't resist one last challenge in the amateur ranks, moving up to 205lbs to challenge for the vacant strap.
It was a gamble that paid off handsomely for the Shore MMA man, who spent the majority of the first round attacking an armbar, finally submitting Farshad Nazarnia with just 22 second left on the clock.
In the fight of the night, there was little to separate Lion's Den MMA's Dan Kitchen and The MAT Academy's Ollie Wilde after two nip-and-tuck rounds of their lightweight title bout.
Kitchen had attacked with a kneebar at the end of round one and went back to the well with it in the third. With time on his side he was able to get a deep bite, earning the tap at the1:28 mark.
Elsewhere on the card, Kunle Lawal got back to winning ways with a comfortable points victory over Kane D'Arcy, while Tassanai Soinak scored the KO of the night with a scarry right hand to stop the debuting Dominic Pullen.
The Cage Warriors Academy returns this weekend with CWA: Lowlands taking place in Eindhoven, The Netherlands!