It was a big night for amateur MMA in Wales last Saturday, as the Cage Warriors Academy rolled into town and once again proved its status as the biggest stage for amateur talent in Europe.
Fans at the Ebbw Vale Centre were treated to knockouts, submissions and a series of back-and-forth wars, with titles defended, new champions crowned and the bar being set high for amateur MMA in 2023!
Batchelor Claims Featherweight Gold
In the evening's main event, Levi Batchelor (7-1) got his second crack at the CWA: Wales Amateur Featherweight Title, contesting the vacant belt with Frenchman Charles Grossin (8-2).
Shore MMA's 'Young Money' had bounced back from his previous unsuccessful title bid against Ieuan Mackenzie with a unanimous decision over Greece's Ioannis Marathias last October, and looked to keep that momentum rolling with a big right hand to start Saturday's headliner.
Batchelor secured the round after defending a takedown and executing one of his own, hunting for the submission until the final bell.
The Welshman started round 2 in much the same way, looking to take Grossin's head off with a high kick.
Countering a takedown into a guillotine, Batchelor eventually transitioned to a triangle choke and forced the tap to claim the vacant 145lbs title.
Aspinwall Impresses in Welterweight Title Win
One of the most anticipated amateur MMA fights in recent memory was over as quickly as it began, with Wales' Jay Aspinwall (5-0) snatching up a rapid guillotine choke against 2022 4 Nations standout Kunle Lawal (9-6).
After a tentative start, Lawal looked for first blood with an early takedown attempt, only for Aspinwall to latch onto the submission and record his fifth finish in as many fights.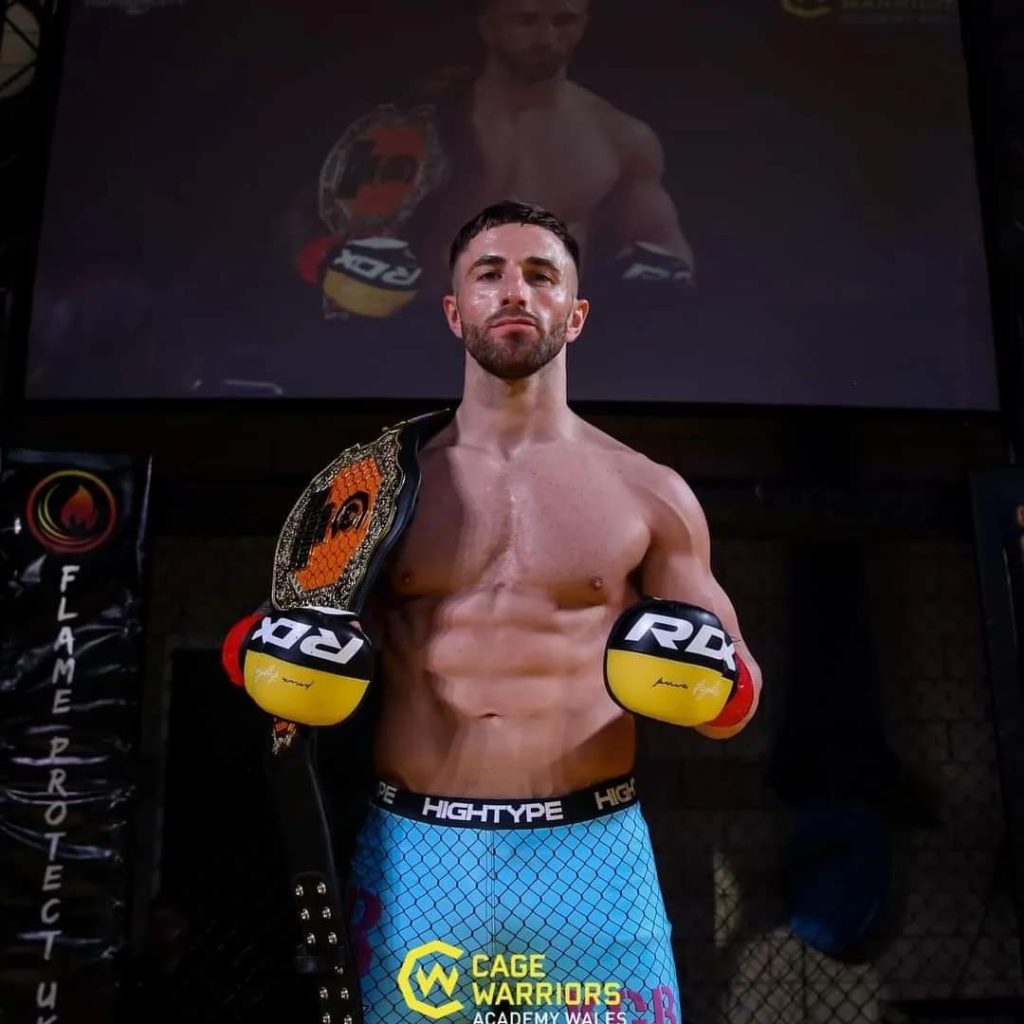 Having competed in amateur MMA for less than 12 months, Aspinwall's future in the sport is looking brighter by the day.
Elsewhere on the card, Befan Hall evened up his rivalry with The MAT Academy's Tallon Jones at one win apiece, following the latter's December 2021 triangle choke victory.
On the back of a super-competitive first round, Jones scored a takedown early in the second, only for Hall to find his way to the back.
From there the Shore MMA man would secure a rear-naked choke to earn the victory and CWA: Wales Flyweight Title.
Fans will no doubt be clamouring for a rubber match before the pair turn pro.
In the evening's first title bout, Ellis Clement made a successful defense of his CWA: Wales Bantamweight Title against Higher Level's Logan McGonigal.
Clement's ability to dictate where the fight took place was the key factor, with a number of big takedowns allowing him to secure strong positions on the mat.
Both fighters had their moments hunting submissions, but a late rally from McGonigal wasn't enough, with the judges seeing it 30-27 x 2 and 29-29 in favour of the Welshman.
Elsewhere on the card, Malaki Lynch survived some solid ground 'n' pound to reverse Owen Pitcher and lock in a rare – and brutal – hammerlock submission.
Kane D'Arcy survived an early onslaught and a number of submission attempts from Lorenzo Parente to fish out a slick armbar during a second-round scramble.
Josh Sinnett found himself on the wrong end of a big suplex, before locking up a beautiful armbar, Matt Howarth scored a big knockout and Ioan Thomas improved to 6-0 with an impressive first-round rear-naked choke over James Pattie, potentially lining him up for a title shot against Jay Aspinwall in the process.
Full results for CWA: Wales can be found here, with the replay available to purchase via FightWorld.tv.
The next CWA: Wales event goes down on June 10th, and promises to be another huge night for Welsh MMA!