With the Cage Warriors 2023 world tour firmly underway following six shows in four countries, there's been no shortage of incredible action and memorable moments, both inside the cage and out.
The bar was set high following a trio of events in March, but with CW 152 hitting Manchester and CW 153 marking CW's return to Dublin, April might just have raised it. Play-by-Play commentator Brad Wharton looks back at some of the month's highlights in Part 1 of the Cage Warriors April Rewind!
George Hardwick: Body, Body, Head
Even if you've only watched a single MMA event, you'll have no doubt heard a cornerman bellowing the phrase "Body, body head!"
It's one of the most tried and true ground 'n' pound combinations in the history of MMA, but for George Hardwick, it means something else: How he's finished his last three opponents to win and defend the CW lightweight title.
The Middlesborough man had already built a fearsome reputation as one of Europe's most fearsome body-snatchers prior to his CW 152 main event against Yan Liasse, but like any great tactician, with everyone waiting for him to go low, he subverted expectations and went high.
A crisp right hand sent Liasse to the mat and signalled the beginning of the end for the Luxembourger, and although Hardwick couldn't get a fight-ending bite on the subsequent guillotine, when the pair returned to their feet it was one-way traffic.
A series of precise hooks followed and prevented the challenger from getting his legs back underneath him, and before long referee Marc Goddard had seen enough.
With a second title defence in the books, the sky really does seem like the limit for George Hardwick.
Parker vs Riley: Round of the Year?
It's wild to be talking about a potential fight of the year just two months into the schedule, but if we see a better round that the first five minutes of Kallum Parker vs Luke Riley in 2023, we'll be extremely lucky.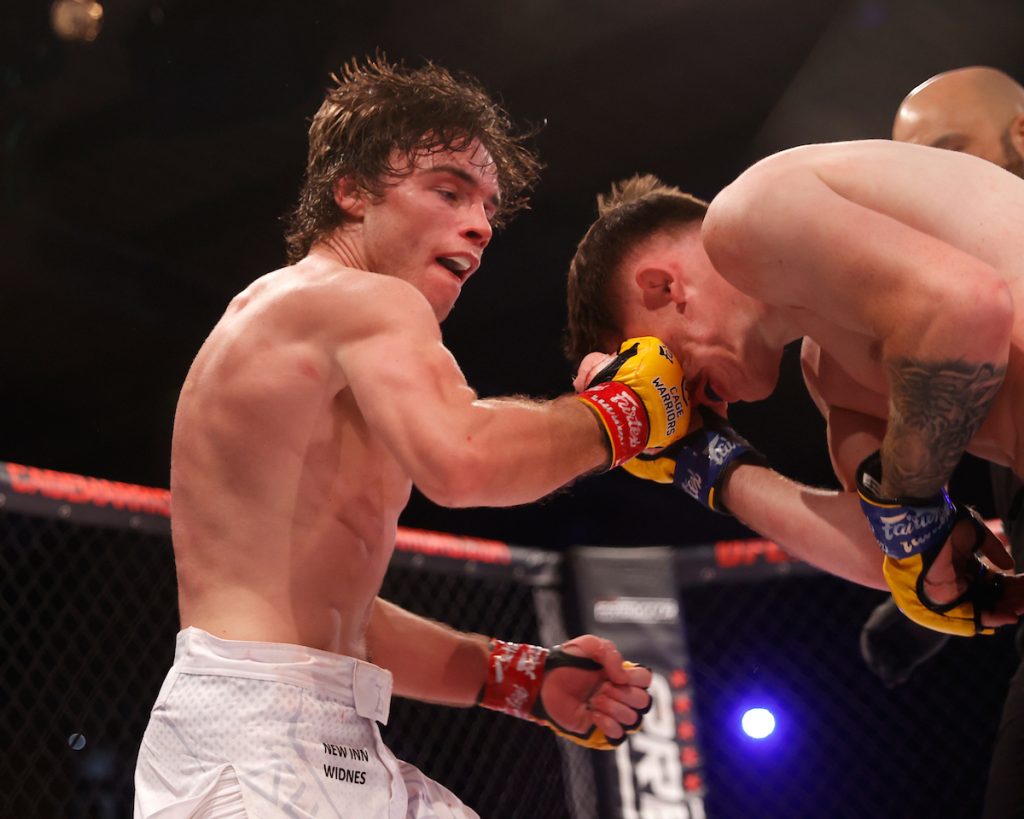 Taking the bout on short notice, Parker shocked the world in the opening moments of the fight when he dropped and staggered the Next Generation prospect with some heavy fire.
Riley, who has looked utterly dominant in previous CW performances was finally tested after being put on the back foot, and in typical Riley fashion, he passed with flying colours and proved once again why he is one of the most talked-about up-and-comers in the sport.
If you haven't seen it, or even if you have, do yourself a favour and head over to UFC Fight Pass to catch a replay of this epic three-rounder.
Dumtru Girlean: KO of the Year?
From an early 'Fight of the Year' contender to a sure fire candidate for 'KO of the Year', Dumitru Girlean exploded onto the scene with a scarry stoppage of Adam Cullen on the CW 152 main card.
Likely ahead on the scorecards, the Italian-based lightweight had no intentions of coasting and his thunderous right hook just four seconds into the round spoke for itself.
Nathan Fletcher: The Comeback Continues
It's a bit of a cliché to say "The comeback is greater than the setback", but like most great clichés, it's ringing true for Nathan Fletcher as he makes a second run towards bantamweight gold.
Fans were salivating at the prospect of a three-round, back-and-forth grappling match between the former title challenger and Dutch BJJ specialist Daan Duijs, but Southport's finest had other ideas.
Nobody looked more shocked than Duijs himself when Fletcher locked up a silky-smooth first round triangle choke, arguably cementing his status as the #1 contender at 135lbs in the process.
You can catch all of the above and more with the full replay of CW 152: Manchester on UFC Fight Pass!
Want to witness the Cage Warriors experience live and in person? You'll find all the dates and ticket information for our upcoming events here!