Cage Warriors kicked off 2023 with a bang in March, delivering two sell-out shows, another edition of Unplugged and a couple of early contenders for 'KO and Submission of the Year' to boot. 
Resident play-by-play commentator Brad Wharton takes a look back at some of the stand-out action in part one of the CW Rewind! 
When It All Goes Right
The biggest weekend in the UK's MMA calendar just wouldn't be the same without Cage Warriors getting the party started with another #FunFightFriday.
Fun was the operative word at CW's hundred-and-fiftieth numbered event, with ten phenomenal bouts and only one of them seeing the judges' scorecards.
Former 145lbs champ Jordan Vucenic got the feel-good moment of the month with his sensational return to action following November's epic title unification bout with Paul Hughes. 
'The Epidemic' has balanced becoming a father twice in under two years with some of the biggest fights of his life of late, and following the agony of his defeat at Hughes' hands, all eyes were on Corby's finest as he looked to kick off another run at the gold.
It was a risky fight for Vucenic, against a highly touted but unproven prospect in Tiziano Ferranti in CW 150's featured attraction, with the Italian landing a number of stiff punches early to add a real sense of danger to proceedings.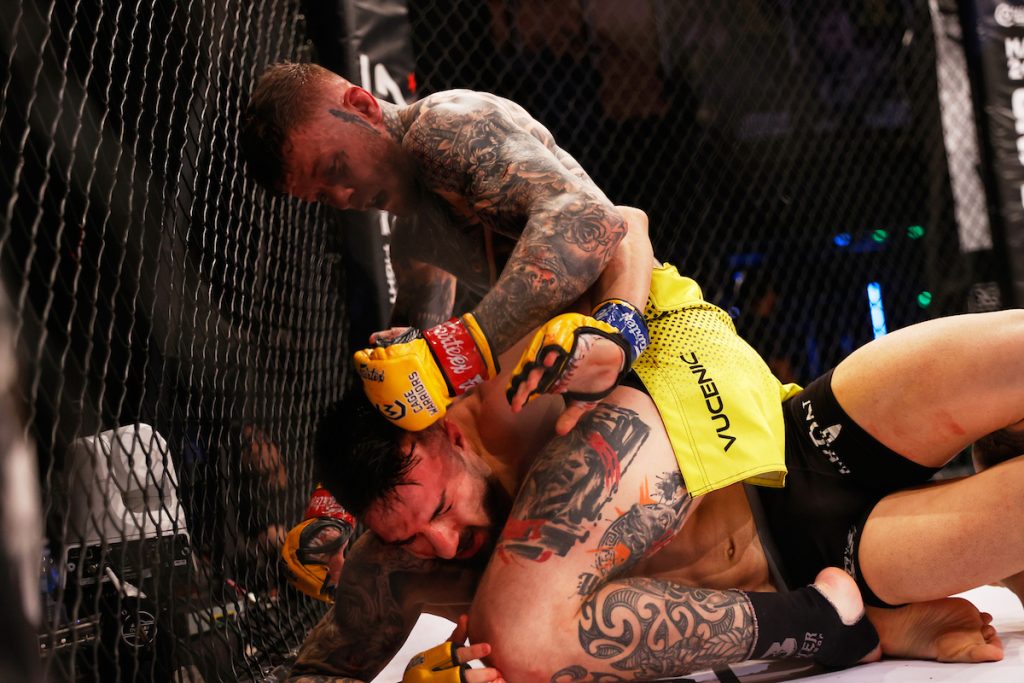 In the build-up to the fight, Vucenic had spoken about the importance of being a complete fighter rather than just an entertainer, and quickly fulfilled his promise, utilising takedowns and submission attempts to take Ferranti out of his comfort zone. 
After neutralising the Italian's offence, Vucenic went to work on his own, securing a rear-naked choke in the second round and proving beyond all doubt that he's still a front-runner at 145lbs.
The gritty performance, coupled with the crowd singing along to his now-infamous Chase & Status walkout song, made for another special CW moment: Vucenic is back, and the division is officially on notice.
A Star is Born
Lone'er Kavanagh is going to be a star; that much is certain. The only question is, how long will it take him…and how many will have to fall to prove his point?
If his performance at CW 150 is anything to go by, the answer is probably 'Not long…and as many as it takes'.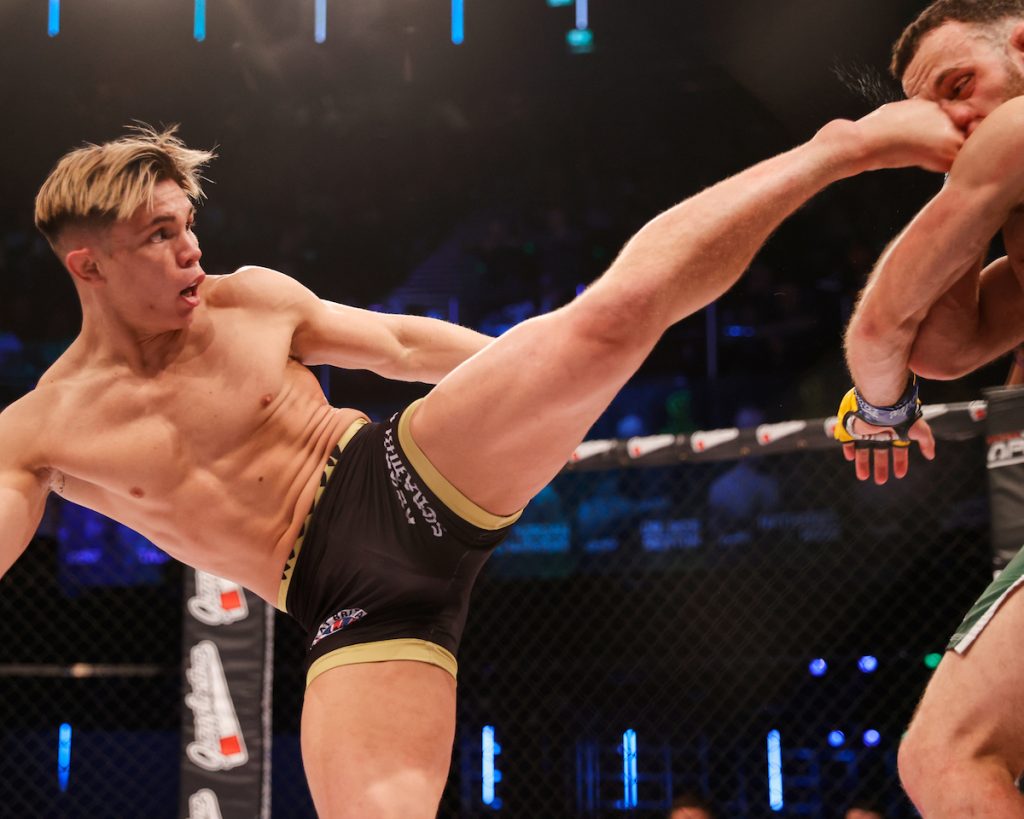 Kavanagh outfought fellow 4-0 prospect Davide Scarano for the duration, but just as it looked like he was about to coast to a comfortable decision victory, the real-life superhero flipped the script and finished his man with a highlight-reel knockout. 
He even stuck the superhero landing.
Speaking of heroes, Belgium's Jan Quaeyhaegens put on a heroic performance against Italy's undefeated grappling sensation Alberto Ciardo. 
The Q-Bomb introduced the world to BJJ – Belgian Jiu Jitsu – which includes such techniques as defending a rear-naked choke by punching your opponent really hard in the face.
Jan's eleventh finish in eleven victories surely cements his status as a future title challenger.
Do You Feel Lucky?
Cage Warriors fans at CW 149 did, as the promotion kicked off its partnership with San Diego's Oldest & Luckiest Casino, the Sycuan Casino Resort, in style on March 3rd.
In the evening's main event, Wilson Reis continued his incredible career renaissance in the famous yellow gloves, bringing the crowd to its feet for his submission victory over Johnny Campbell.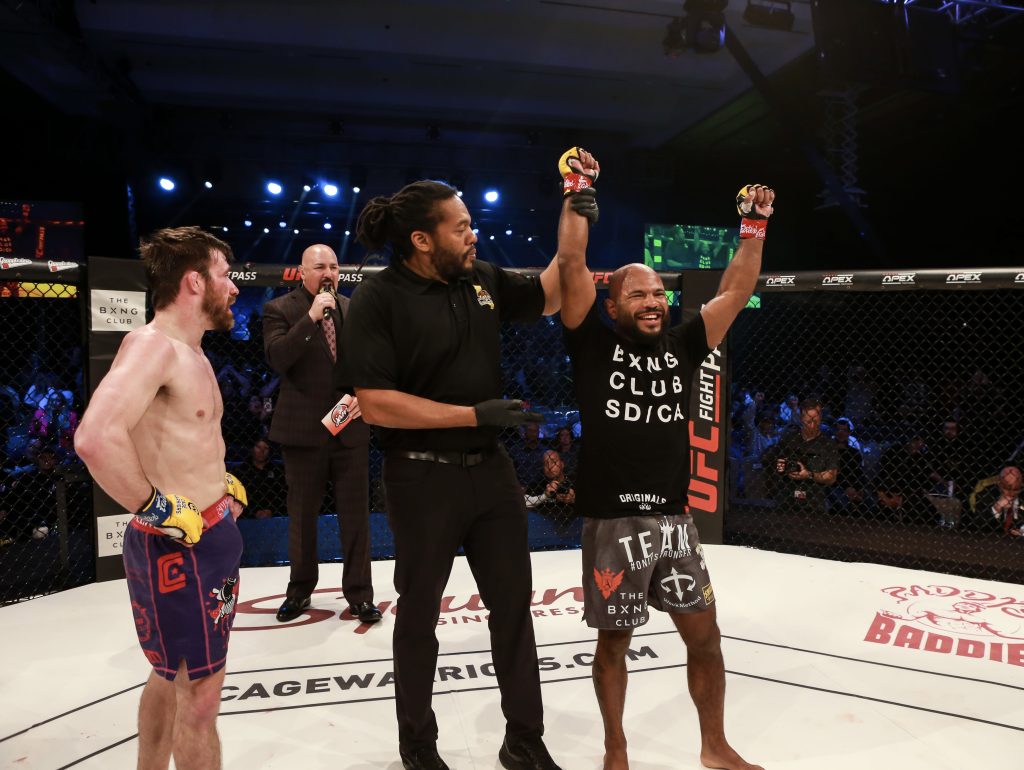 'Cupcakes' didn't make it easy for the former UFC title challenger though; much like Tuomas Grönvall on New Year's Eve, Campbell took the first round to put Wilson on the back foot. 
With a partisan crowd behind him though, Wilson Reis did Wilson Reis things, putting his nose to the grindstone and forcing the inevitable opportunity to present itself.
That moment came in the final round, with Reis locking up a choke to seal the deal.
A 2023 title shot for the 38-year-old? It wouldn't be out of the question….
Fans had already hit the jackpot long before the main event, with John De Jesus and Roberto Hernandez putting on a wild, three-round brawl that had the crowd on tenterhooks until the final bell.
Both men did significant damage across the fifteen-minute duration, and in truth, neither man could have been confident of a victory as the final bell sounded. 
Glory went to Hernandez though, with two of the three judges seeing it for the Joe Stevenson student.
Jamey Lynch, another San Diego favourite, got all he could handle from Georgii Eivas, but passed the test with a unanimous decision victory. 
All the action from CW 149 and CW 150 – along with over a decade's worth of action from Europe's Leading MMA Organisation – can be watched on demand via UFC Fight Pass.

Want to join the party? You can find all the info on our upcoming events, and secure your tickets, via CageWarriors.com!