A month so nice, we had to review it twice…but with as many memorable moments, clean KOs and slick submissions as we've seen over the last four weeks, it's only right that we double up the spotlight on Cage Warriors' very own March Madness.
Join play-by-play commentator Brad Wharton as he takes a look back over highlights from an early 'card of the year' contender in CW 151: Unplugged at the BT Sports Studio. 
(Huyton) Hammer Time
When Mick Stanton first challenged for the CW middleweight title, it was under the strangest of circumstances. Left without an opponent for his scheduled welterweight bout, the 'Huyton Hammer' had stayed behind at the weigh-ins on slim chance that he'd be required as a backup for another fight on the card.
An hour later, the man with just five professional bouts to his name was preparing to contest the big gold belt with one of Europe's best-unsigned 185lb'ers in Jonas Billstein. 
A lot has changed for Stanton since September 2017; he's ditched his reputation as a straight-up banger who'd brought his boxing background over to MMA, and evolved into a truly complete fighter. 
All of which brought us to CW 151's main event, when on a three-fight winning streak in the promotion (and the recent dethroning of another young prospect outside of it), Stanton once again found himself up against seemingly insurmountable odds.
The five-round epic that followed was as much a battle of wills as a test of skills, closely following the pre-fight narrative that the 24-year-old prospect Will Currie would have the better of the early stages, while Stanton would come into his own late.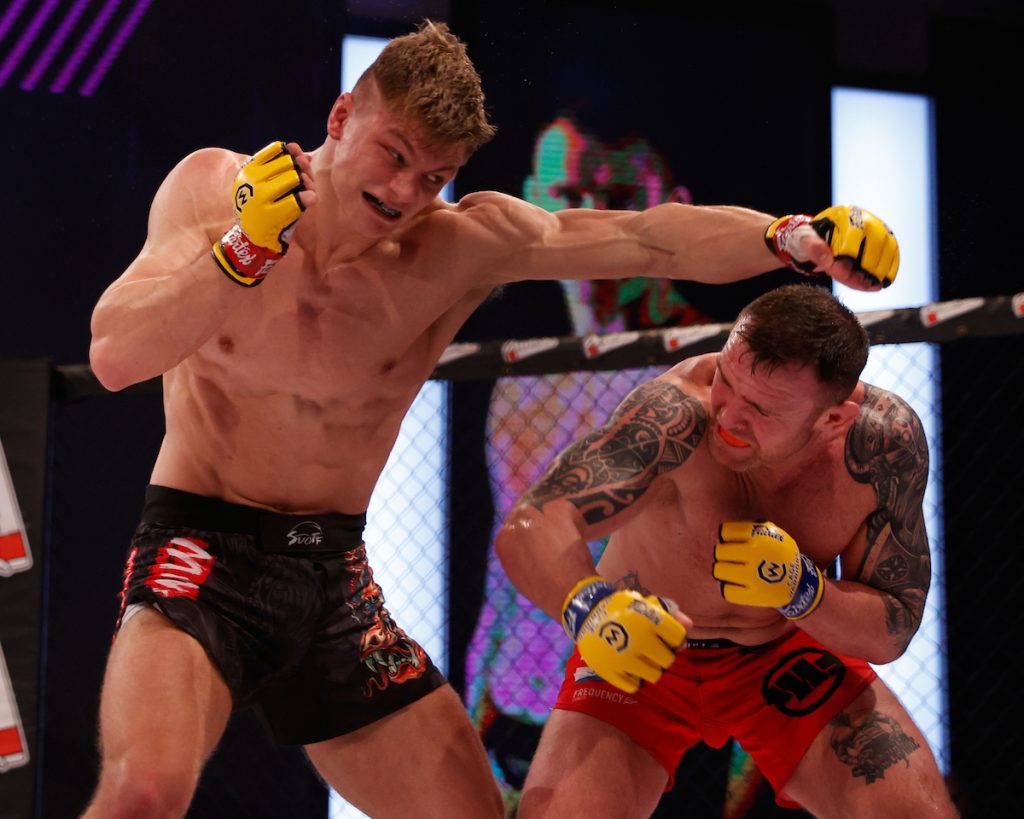 Let's take nothing away from Currie here either; in winning the last round he threw the script out of the window and proved a lot of his doubters wrong.
I doubt very much that this will be his last sniff of CW gold.
We often talk about fighters leaving it all in the cage. Friday's main event was a perfect example, a stark reminder that when the door locks there's nowhere to hide…the angles just are too shallow.
The months of preparation, the years of sacrifice; it all boils down to who's better than who on a particular date and time, over less than half an hour.
On Saturday, it was Stanno. In the future? Who knows…and that's what makes this sport great.
Matty on the Come Up
Matty Byfield took another step – or should I stride, he's 6'6 after all – towards light heavyweight gold in Friday's first main event, usurping Prince McLean in the process.
It was arguably the most measured, mature and clinical performance we've seen from the Team Renegade man, indicative of his growth as a fighter.
Byfield managed the range well against his 6'5 opponent, but it was his groundwork that would prove to be the deciding factor.
All That Glitters is Silva
No mention of CW 151 would be complete without a nod to your new favourite fighter, Mr Shawn Marcos Claudinho Da Silva. 
Were it not for the ominous backdrop of an MMA cage behind him, you'd have thought the man walking out to face Kiru Singh Sahota at the BT Sport Studio was strolling into a nightclub rather than a fist-fight.
The fun didn't end with the walkouts either; while he was forced to survive getting clipped at the end of the first round, the Brazilian-born, Germany-based Da Silva styled his way through a ludicrously entertaining scrap en route to a second-round KO. 
Speaking of flashy performances, 'The Mighty Mole' Sam Kelly opened the show with a – quite literal – bang.
Under strict instructions from his bride not to return home with a black eye ahead of their pending wedding, Kelly came out of the gate like a shot, officially tying the modern-day CW knock-out record at 11 seconds.
Or was it 10? Decide for yourself…
All the action from CW 151 – along with over a decade's worth of action from Europe's Leading MMA Organisation – can be watched on demand via UFC Fight Pass.

Want to experience Cage Warriors live and in person? You can find all the info on our upcoming events, and secure your tickets, via CageWarriors.com!