Cage Warriors fans are no strangers to big shows and high-stakes fights, but November 2022 is a month that will go down in promotional history as one of the wildest on record.
From world titles to huge returns, wild brawls to slick submissions and young guns to MMA legends, November had it all – Play-by-Play Commentator Brad Wharton looks back at some of the month's biggest moments.
Jimmy Wallhead: Cage Warriors Champion
'Judo Jim Wallhead is a Cage Warriors world champion'…I'm sure your first thought upon reading that sentence was similar to mine: How is this only just a thing?
Wallhead is a veritable CW legend, with somewhere in the region of 20 fights in the yellow gloves across a career that's rapidly approaching two decades in length.
When he fought Danny Roberts back in 2014, it was billed as a clash of the old and new school of CW fighters.
Jimmy lost that night, but not only was his career far from over, in many ways he was only just getting started.
MMA is a sport that doesn't often provide happy endings for its elder statesmen, so when Wallhead returned to Cage Warriors to face Polish powerhouse Daniel Skibinski earlier this year, many wondered what Jimmy had left to prove.
Seventy-five seconds of carnage later and he was on a three-fight winning streak and calling for a shot at the title.
You'd have been forgiven for writing him off against yet another young gun in Mateusz Figlak; many probably did.
He didn't get the memo though; one crisp right hand and a bunch of hammer-fists later, the journey was complete and the dream had come true.
Jimmy Wallhead: Cage Warriors champion – Perhaps it was just a matter of time?
Caolan Loughran: Here Comes a New Challenger
CW 145's main event will go down in history as an all-time classic, but Paul Hughes and Jordan Vucenic weren't the only ones making headlines on the night.
Caolan Loughran showed the world that he belongs at the top of the bantamweight division, turning in his best performance to date against by far his toughest opposition.
With Michele Martignoni turning the 135lb weight class on its head in October, all eyes were on November's clash between Loughran and former flyweight champion Luke Shanks to produce the division's next challenger.
To say that the pressure was on would be putting mildly; both men knew what was at stake going into the bout and tensions simmered in the run-up, as the pair traded barbs in an effort to gain psychological supremacy.
With things getting physical at the weigh-ins, the fight instantly became must-see TV.
After surviving an early guillotine attempt, Loughran roared back to force a second-round stoppage following a stream of unanswered ground and pound.
"I'm one of the best bantamweights on the planet right now, and you can't tell me otherwise!" 'The Don' told Edith Labelle after the fight.
"I want Michele Martignoni…I want the strap! I said I wasn't going to come into Cage Warriors and ask for something I don't deserve… I want the title, I've earned the title…Michele, let's go!"
George Hardwick: Long Live(r) the King
CW capped off a hectic November schedule by returning to the BT Sport studio for another session of Unplugged.
The format has provided fans with more than its fair share of thrills and spills over the years; the likes of Paddy Pimblett, Chris Fishgold, Jack Cartwright and Paul Hughes have had star-making performances in the unique and intimate setting.
Ahead of CW 147, George Hardwick had made his intentions clear: He wanted to add his name to that list.
It was fitting then, that with Paddy The Baddy providing guest commentary, 'King' George did just that.
Chris Bungard had earned his title shot off the back of a gruelling slugfest against Brazil's Erick da Silva, so there was no doubt that we'd be getting a fight between two men with no reverse gear.
On the night, the bout delivered as advertised; the challenger pressing the action, walking through Hardwick's stinging punches and calf kicks as the champ looked for a fight-ending opening.
It came in the second round by way of a now trademark liver-shot; the self-same blow that won Hardwick the title in July.
The win marks 'King' George's third finish via body-shot in the famous yellow gloves, which officially makes him our very own Liver King.
It was the statement victory Hardwick desired; one he believes could make him the next of over 100 CW athletes to sign with the UFC.
With brother Harry putting in a career-best performance earlier in the month, next year may be the biggest yet for the Hardwicks.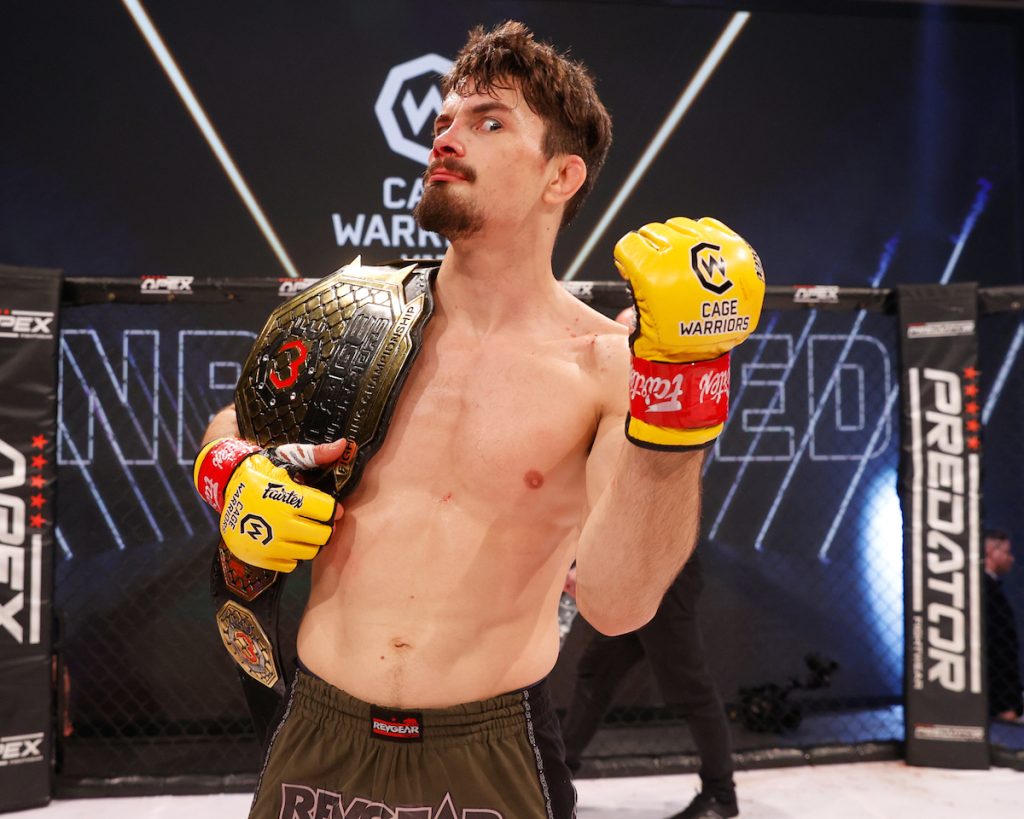 As we await to see what 2023 brings for the battling brothers, all that remains is to say… Arise George of House Hardwick, first of his name, King of the Andals, and the 'borough, and the First Men, Lord of the Cage Warriors Lightweight Division, and Protector of the Chicken Parmo!
All the Cage Warriors action from November and beyond is available on demand via UFC Fight Pass.
With more history-making moments like these set to go down on New Year's Eve in London, fans can secure their CW 148 tickets now and join us for the ultimate end-of-year party!