With so much action in the famous yellow gloves throughout November, this month's Cage Warriors Rewind comes to you in two parts!
Play-by-Play Commentator Brad Wharton looks back at more key moments from three huge events, including a title fight for the ages, the return of 'The Last Pirate' and more!
Hughes vs Vucenic: A Fight for the Ages
It's my job to talk about fights, but sometimes words aren't enough.
Despite the modern luxury of on-demand HD replays and social media clips at our fingertips, sometimes, to truly understand the profundity of a moment, you really do have to be there.
Paul Hughes' rematch with Jordan Vucenic was one of those moments.
This was a rare rivalry punctuated not by bad blood, but by sheer competitive spirit; two men looking to erase all memories and doubts from a previous encounter and unify a division.
There was no drama, scuffles or ill-will when the pair faced off on the scales 24 hours earlier, just an overwhelming sense that something special was about to happen.
Something special did.
After a close first round that split the judges, Hughes pitched a shut-out; a near-flawless performance that will go down as one of the most masterful in CW championship history.
An emotionally charged spectacle, it may be some time before the myriad factors necessary to recreate such scenes can be replicated.
For Hughes, it was a legitimate star-making moment; the crowning glory of a roller-coaster Cage Warriors campaign thus far.
It also paints a scary picture for his future opponents; we mustn't forget that Hughes is still just 25 years of age and as such, his best years are more than likely still ahead of him.
We also mustn't forget that it takes two to tango.
When the history books are written they'll tell a tale not just of Hughes' victory, but of the heart, will and determination of Jordan Vucenic.
The former champion's unwillingness to capitulate in the worst of circumstances has rightly earned him plaudits within the MMA world; until he returns, his shadow will loom large over the featherweight division.
Next Generation & Team KF: Running Wild
Is success contagious?
It must certainly feel that way for members of Team KF and Next Generation, both of whom had huge months in CW during November.
First up were Team KF, who had some special support at cage side during CW 145 in the form of Marvel's Daredevil actor Charlie Cox, who has been training alongside the team ahead of his upcoming return to the MCU.
With 'The Man Without Fear' watching on, Adam Shelley opened the show with a confident, one-sided display against El Hadji Ndiaye.
Brother Ryan was up next, facing the biggest test of his career in the form of Shore MMA's Josh Reed.
Shelley remained perfect, improving his record to 6-0 with a slick rear-naked choke just three minutes into his bout with the former title challenger.
James Webb capped off a banner night for the team, earning a hard-fought decision victory over highly-regarded Irish prospect Paddy McCorry.
The celebrations didn't end there though, as two weeks later Omran Chaban looked clinical against George McManus, stopping him with a crunching body-shot thirteen minutes into their clash at Unplugged.
For the Next Generation crew, CW 146 proved to be yet another glittering evening in the yellow gloves.
The always-entertaining Liam Gittins opened the show, ending the undefeated streak of hot prospect Faisal Malik with a first-round TKO.
By the time Luke Riley had stopped Poland's Karol Kutyła just minutes into the evening's featured prelim, it felt like Liverpool had annexed part of Manchester as the BEC Arena came alive.
The Scouse contingent wouldn't have long to wait for something else to cheer about, with first-round finishing machine Adam Cullen opening the main card to rapturous scenes.
Would the self-proclaimed 'King of France' be able to maintain his streak of quick finishes after moving up to welterweight to secure a fight?
We'd get a definitive answer just 4:05 later, with Cullen putting all CW lightweights on notice that 2023 is going to be a big year for both him, and his team.
Morgan Charriere: Return of The Last Pirate
Speaking of Kings of France, former featherweight champion Morgan Charriere made a long-overdue return to the cage at CW Unplugged.
In a night full of finishes, 'The Last Pirate's co-main event against Daniel Bažant went three nail-biting rounds, picking up unofficial 'Fight of the Night' honours in the process.
As tense as the rounds themselves were, it was the reading of the judges' decision that proved to be the real nerve-rattler for the Frenchman and his army of supporters.
But after fifteen hard-fought minutes the comeback was complete, with 'The Last Pirate' taking the nod via split decision and setting himself up for another run at CW gold in 2023.
Christian Leroy Duncan: Human Highlight Machine
Pro wrestling fans might be familiar with Kenny Omega; a man who consistently puts on such spectacular displays that the notoriously hard-to-please Japanese fanbase dubbed him 'Best Bout Machine'.
Christian Leroy Duncan is quickly becoming Cage Warriors' equivalent.
Just when you think you've seen every trick in the book, CLD pulls another rabbit out of the hat.
Whether it's punches from all angles, wide, arching kicks or flying knees, Duncan has an answer for every question and it's becoming tough to see who or what will stop the Mark Wier prodigy.
A late first-round blitz allowed the middleweight champ to capitalise on a signature spinning elbow, downing challenger Marian Dimitrov and snapping his ten-fight winning streak in the process.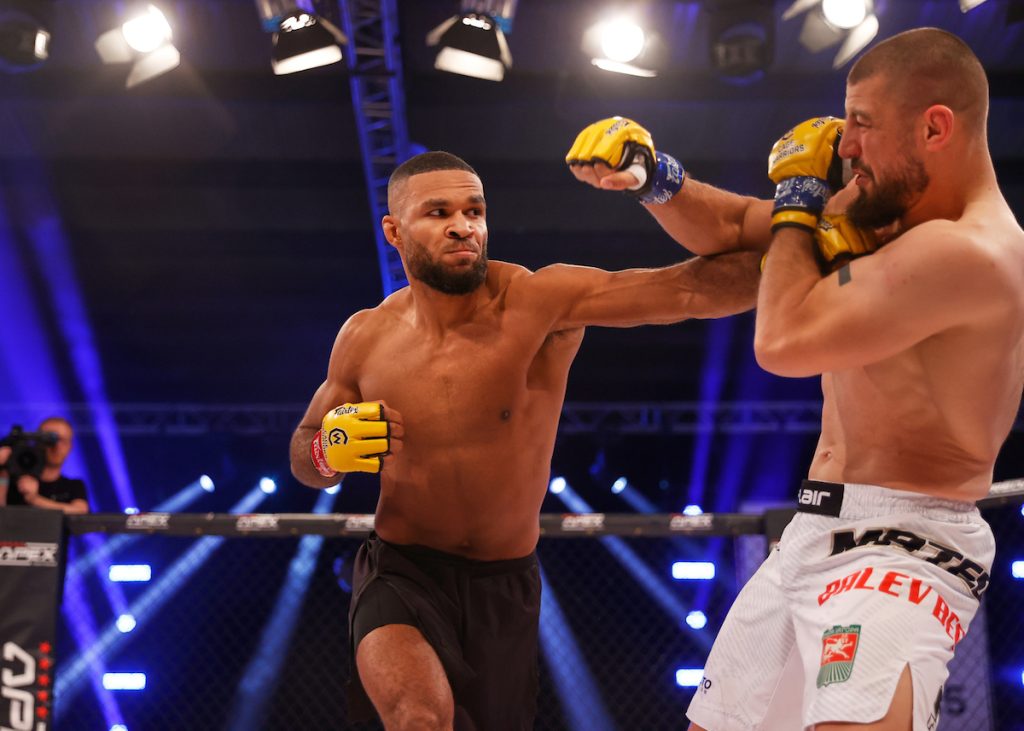 On a night punctuated by incredible action and coming just moments after Jimmy Wallhead's momentous title victory, CLD once again found a way to stand out from the crowd.
Only one question remains: Who's next?
You can watch all the action from Cage Warriors' three incredible November offerings on UFC Fight Pass!
Want to get a taste of the action yourself? Tickets for CW 148 are available now…with multiple titles on the line and a series of trans-Atlantic tousles pitting Team Europe against Team USA, it's the only NYE destination for UK fight fans!