Returning from the summer break with back-to-back shows on both sides of the Atlantic, Cage Warriors was back with a bang in September.
Tickets for the remainder of Cage Warriors' 2023 calendar are available here!
It was a month that saw future title challengers elevate themselves into contention, stunning debuts, crazy KOs and slick submissions…oh, and the small matter of one of the greatest CW fights of all time.
Cage Warriors resident play-by-play man Brad Wharton takes a look back at just a handful of the memorable moments in the September Rewind!
Roberto Hernandez: Green Lit
Roberto Hernandez has quickly established himself as the man to beat on Cage Warriors' US roster; six wins from six fights in a shade under 18 months is testament to that.
The Joe Stevenson's Kobra Kai prodigy put the featherweight division on notice with a couple of quick finishes following his 2022 debut, followed by a run of entertaining three-rounders ahead of his CW 159 bout with well-travelled KO artist Toby Misech.
'Green Light' was back to finishing ways in the bout, stopping his man with a clinical body shot in the second round.
Ian Daube: Big Man on Campus
Collegiate wrestling standout Ian's Daube pro MMA debut was highly anticipated in grappling circles. The big man had excelled on the mats, but how would he fair in the confines of the cage, with all manner of strikes and submissions thrown in for good measure?
Thankfully the former California State Highschool champ and Oklahoma/Cal State wrestler took to MMA like water off a duck's back.
Mixing in a steady stream of ground 'n' pound with superb takedowns, positioning and control, Daube smashed his way to a first round victory over his more experienced opponent.
Umakhan Ibragimov: Double Trouble
From San Diego to Manchester, and the debut of Umakhan 'The Scorpion' Ibragimov.
Having made waves on the UK regional circuit, questions nonetheless remained about how the Dagestani-born prospect would fare against a considerable step up in competition under the bright lights of Cage Warriors.
Ibragimov would pass the test with flying colours, doubling up on his lead hand to put opponent Rashid Bulguchev away in emphatic fashion.
Adam Cullen: Don't Call it a Comeback
The comeback is greater than the setback, or so the saying goes.
Adam Cullen was surging through the lightweight division prior to coming a cropper against Dumitru Girlean last April, and as he walked out to thunderous applause last Friday night in the very same venue, the comeback was very much on.
If Cullen was feeling any pressure to perform, he didn't show it. The Next Gen man looked as composed as ever as he overwhelmed Brazilian veteran Amaury Junior en route to a first round finish.
James Hendin: Saturday Night SlamMaster
The narrative for James Hendin ahead of his main event clash with Tobias Harila was stepping out of the shadows of the like of Paul Hughes and Jordan Vucenic, the only men to best him in MMA competition.
The Sunderland native couldn't have asked for a better performance on the night; it's tough to get a 10-8 round (let alone multiple) with a grapple-heavy gameplan but Hendin did it, rag-dolling and slamming his opponent around the cage for the duration of the bout.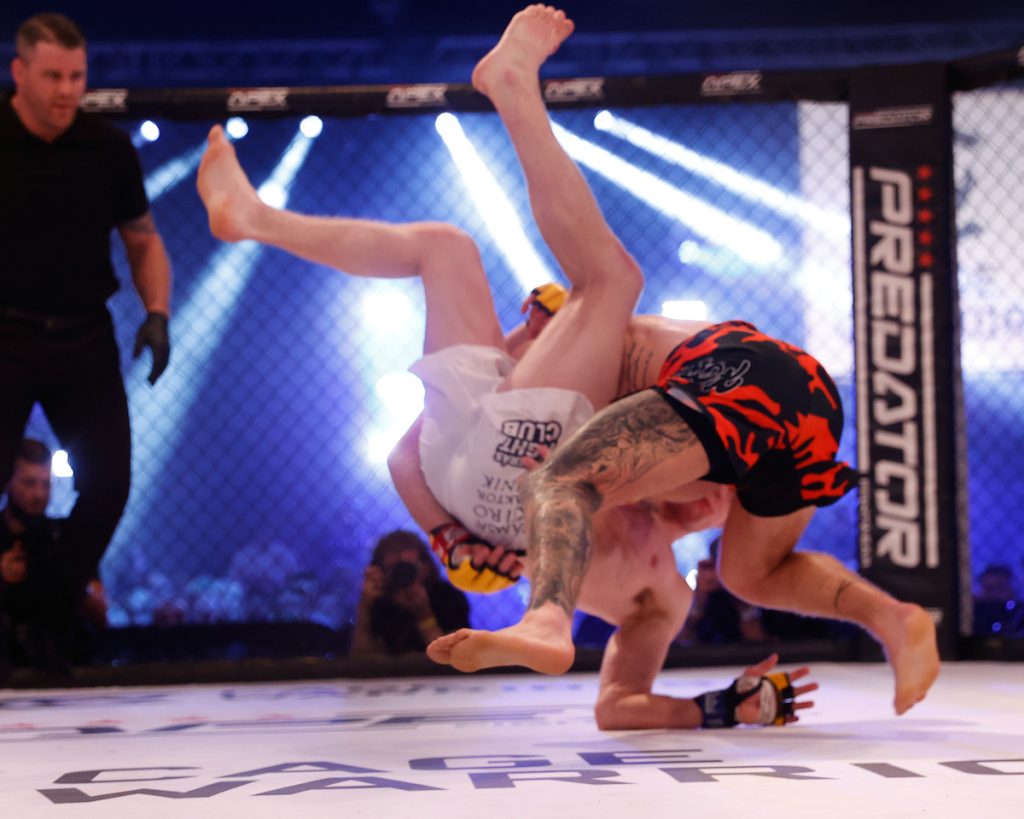 The end came with an unfortunate injury – albeit one forced by Hendin as Harila posted his arm to defend another elevated slam – which we won't show you here for those not strong of stomach.
It's on UFC Fight Pass though, for the true sickos amongst you.
Riley vs Loof: Epic
"You want it all, but you can't have it" – sang Mike Patton on Faith No More's 'Epic'.
On Friday night, when undefeated super-prospects Luke Riley and Alexander Loof took to the cage, we wanted it all…and boy did we get it.
Picking out a couple of cool highlights of what turned into an all-time Cage Warriors classic would do it a huge disservice.
Suffice to say, this was a bout that went far beyond measurables like strength, speed, and skill, and into the realms of the intangible: Heart, determination, guts.
If you haven't seen Riley vs Loof, sign up to UFC Fight Pass and do so immediately.
If you have, throw it on again…it's simply that good.
Can't wait for more action in the Famous Yellow Gloves? Cage Warriors is back on October 14th in Dublin, live on UFC Fight Pass and international broadcast partners!