Cage Warriors returns to the BT Sport Studio in Stratford, England this Sunday for another session of Unplugged; a unique CW experience in front of a specially invited VIP audience.
November 20th marks the fourth edition of Unplugged, the third to be held at the BT Sport Studios.
Aside from the intimate, stripped back surroundings, concept has provided CW fans with a plethora of memorable moments since its inception in 2016.
At the inaugural Unplugged, the audience was treated to a pair of instant classics: Chris Fishgold vs Nic Herron-Webb and Paddy Pimblett vs Julian Erosa.
Both fights went straight down to the wire, with both members of team Next Generation getting their hands raised.
Pimblett and Fishgold would go on to huge success, with 'The Baddy' in particular becoming one of the fastest rising and most talked about fighters in the sport.
Headlining Show 1 of Sunday's Unplugged, a teammate of Pimblett's looks to get his Cage Warriors run back on track.
Matt 'The Beast' Bonnar is no stranger to big fights or Unplugged, having headlined the third instalment earlier this year in Colchester.
On that occasion 'The Beast' ran roughshod over Joël Kouadja, finishing the Frenchman with a spectacular one-armed rear naked choke in the second round.
Things haven't all been plain sailing for Bonner of late though.
Dropping down to welterweight following the loss of his middleweight title, 'The Beast' went 2-0 before losing a tightly contested decision to rising star Oban Elliot.
The result prompted Bonnar's return to middleweight, the home of some of his best in-cage showings.
The Next Generation man went on a career-best run through the division from 2020-21; defeating the likes of George Smith and former champion James Webb.
He also engaged in a pair of instant classics with Matt Inman and Nathias Frederick, beating the latter in dramatic fashion to capture CW gold.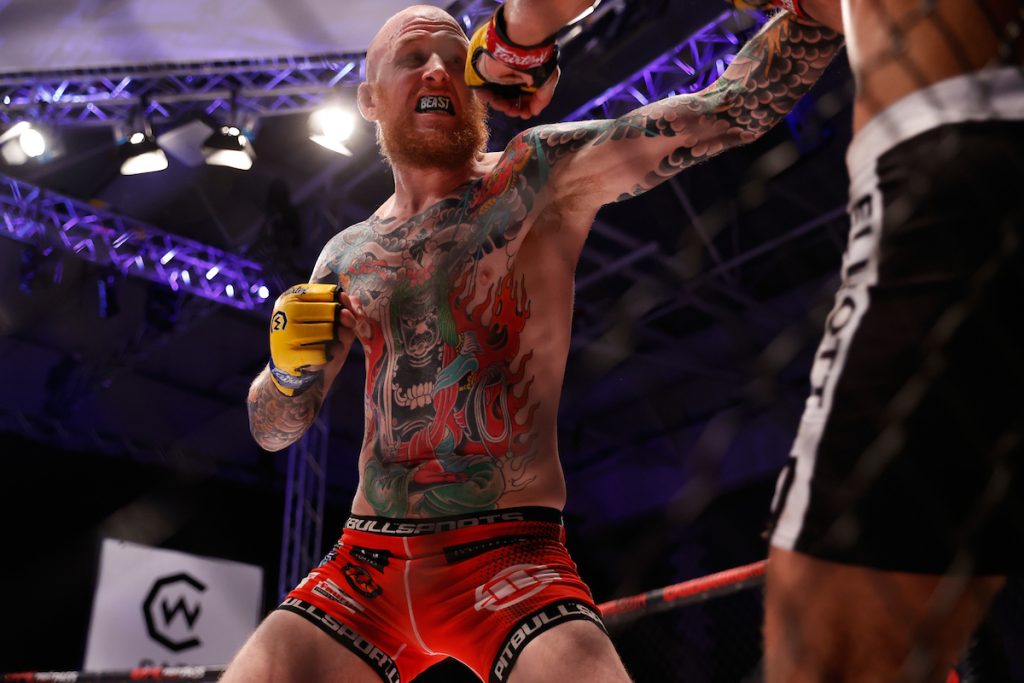 On Sunday he'll look to begin a second run at the title.
Bonnar's his first hurdle is a man who has already fought for the belt once – 'The Brazilian Viking' Alan Carlos.
A submission specialist with a striking game that he seems to be getting more comfortable with in the twilight of his career, there's not much the 23-fight, 15-year veteran hasn't seen.
With ten finishes from thirteen wins, the Scandinavian-based Brazilian knows he isn't paid by the hour; finishing Bonnar – who has only been stopped once, as an amateur in 2015 – might be the toughest test of his career.
With the return of Modestas Bukauskas in London and Chuck Campbell's first round victory over Andy Clamp last weekend in Manchester, business seems to be picking up in the 205lb division.
Two up-and-comers looking to throw their names in the ring will meet in Show 1's co-feature, as Matty Byfield takes on the debuting Daniel Ladero.
Spain's Ladero (3-0) brings a unique submission game to the light-heavyweight ranks; all three of his professional victories have been by tap-out, with the most recent two coming by way of heel hook.
The leglock specialist will be competing for the first time in over three years though, having been unable to secure fights in Europe during the pandemic.
Looking to spoil his return is Team Renegade's Matty Byfield.
The Birmingham man will strap on the famous yellow gloves for the third time on Sunday, aiming to maintain his unbeaten run and build off an August victory over Vale Tudo veteran Szymon Szynkiewicz.
Also looking to improve on recent results in the yellow gloves is Adam 'The Plank' Darby.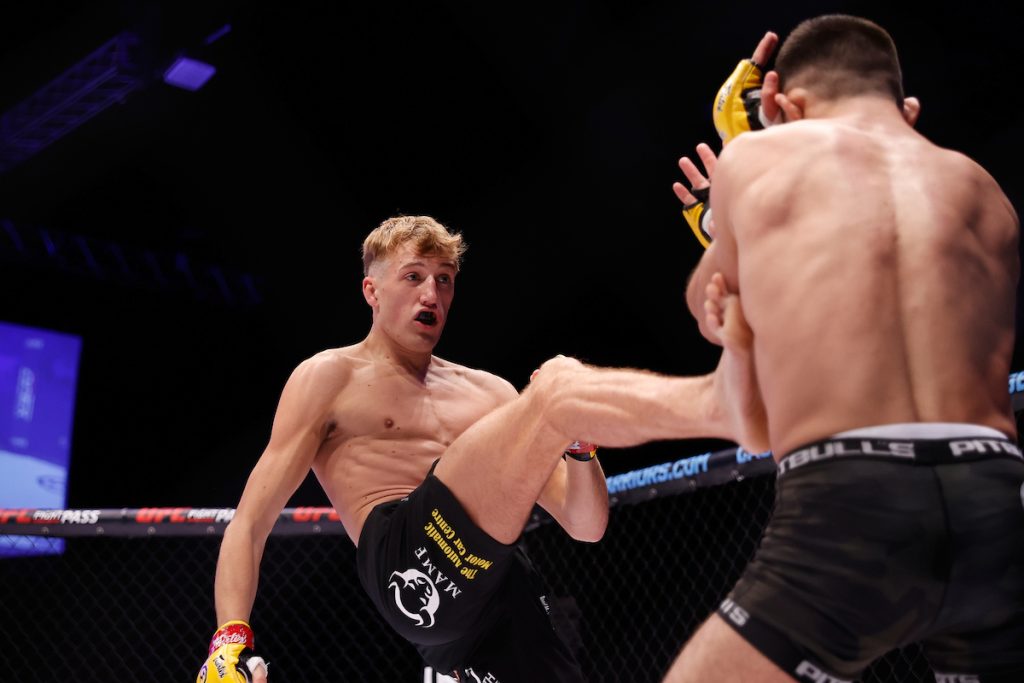 The Team Ryano man made his professional debut at CW140 in June, stopping Dorian Cliucinicov in the first round.
Darby joined the professional ranks after a storied 10-3 amateur career, including a silver medal in the 2019 IMMAF European Championships.
Looking to steal Darby's momentum is another Team Renagade project, Mush Aslani.
Like Darby, Aslani has previous Cage Warriors experience as an amateur, having submitted Luke Begley at CW 78 back in 2016.
With a 3-3 record as a professional, including a 2017 win over former CW champion Matt Bonner, Aslani will be looking for a statement win to kick off his professional tenure in the yellow gloves.
Opening the evening's proceedings is a welterweight bout between Paddy Wilkinson and Milton Alfonso Cabral.
Wilson, a 2018 IMMAF Juniors silver medallist, makes a long-overdue return to the cage after four years on the sidelines.
He'll face 'King B', Milton Alfonso Cabral, who'll be looking to right the ship after an unsuccessful debut against George McManus earlier this year.
All the action from CW 147: Unplugged Part 1 goes down from 18:45 GMT and streams live on UFC Fight Pass.