Cage Warriors is delighted to announce that another eight fighters have signed multi-fight contracts to compete exclusively for Europe's leading mixed martial arts organisation.
More than 50 athletes have now committed to the CW roster so far in 2022, including Wilson Reis, Jimmy Wallhead, Caolan Loughran, Reece McEwan and Chasen Blair.
Joining them in our stable of exclusive talent is Bulgaria's Marian Dimitrov, who will enter the middleweight division on the back of 10 consecutive wins, as he prepares to return to action for the first time since October 2019.
Irish prospect Adam Darby (pictured) earns a contract after an impressive professional debut last month at CW 140 in Belfast, where he comprehensively overcame Dorian Cliucinicov.
Dario Bellandi, who hasn't competed since dropping a decision loss to Will Currie in December 2020, is set to have the first fight on his contract at CW 144 in his native Italy on October 7th.
Meanwhile, Cage Warriors debuts are imminent for Aaron Johnson, Enrico Muchorowski, Paddy McCorry, Paddy Wilkinson and Sam Kelly.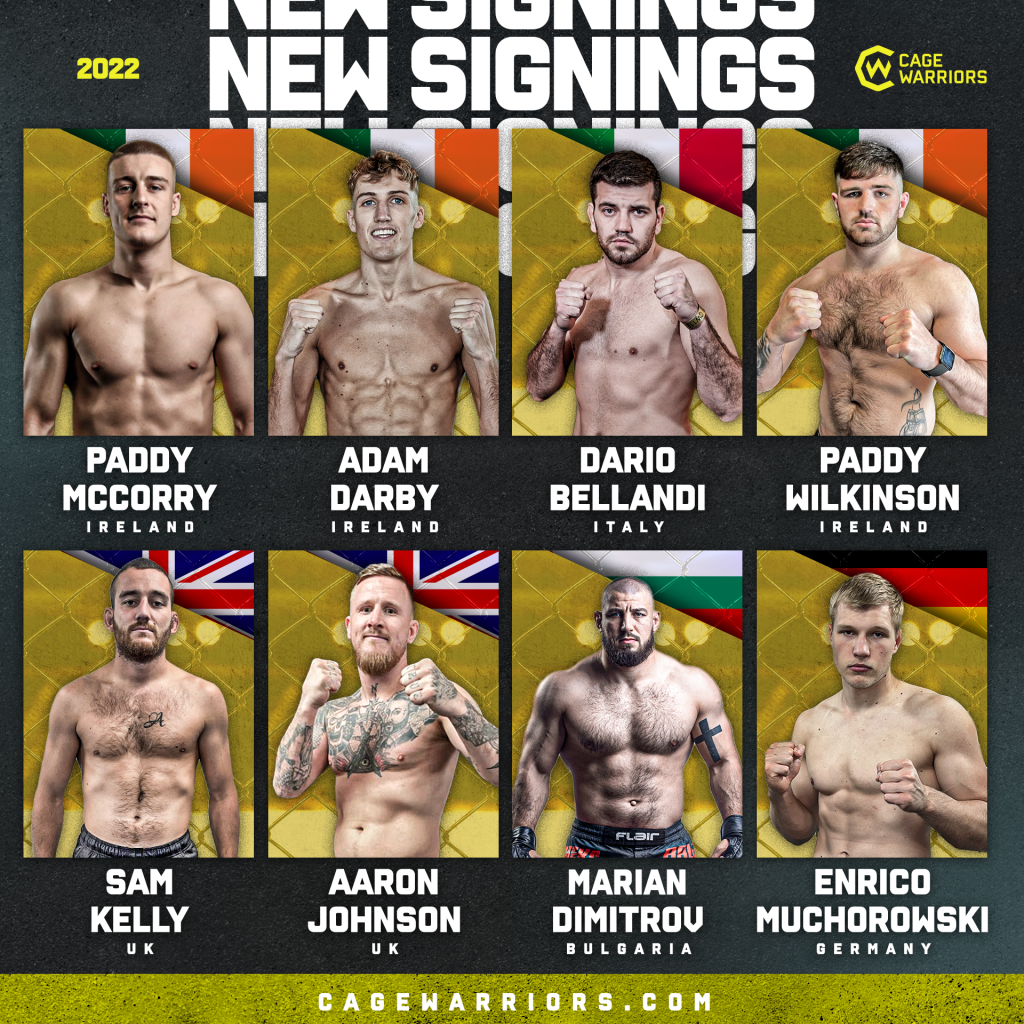 Elsewhere, James Sheehan (5-2) has reaffirmed his commitment to Cage Warriors by signing a new multi-fight contract.
Sheehan has been rewarded with an extended deal following his recent performances, having stretched his win streak to four with stoppage victories over Karol Michalak and Martin Causse earlier this year.
ADAM DARBY
Division: Lightweight/Welterweight
Record: 1-0
Age: 23
Nationality: Irish
AARON JOHNSON
Division: Lightweight
Record: 6-2
Age: 32
Nationality: British
DARIO BELLANDI
Division: Middleweight
Record: 2-1
Age: 26
Nationality: Italian
ENRICO MUCHOROWSKI
Division: Welterweight/Middleweight
Record: 5-1
Age: 22
Nationality: German
MARIAN DIMITROV
Division: Middleweight
Record: 10-2
Age: 30
Nationality: Bulgarian
PADDY MCCORRY
Division: Middleweight
Record: 2-0
Age: 24
Nationality: Irish
PADDY WILKINSON
Division: Welterweight
Record: 0-0
Age: 23
Nationality: Irish
SAM KELLY
Division: Bantamweight
Record: 3-1
Age: 27
Nationality: British