Cage Warriors returns to the Sycuan Casino Resort on Friday night for CW 155; a stacked card emanating from California's Oldest & Luckiest Casino.
Last remaining tickets for CW 155 are available here!
As ever, the promotion has pulled together some of the hottest talent on the scene, comprised of up-and-comers, crafty veterans and even a former word title challenger.
Cage Warriors' resident play-by-play commentator Brad Wharton takes a look down the card, with Five Reasons to Check Out CW 155: San Diego!
Jamey Lynch: Down With the Slickness
Hometown favourite 'The MMA PA' Jamey Lynch is one of the smoothest operators on the circuit; a brilliant technical grappler and an expert at joining the dots between the various facets of mixed martial arts.
Take a look back at his CW debut against Josh Nakagawa; Lynch starts by landing a pair of clean left hands, resets and teases the same shot to bait Nakagawa's hands high, before changing levels to finish a slick takedown.
It's not all slickness on the ground either. At CW 139 a peach of a knee cut Cesar Gonzalez badly enough for the doctor to stop the fight.
With the skill to pay the bills wherever the fight goes and the San Diego crowd at his back, Friday night's main event could well be the platform Lynch needs to put the CW lightweight division on notice.
Hernandez' Human Highlight Reel
Speaking of slicksters, you cant have a conversation about the smoothest operators on the CW roster without mention of featherweight prospect Robert Hernandez.
A joy to watch, Hernandez never fails to entertain, whether it's a fifteen minute war or a lightning fast first round finish, like the outside heel-hook we saw at CW 133 when he faced Ethyn Ewing.
It was a rare showcase of grappling nous from Hernandez, a man who has built a reputation around his stand-up.
It was a more typical performance when last he strapped on the famous yellow gloves, turning in a three-round 'fight of the night' performance against fellow striker John De Jesus.
All eyes will be on the Joe Stevenson project on Friday night, as he takes on the undefeated debutant Moses Diaz in a bout hotly-tipped to contend 'FOTN' status.
Which 'KD' Will We See?
If there's one thing Kyle 'KD' Driscoll can be relied upon for it's bringing that good ol' Oklahoma wrestling to his bouts.
Driscoll's ability to get an opponent down (and keep him there) is almost unrivalled in the CW lightweight division, but last time out against George Hardwick, the AKA man showed off another string to his bow.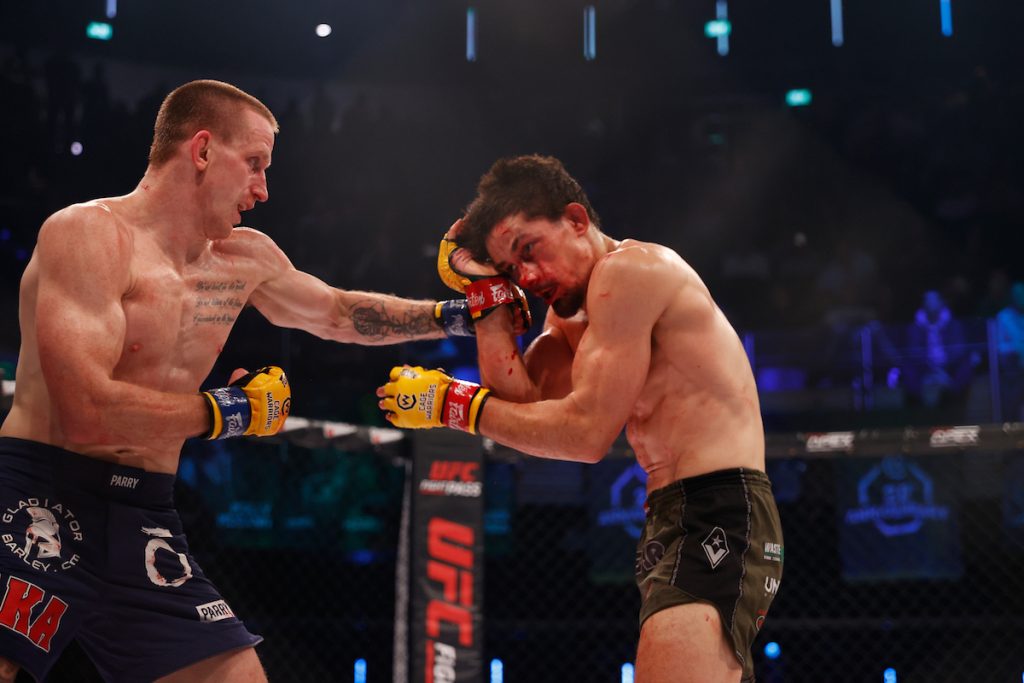 "I thought he was a wrester but he boxed the s*** out of me!" exclaimed George Hardwick after their epic war for the vacant lightweight title last July.
Driscoll may have come up short on that occasion, but his performance will no doubt be giving future opponents – in this case, Jamey Lynch – a lot to think about.
Young Blood Rising
Considered 'the draft' of MMA, Cage Warriors has built a long-standing reputation for showcasing some of the sport's most promising emerging talent.
Recently teaming up with MOLA to produce 'The MMA Fight Academy', a new batch of prospects are strapping on CW's famous yellow gloves on Friday night.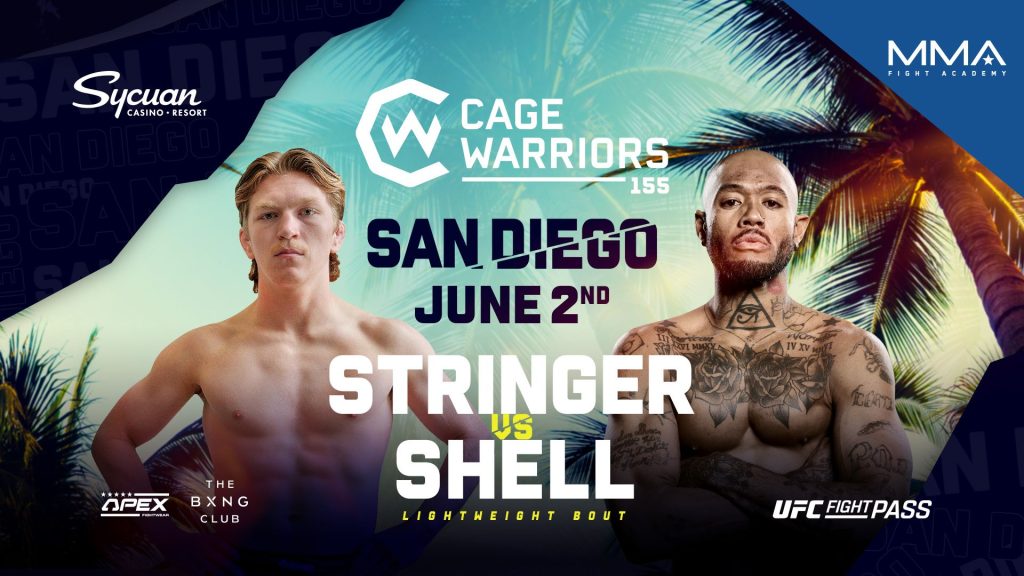 Perhaps chief amongst them is Teddy Stringer, one of the UK's foremost amateur talents, who'll be making his professional debut in one of CW 155's preliminary bouts when he takes on Bryant Shell.
A threat wherever the fight goes, Stringer is no novice, having competed extensively against high level, international competition prior to entering The MMA Fight Academy.
With the likes of Anthony Orozco and Next Generation duo Francis Breen and Connor Wilson also in action on the card, Friday night looks set to be a big one for prospect spotters.
Nomadland: SD is Damon Wilson's House
If there's one man who's become synonymous with CW trips to California it's 'The Nomad', Damon Wilson.
A wildly entertaining scrapper who's willingness to bite down and throw down with just about anyone, Wilson has endeared himself to CW fans on both sides of the Atlantic.
Performances like the 'KO of the Year' nominee against Theodore Macuka above saw Wilson up for 2021's 'Breakout Fighter of the Year' award too; and the crowd pleasing performances just keep on coming.
On Friday night, he faces featherweight veteran John De Jesus in a bout you can take to the bank as far as fireworks go.
All the action from CW 155 airs live this Friday night (US) / Saturday morning (EU) on UFC Fight Pass and international broadcast partners!