This week on Dana White's Contender Series, Oban Elliott became the latest in a long line of athletes drafted from Europe's Leading MMA Organisation into the UFC.
With all ten of his prior professional outings and a glittering amateur career taking place in the famous yellow gloves, Elliott made Cage Warriors his very own Gangster's Paradise.
Vs Bouali Skikem at CW 104
After a fine few years competing as an amateur where he captured both a CW Academy Championship and an Amateur Grand Prix win, it was time for Oban Elliott to make his professional Cage Warriors debut.
It was to be a great night for Welsh MMA, with the likes of Kris Edwards, Josh Reed, Cory McKenna and Mason Jones picking up big wins, not to mention a huge title defence from Jack Shore.
On the prelims though, CW fans got their first real taste of a future star, as Elliott put paid to Frenchman Bouali Skikem in double-quick time.
Vs George McMannus at CW 127
It was the comeback to end all comebacks. Almost a year to the day removed from his first loss and the discovery of a potentially career-ending health issue, 'The Welsh Gangster' was about to show the world that the comeback really is bigger than the setback.
Looking stacked and jacked at 170lbs for the first time as a pro, Elliott jumped into the fire against dangerous grappler George 'The Hangman' McMannus.
Forcing the ground specialist into a good old fashioned punch up, 'The Welsh Gangster' scored arguably his most dramatic highlight reel finish, impressing CW legend Dan Hardy in the process.
Vs Herkus Lukošiūnas at CW 138
Following a defeat to top contender Madars Fleminas, Elliott returned at CW 138 in Colchester to once again prove that he was at his most dangerous with his back to the wall.
Against Lithuanian kickboxer Herkus Lukošiūnas he showed yet another string to his bow, taking the fight to the ground and looking as dangerous as ever.
Roughing his man up with some vicious ground 'n' pound, the Welshman transitioned to the back and put the pythons to good use, sealing off a tight rear naked choke for another first round finish.
Vs Matt Bonner at CW 142
At CW 142 in Ebbw Vale, Wales, Elliott would face arguably his toughest test to date.
Serving as the co-main event of the evening and the last Welsh fighter on the card, it was up to the local boy to send the crowd home happy, but with former middleweight champion Matt Bonner as his opponent, it wasn't going to be an easy task.
The Shore MMA man would rise to the occasion in fine form though, turning in a cerebral performance to outpoint the former champ over three nail-biting rounds.
And of course, he'd celebrate in style…
Vs James Sheehan at CW 153
In what would prove to be his final appearance in the Famous Yellow Gloves, Elliott would continue to push the boundaries when it came to taking the toughest roads possible.
After besting a former champion, Oban would set his sights on challenging a top contender in James Sheehan, and what's more, he'd do so in his opponent's back yard.
It was a classic case of a gangster doing gangster things, as Elliott beat his man to the punch on home soil to earn a unanimous decision victory over three hard fought rounds.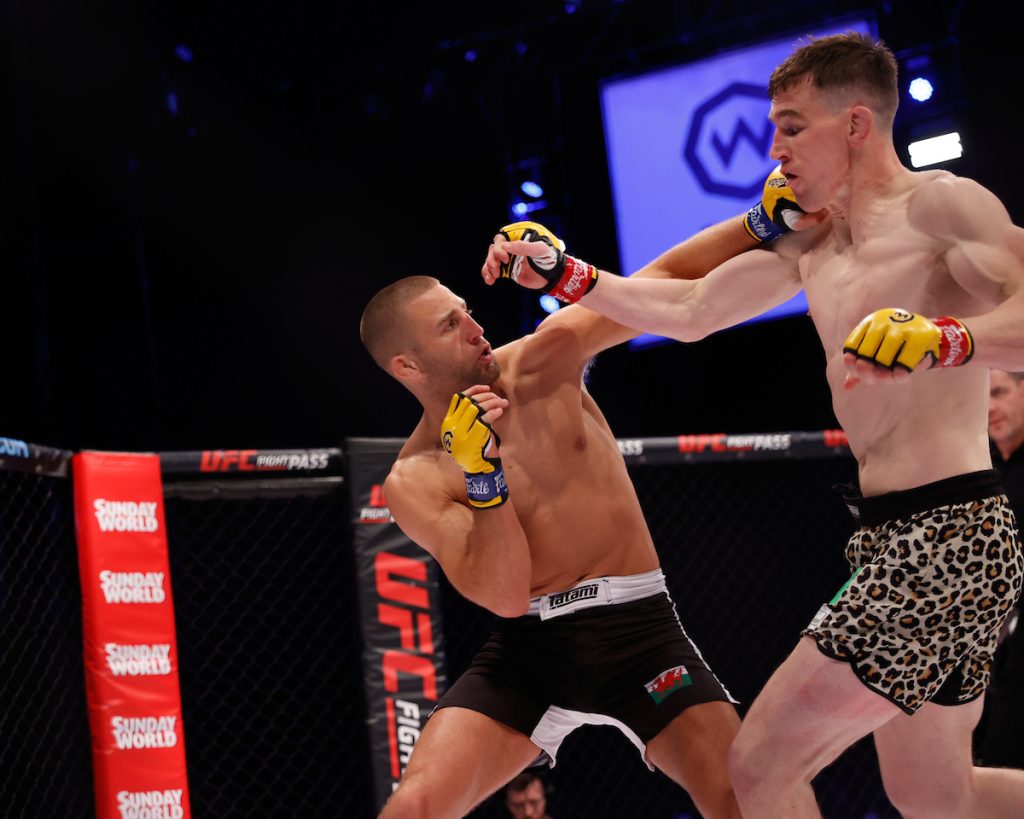 With four wins on the bounce, it wasn't long before Dana White came calling and following a thrilling victory against OKTAGON champion Kaik Brito, 'The Welsh Gangster's Cage Warriors story was complete.
Who will be the next CW athlete drafted into the UFC? Keep it locked to our packed 2023 event schedule and social channels to be first in line for fight announcements, ticket info and more!