Cage Warriors 147: Unplugged gets its second world title fight, with incumbent lightweight champion George Hardwick making the first defence of his belt against Chris 'The Bad Guy' Bungard at the BT Sport studios in London on Sunday, November 20th.
Hardwick (10-1) captured lightweight gold in spectacular fashion over the summer.
The Middlesborough man headlined Cage Warriors' critically acclaimed 20th anniversary event at the indigo at The O2 in June against American Kyle Driscoll; the first time members of the European and US rosters had met for CW gold.
After three hard rounds in which the American surprised onlookers, eschewing his vaunted wrestling approach in favour of a kickboxing clinic, Hardwick showed his durability, power and true grit to finish the fight in the fourth with a crunching body-shot, followed by a swift barrage of ground and pound.
Hardwick's victory was his fourth straight in the promotion, all coming by way of a highlight reel finish.
Prior to his title shot, the champion had notched up wins against Łukasz Kopera, Jakub Dohnal and former featherweight champion Dean Trueman.
Opposing Hardwick in his first title defence is a true veteran of the European MMA circuit in Scotland's Chris Bungard (17-7).
The 24-fight veteran made a splash on his CW debut in August, slugging it out with Brazilian Erick da Silva over three gruelling rounds.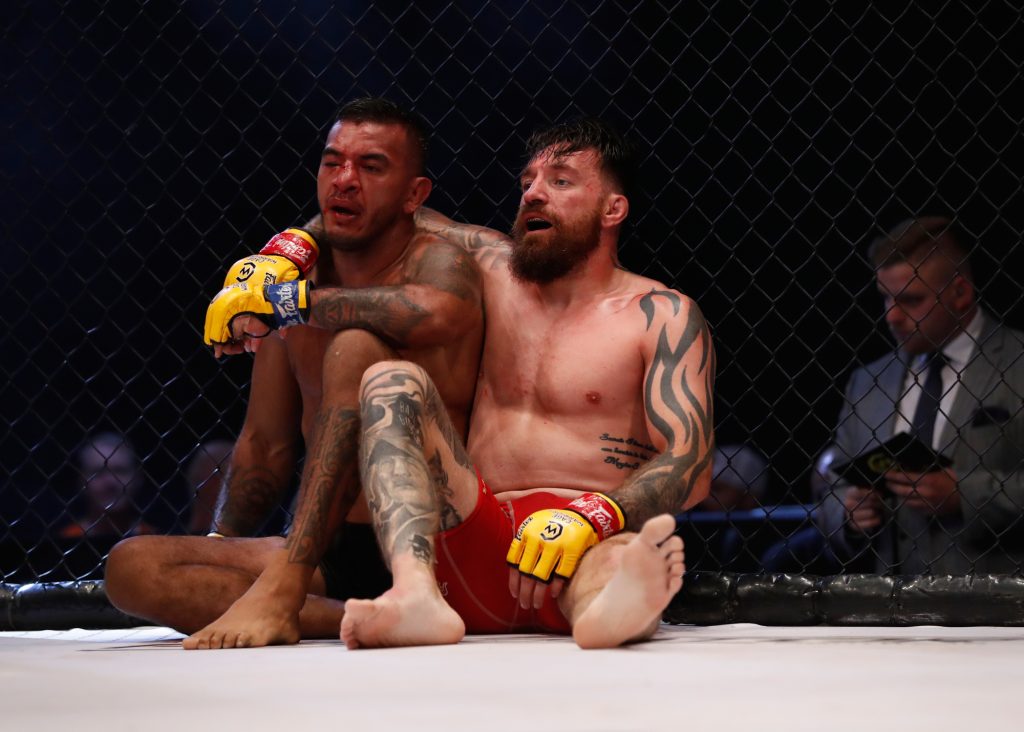 Originally slated to compete at CW 146, Bungard will now extend his camp by a week and contest the title, after original opponent Gavin Hughes withdrew due to injury.
The 33-year-old, who competes as a pro-wrestler alongside his extensive MMA career, also holds victories over the likes of CW veteran Benjamin Brander and former domestic champion Terry Brazier.
"George Hardwick's performance to capture the lightweight belt was one of the best we've ever seen on Cage Warriors…" said Cage Warriors President Graham Boylan.
"He showed that not only can he go out there and finish the best 155lb'ers on the circuit, but he can also come through adversity and remain a threat in the championship rounds. That's the sign of a true champion."
"Chris Bungard is by far and away the most experienced opponent Hardwick has ever faced," Boylan continued.
"He's finished some high-level guys with his submission game and as we saw in his Cage Warriors debut, he's more than happy to bite down on his gumshield and throw heavy leather."
"This has all the makings of another classic Cage Warriors title fight, and alongside Sam Creasey vs Shaj Haque for the flyweight belt, makes this edition of Unplugged our biggest to date!"
The pair of title bouts top an already stacked bill, also featuring the middleweight return of former champion Matt 'The Beast' Bonner against one-time title challenger 'The Brazilian Viking' Alan Carlos, and surging prospect Will Currie taking on dangerous knockout artist Michael Tchamou.
CW 147: Unplugged is a special, invite only event at the BT Sport studios, but fans will be able to catch all the action live on UFC Fight Pass and global broadcast partners.