John Martin Fraser will make his Cage Warriors debut in a clash with top middleweight prospect Christian Leroy Duncan at CW 127 on 30th September in London's York Hall.
CW 127 kicks off Cage Warriors' fifth Trilogy and will be the first European Cage Warriors show to take place in front of a crowd since March 2020.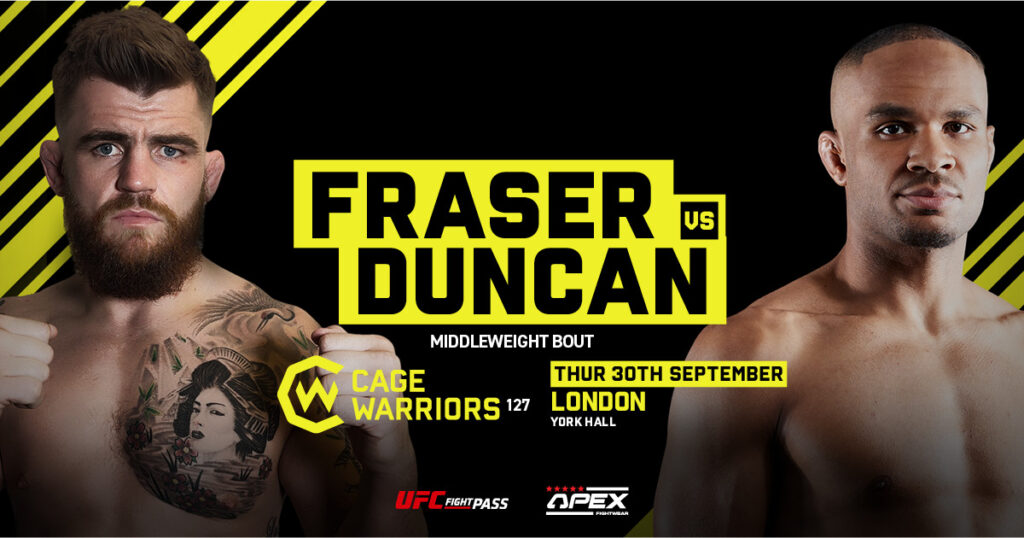 Talking about the latest addition to CW 127, Cage Warriors president, Graham Boylan, said: "What a way for John Martin Fraser to make his debut.
"Christian Duncan is one of the biggest stars in our middleweight division right now and if Fraser can cause an upset, it would definitely shake the division up.
"Stylistically this fight will be great for the fans, both men are exciting strikers!"
Fraser comes to Cage Warriors with a 5-2 record, with all five of his wins coming via knockout.
The Welshman joins fellow countrymen: Josh Reed, Oban Elliott, Rory Evans, Scott Pedersen and Jack Tucker on the card.
Talking about his upcoming debut, the knockout artist said: "I've been fighting out of Australia for the past five years so I'm excited to get back and fight in front of my home crowd.
" I love the match up with Christian Duncan.
"Stylistically this is a cracking fight that will not go the distance.
"I have a 100% finishing rate and I plan on adding this fight to that stat!"
Duncan meanwhile holds a perfect 4-0 record and enters the fight straight off the back of two straight wins against middleweight rival, Will "Drago" Currie.
Ahead of his fight, Duncan told Cage Warriors: "This will be my fifth fight as a professional and my fifth fight on a Cage Warriors Trilogy event, which has all come in the space of a year.
"None of my opponents have been pushovers which forces adaptation and growth.
"I hope to continue in this fashion and rise through Cage Warriors."
Tickets for CW 127 are available here.