All roads lead to Dublin: For UK MMA legend 'Judo' Jim Wallhead and Ireland's own Rhys 'Skeletor' McKee, that's the mantra they've been living by for the past four months.
But while the pair have a common destination, they're both at very different points in their respective MMA journey.
The first thing that strikes you about the 27-year-old McKee – apart from wondering how on earth the 6'2 Ballymena man was able to make lightweight, let alone 145lbs during his amateur career – is how genuinely affable he is.
Yes, he wears the close-cropped hair and scarry tattoos commonly associated with the stereotypical MMA fighter (not that there is such a thing these days), but underneath it all is a young man with the world at his feet who genuinely loves what he does.
It makes you think back to the now famous image of him taken shortly after he and Justin Burlinson spent eleven minutes tearing lumps out of each other in Belfast last summer, sharing a takeaway pizza and a conversation in the back of an ambulance.
Imagine counting every calorie for weeks, determined to make your opponent pay for every missed treat, every night out with the lads swerved, every rumble in your stomach…then imagine getting your hands on a box of piping hot meat and cheese and splitting it with the very same guy who less than an hour ago had cleaved your forehead open.
Nothing bares the soul like fighting; months of stress, strict diet and rigorous training, time with friends and loved ones sacrificed…then eleven minutes of hell and it's all over. There's nothing left but who you really are.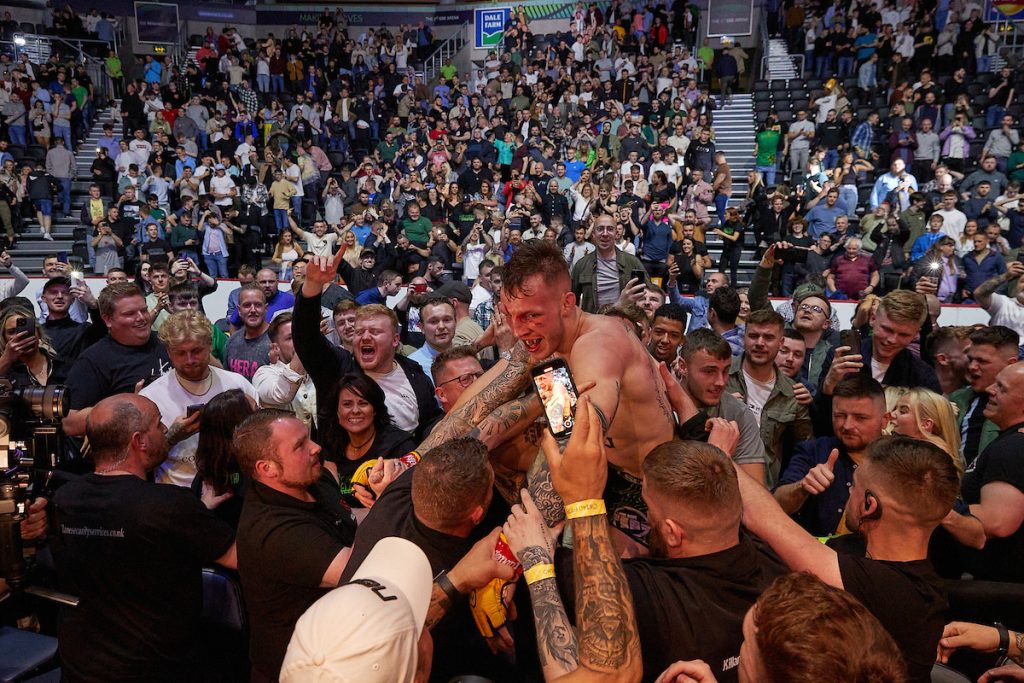 That night in Belfast we found out who McKee really was: Lethal in combat, and a true professional who respects the art and the man in front of him in equal measure. He just gets it, inside of the cage and out. The interviews, the media, the discipline, the craft.
And now, in what is potentially the most important fight of his career so far, all roads lead back to where it started: Dublin.
The future, as they say, is bright…even up Snake Mountain.
Jim Wallhead is also looking to the future, but it's a future that looks decidedly different to McKee's.
He turned 39 last month, and has fought in more different promotions than McKee has professional wins on his record.
Wallhead is the true embodiment of a World Warrior; a man who's been everywhere, done everything and got every t-shirt imaginable along the way.
It's often said that the best time for an MMA fighter to retire is the second after the thought first creeps into the back of their mind, but Jimmy's career – especially his recent Cage Warriors renaissance – serves to contradict conventions.
It's been a magical year for the man who made his debut in the famous yellow gloves before they were either famous, or indeed yellow.
Almost a decade ago he faced Danny Roberts in Liverpool in a bout Cage Warriors billed as 'Old School vs New School'; the passing of the torch.
Wallhead may have passed the torch to Roberts that night, but the fire still burned bright; some might say it's never burned brighter.
And so it was a truly magical moment to see 'Judo Jim', a veteran of 20+ fights in the organisation who, unfathomably, had never lifted CW gold, finally come full circle and earn the title of champion in a promotion that had been virtually omnipresent throughout his career.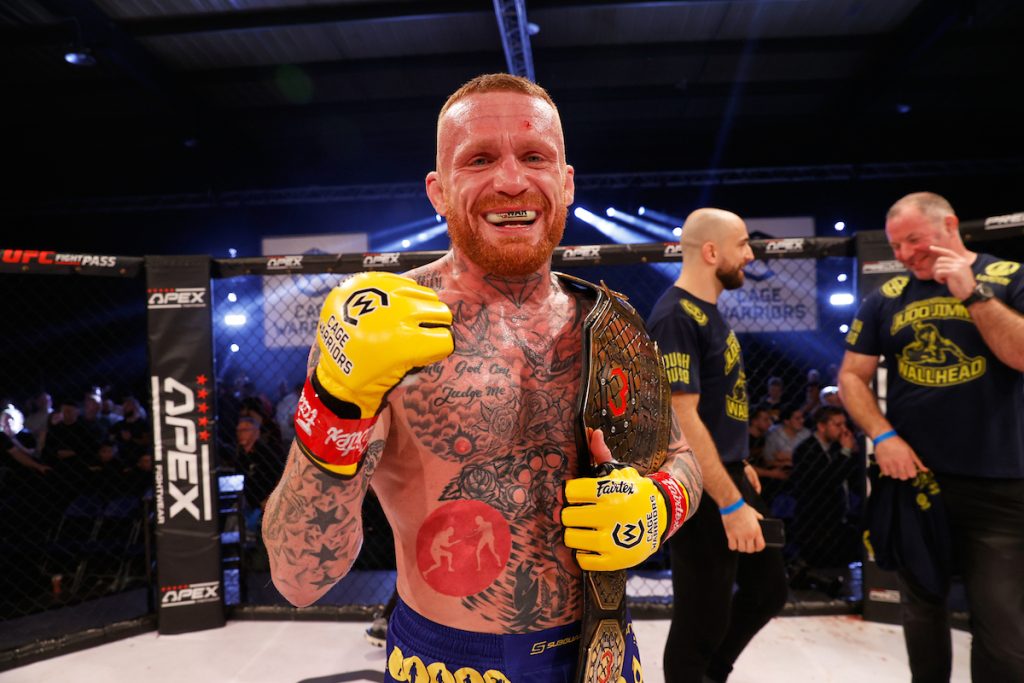 For a man that has had to contend with injuries, contaminated supplements, global pandemics and even the fallout from a volcanic eruption at crucial junctures of his career; the raw emotion on display afterwards was never more justified.
Wallhead has made no secret of the fact that this will likely be his last dance. He's spoken frankly about the inherently selfish nature of fighting and his desire to adjust to a lifestyle that puts family and students first.
Maybe that's the secret? Drawing the line in the sand in front of you rather than behind.
Either way, the Jimmy Wallhead of 2023 seems more dangerous – and content – than ever.
That's why he's game for one last fight, one more chance to prove to the world that there's no school like the Old School. One final challenge in one of the world's few fight capitals that he's yet to tick off his bucket list.
All roads lead to Dublin.
This isn't the kind of fight you'll see very often, one that left many – albeit gratefully – asking "Why?"
Why should Rhys take such a risk against a warhorse like Wallhead with a return to the UFC within his grasp? Why wouldn't Jimmy take a 'gimmie' as he rides off into the sunset?
Perhaps it's because when their gaze finally meets across the cage on Saturday night, they'll see a reflection of themselves, albeit from a different timeline.
There's a lot of the young Jimmy in Rhys, and Rhys will no doubt see a lot of where he wants to be ten years from now in Jimmy. Both are firm fan favourites. Neither picked up a Cage Warriors title during their initial runs with the promotion.
Both are, in a way, fighting to erase the memory of a UFC stint in which they weren't able to show the best of themselves.
Both are truly exceptional at what they do.
For Wallhead, it's been a long road well-travelled. For McKee, there's a long road still ahead.
Regardless of what comes next, on Saturday night, all roads lead to Dublin.
Tickets for CW 153 are available here.