Growing up, Modestas Bukauskas had many of the same inspirations we all do; but aside from watching Danny LaRusso take the All-Valley Karate Tournament or Tony Jaa tearing it up in Ong Bak, there was one early influence that guaranteed martial arts would be a major part of his life…
…his father.
"I started when I was very young, so when I was about five years old, seeing my dad practising kicks and whacking this piece of wood on the floor!
"It was a very disciplined household in terms of my training…it was very regimented."
"It was tough because as a kid, you wanna go around and play, do other things or just play on your Playstation, but you've got your dad saying 'Nah, we're gonna train, we're gonna kick some pads!'"
"You're thinking, 'I don't wanna do it!' and at the time you don't understand, but later on you realise how much that has helped you and shaped you to grow into the person you are today."
With father Gintas at his side, Bukauskas would become one of the UK's hottest light heavyweight prospects, inevitably strapping on the famous yellow gloves of Cage Warriors.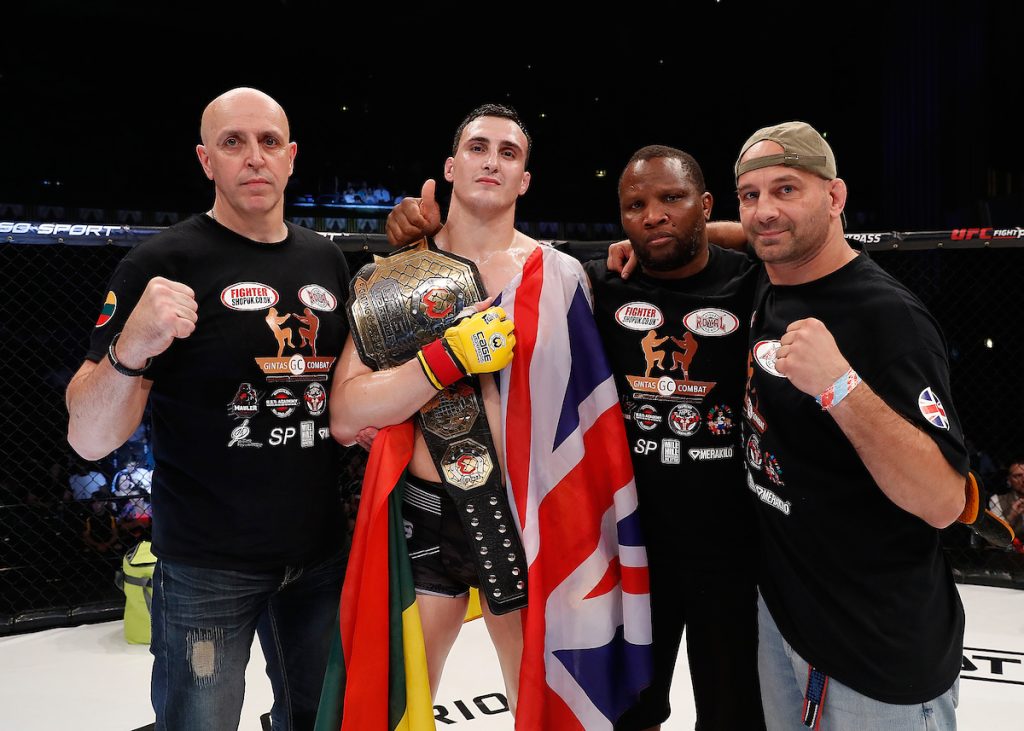 After losing his debut, coming back from a serious injury and working his way through the CW light heavyweight division, the call he'd been waiting for finally came.
"It was announced that I was going to be fighting for the world title…that was my first real taste of reaching the upper echelons of mixed martial arts…literally fighting for one of the biggest belts in the world!"
"I was such a heavy underdog, everyone was already saying that (Marthin) Hamlet was touted to go to the UFC…no one really cared about me at all, so that was really my chance to put myself in the limelight."
"Cage Warriors gave me the opportunity, I just had to go out there and do well with it."
"It was an absolutely amazing fight, I felt really good in there…I'd stopped his main attacks from happening…I'd visualised everything, me getting the finish and running up on the cage and screaming…everything I'd visualised had just come true!"
"There was so much build-up, so much hype behind it…so many people doubting me…so for me to actually land that right hand that my dad had kept screaming for from the corner, "The right hand's gonna land, the right hand's gonna land!!", and then finally it landed!"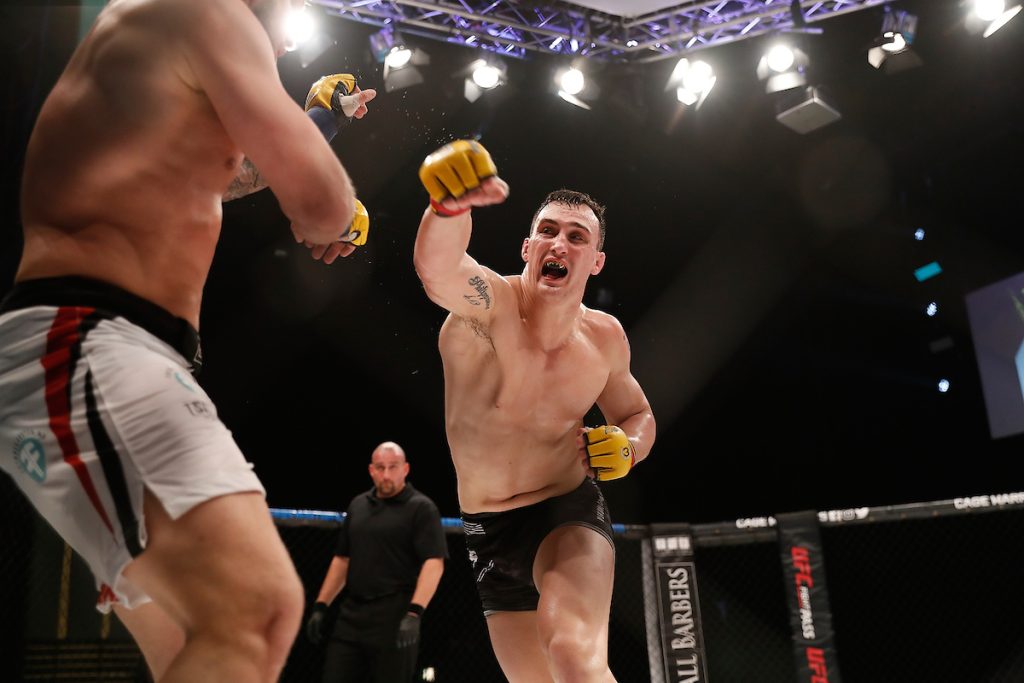 "I was extremely elated, I think that was one of my best combat sports moments…I felt like a massive mountain had been climbed, it was truly special."
One title defence later and 'The Baltic Gladiator' was signed to the UFC.
It was a rocky couple of years; from the highs of a debut victory to the lows of suffering a devastating knee injury in his final fight with the promotion, Modestas wasn't afraid to admit the toll such things can take.
"I had a very extensive surgery…it was a lot of dark times…there were many times where you're in your room, questioning everything, crying, drinking a lot…not really knowing what to do."
"I had to try and keep myself motivated…I tried to keep my mind on, 'Listen, I've got to try and work from this…this isn't all bad and as bad as it is, we're gonna get back.'"
"The only thought in my head, even through all the hard times was, 'I've got to take it day by day, stride by stride, get back to it and take little victories all the time!'"
This positive mindset saw Bukauskas return to the cage at full fitness in November, outpointing former CW middleweight champion Lee Chadwick.
With all that time spent on the sidelines and the pressure on his shoulders, it's no surprise that the victory felt symbolic of a long road back to competition.
"It was absolutely amazing to get my hand raised…it was a very emotional moment for me because there was a lot of struggle, fourteen months outside the cage…all the dark times people didn't see behind the scenes, getting cut from the UFC…"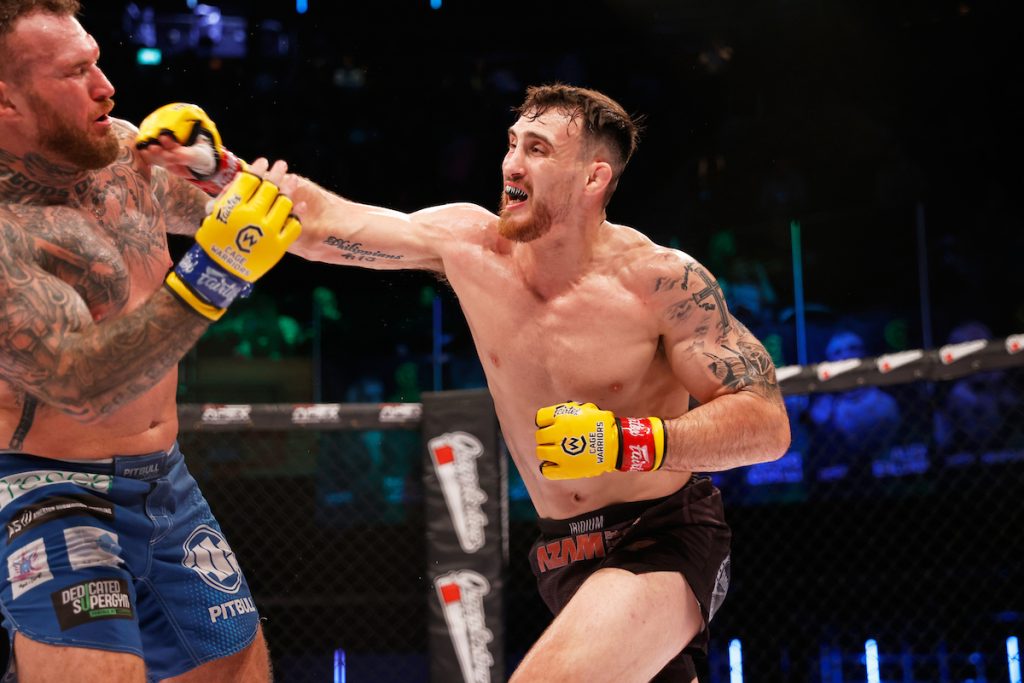 "It seemed like a massive hole that was insurmountable at the time, so for me to overcome all that, come back and get the win…I didn't fight the way I would have liked to have fought, I didn't pull the trigger but I got the win, and that was the main thing."
"I was happy, I felt calm in there…it was great to be back home with Cage Warriors!"
With the successful homecoming completed, Bukauskas' attention now turns to the next challenge: A New Year's Eve date with Chuck Campbell.
"Chuck Campbell is a very explosive opponent…he's played a bit of American football at quite a high level, Division 1 in college…so he's athletic, explosive…he's quite a lot older than me so he's got the maturity in his body, I guess you could say."
"When he gets caught in the fire and put under pressure a bit he tends to not do too great, but overall he's a very credible opponent and I'm looking forward to facing him on New Year's Eve, to show that I'm in the upper echelons and show what I'm capable of in the cage!"
There's more on the line than just wins and losses though; should he emerge victorious, Modestas would become just the third fighter after Dan Hardy and Nicolas Dalby to capture a CW title for a second time.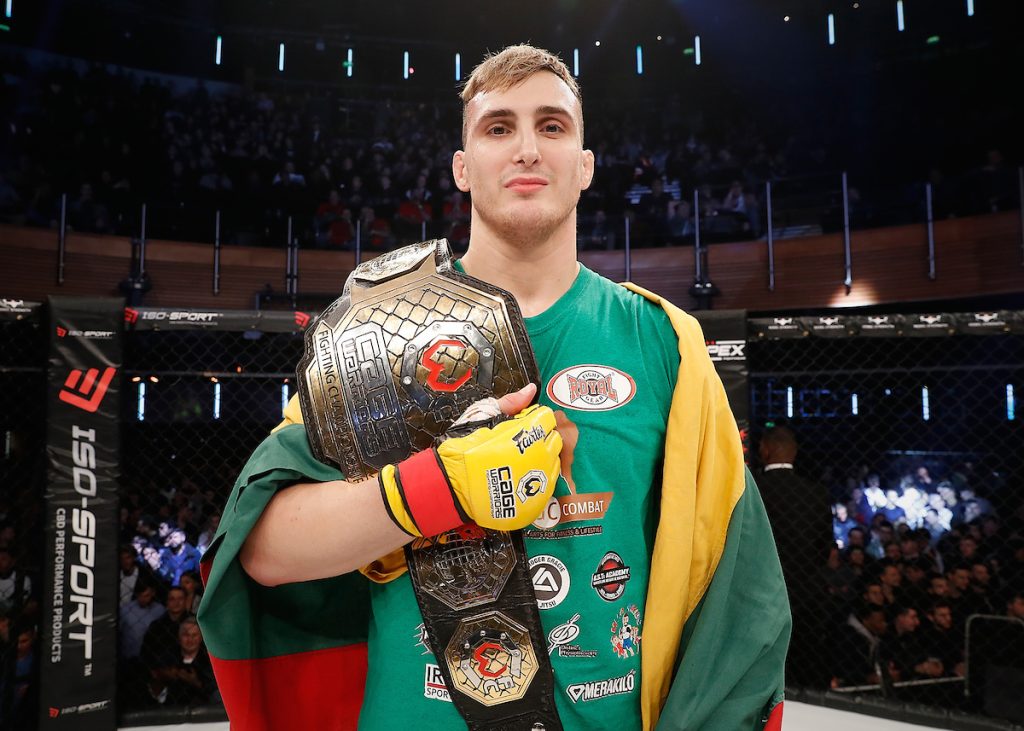 "For me that would be an absolutely massive moment, to go down in history as one of the greats of not only Cage Warriors, but MMA in general!"
"Dan Hardy and Nicolas Dalby, both absolutely amazing athletes and both of them competing at the top tier…I'd definitely like to be part of that lineage of people to bring that belt home a second time!"
There's bragging rights up for grabs, too.
Bukauskas vs Campbell features as part of a series of Team Europe vs Team USA bouts on December 31st, and 'The Baltic Gladiator' left no doubt as to his intentions when it comes to putting a point on the board for the home team.
"Team Europe vs Team USA…there's no bigger grudge match than that! The Americans have had the upper hand on us for quite some time, but now you're seeing guys like Leon Edwards, Nathaniel Wood, Paddy Pimblett…England are starting to come up!"
"Things are shifting in our favour and we're going to shift even more in our favour on NYE…I'll be keeping that belt on home turf and bringing the win back for Team Europe!"