Just weeks ahead of his huge UFC 282 co-main event, Paddy 'The Baddy' Pimblett sat down with Cage Warriors' Edith Labelle to talk about the fight, his opponent and taking over America.
The former Cage Warriors featherweight champion was in high spirits after watching teammates Liam Gittins, Adam Cullen and Luke Riley bring home big wins at CW 147 in Manchester, and was predicting big things ahead of his first fight in a major US arena.
"I…cannot…wait! Yers know me, I love getting in there and having a scrap and this is no different."
"I'm gonna blow the roof off the T-Mobile Arena…I am the people's main event…and everyone knows that!"
Pimblett faces Jared Gordon (19-5), an 11-fight UFC veteran with seven wins inside the Octagon.
Yet while acknowledging a measure of respect – and even kinship – towards his opponent, Paddy feels like there's only one possible outcome when the cage door closes.
"Jared Gordon…he's a tough fighter, know what I mean?"
"I like him as a person as well…he's not an idiot, he doesn't act tough or nothin'. He's just himself, and that's what I like."
"I think when we both fight each other, we're gonna raise awareness for mental health and stuff…because he's had tough times himself, much tougher than me personally, know what I mean? Much tougher times."
"But, like, I think I'm better than him everywhere…I think I've got better striking, better wrestling, better Jiu-Jitsu and I just don't see where he can beat me."
To add a further wrinkle to the tale, one of Gordon's UFC wins came against an old pal of Paddy's; former Cage Warriors lightweight world champion Chris Fishgold.
Despite Gordon earning a unanimous decision over 'Fishy' back in 2020, Pimblett was more than confident with his prediction for December 10th.
"Yeah, he's getting finished in the first round!"
"I think I'm going to knock him out to be honest…or rock him and he'll try to shoot a sloppy takedown and I'll submit him off it…that's what I see coming."
"If he gets out of the first, I'll be sorely disappointed…Charles Oliveira finished him in 90 seconds, so I'm going for something similar."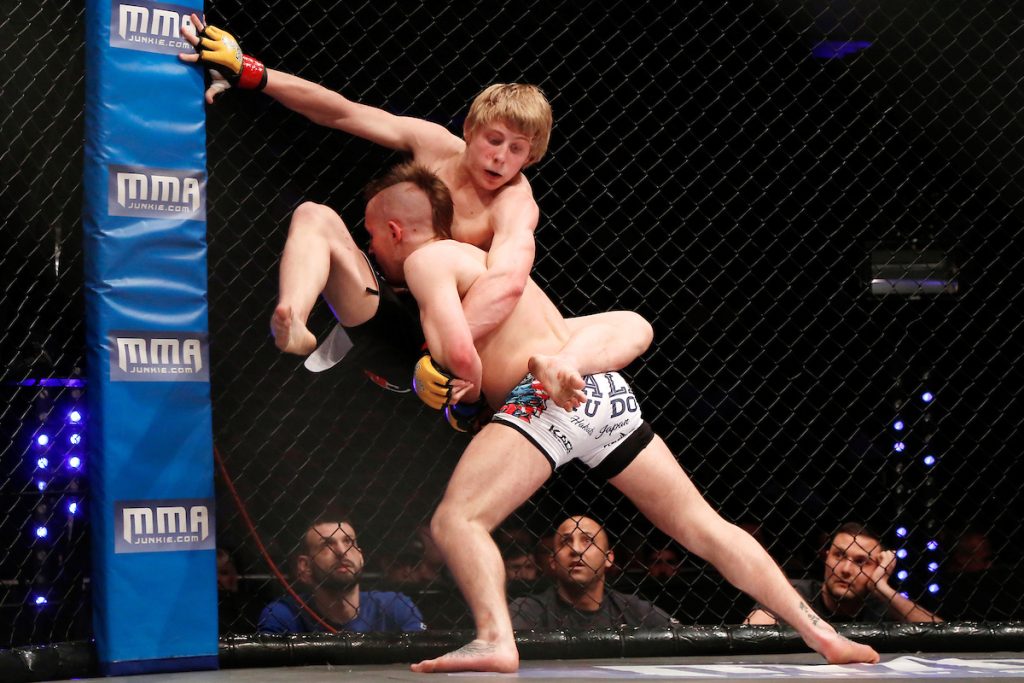 With a bold prediction, one thing Pimlett knows for certain is that his pre-fight prep has to be on point.
With eleventh-hour visa issues due to the pandemic pushing his travel plans down to the wire last time, he fought in Vegas, this time the Next Generation man is leaving no stone unturned.
"Yeah, literally, last time I got there at 1am on the Wednesday…I was there for two days and had to make weight, it was a bit of a rough one…but this time I'm going on the 1st (of December), I'm going nine days earlier."
"I'll get acclimatised, get used to the time difference…because at least that last show was on UK time…I fought at 1 in the afternoon in Vegas, this time I'm not going to be fighting until about 9, 10 o'clock."
That late start time is partly down to the fact that Pimblett finds himself on the main card of a number UFC event for the first time, in the co-main event no less.
He knows that it's going to feel very different to the Apex, but then 'The Baddy' is no stranger to the feeling of a big, atmospheric walkout.
"My debut was in the Apex in front of like, about two hundred people…but it was still loud when I walked out. I know for a fact when I walk out at the T-Mobile, the noise is going to be deafening!"
"It's going to be a special walkout, just like it is at the O2. Jarred is American, but I know everyone is gonna be there cheering me on!"
"I'm gonna get the loudest pop…the loudest pop of the night, I know for a fact I am."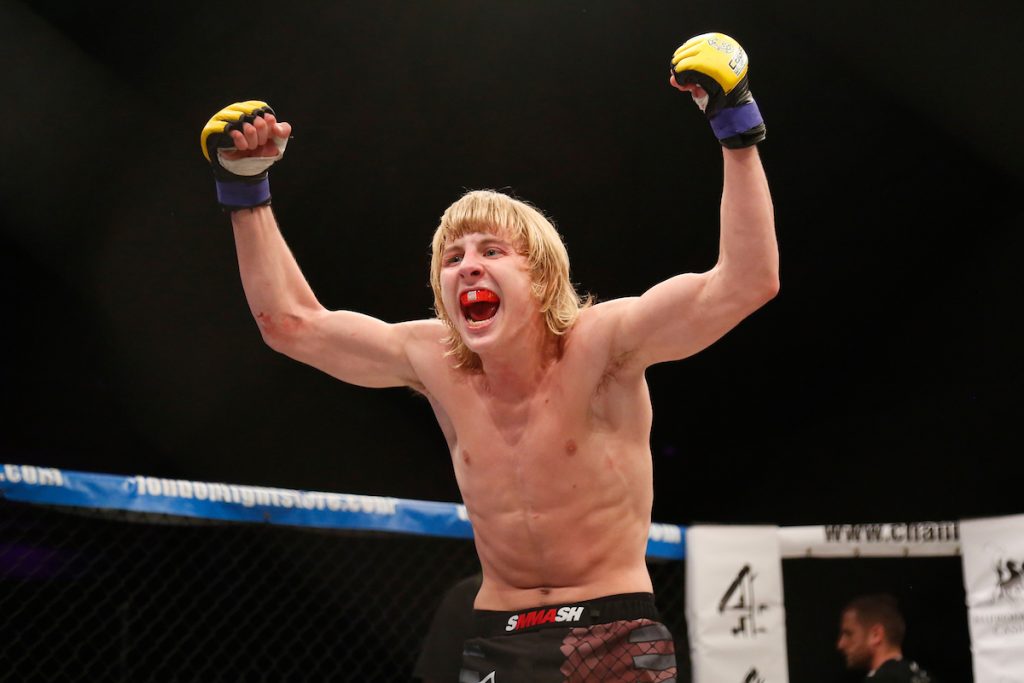 So, a big stage, a big fight, a big win…surely a signature big celebration has to follow?
"Y'know me…it just comes out!…I don't mean to do any of these dances, they just happen!"
"When I'm in the heat of the moment, and I'm celebrating…I know in Vegas that I can't jump on the cage coz I'll get a fine…I'll do something…"
"You know me, I can't help it!"
While he won't be looking past Jared Gordon or his first Pay-Per-View co-main event, Paddy isn't taking his eyes of the ultimate prize: The global takeover.
"As I say, I'm coming to take over…all the Yanks know this…all the Yanks are Baddy fans and they know that The Baddy is coming to take over!"
"This is just another step on a big journey, and this is just the beginning!"
Paddy Pimblett faces Jared Gordon in the co-main event of UFC 282, live on ESPN+ PPV in the US, BT Sport in the UK and other international broadcasters.
You can check out Paddy's entire Cage Warriors and UFC back catalogue on UFC Fight Pass.
Tickets to see the rise of the next generation of Cage Warriors superstars – including Paddy's teammate Nathan Fletcher – at CW 148 on New Year's Eve are available now!