Undefeated in Cage Warriors and with gold in his sights, Reece McEwan might just be the next big thing in the bantamweight division. Brad Wharton caught up with the surging contender ahead of his return to action at CW 156 on July 1st.
Tickets for CW 156: Cardiff are available now!
At first glance you might not have Cage Warriors bantamweight Reece McEwan pegged as your typical MMA fighter. There's no mohawk, or endless tirades of trash-talk on Twitter. It begins to make sense though, when you find out how he discovered the martial arts.
"My first memory of martial arts was through Dragonball Z as a young kid…I loved how the young character, Gohan, was shy and quiet, but ended up becoming the best. It aways taught me that being shy is ok, as long as you're true to yourself, and then his dad in the TV programme sacrificed everything for his friends and family, and I resonated with that at a young age."
As a teenager he would eventually discover the sport that would bring him out of that unassuming shell. Something of a night owl in his younger days, McEwan would seek out reruns of early seasons of the Ultimate Fighter on a classic sports channel, instantly becoming enthralled with MMA and the possibilities it presented.
"I fell in love with the reality side of it first, but then I thought that I could actually be good at this sport, because of the weight classes. I was always the smallest in my friend group, I definitely wasn't the strongest…I had no athleticism."
It was a close shave that finally spurred McEwan into action though. Some friends had stepped in to save him from a sticky situation, and he resolved not to find himself in a similar predicament in the future.
Not wanting to do things by halves, he decided to seek out the best possible training environment and it wasn't long before he found it, but training with the best wasn't without its difficulties.
"I said if I'm going to do this right, I want to be in the UFC, I want to be the best in the world. So I googled the best gym in Scotland and The GripHouse in Glasgow came up."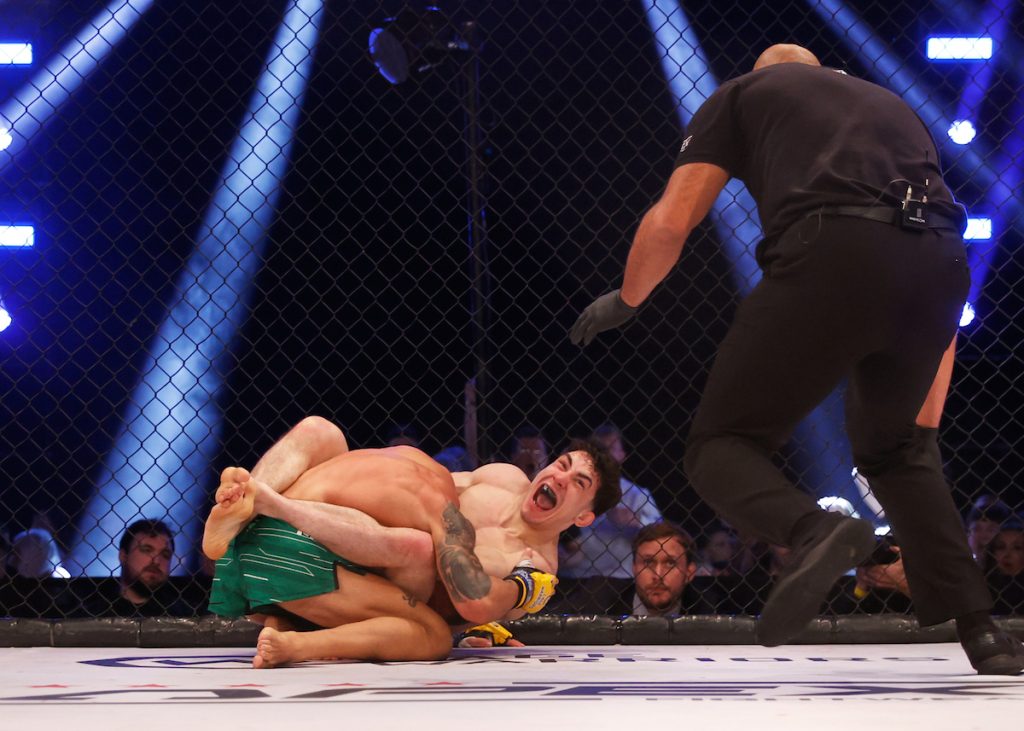 "I had to get a bus, a train and then walk 25 minutes just to make training, so and hour and a half to get to training and an hour and a half home. I made that journey twice a day for years…at the time I was managing being a student, studying for a business degree and working part time in Sainsbury's, so it wasn't easy, but I was still at the gym 4-5 hours a day."
Despite the early commitment, it took a little while for McEwan to find that fighter's mindset.
"Paul McVeigh (former two-weight CW champion) said to me, he normally has to tell people to calm down sparring, but with me he actually said to me "I want you to increase the intensity!"
Reece quickly fell in love with the technical aspects of the sport though. Before turning pro, coach Dean Riley wanted him to have ten amateur fights, compete in kickboxing and Jiu Jitsu, and he was more than up for the challenge.
He didn't just want to train for the sake of training, he wanted to compete, to be the best he could be, to be one of the men he saw on the TV screen during those sleepless nights watching TUF.
Before long he'd taken silver in his first grappling competition, competing against much heavier opponents. Amateur fights followed. In an age of protected records, McEwan constantly sought out the toughest opposition.
"I understood that I had to go and fight the best people possible. I didn't care about the wins and losses, I knew my amateur career was my apprenticeship."
"When my career is done, I'll sleep at night knowing I did everything (possible)…I reached my potential, regardless of what level it was, and I fought the best people there."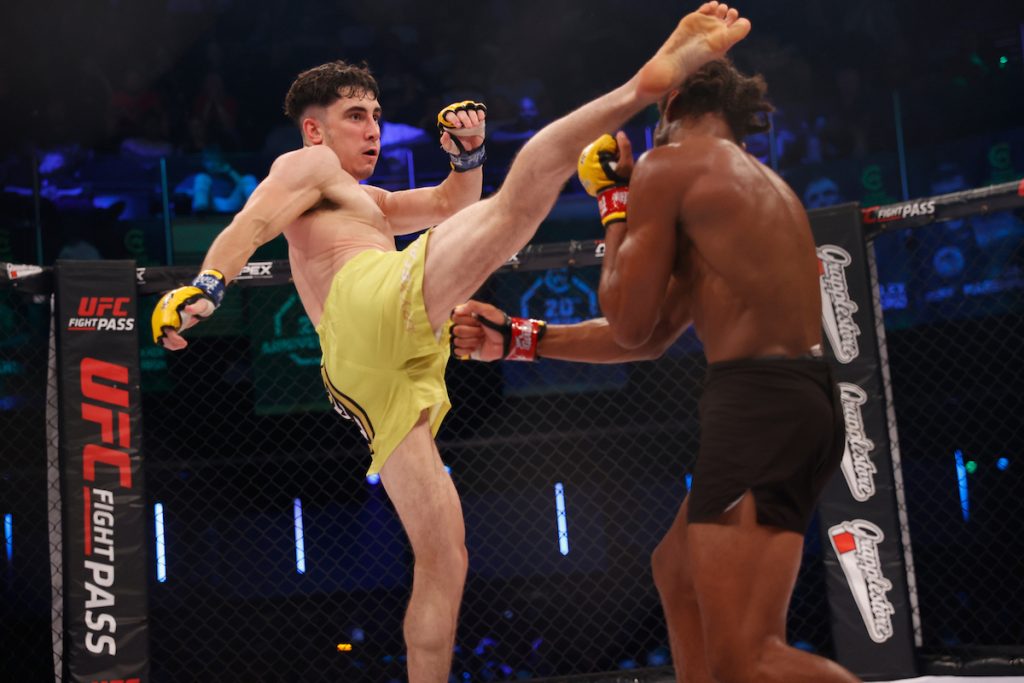 McEwan may have done everything possible to complete the apprenticeship, but there was one further obstacle to overcome though as turned professional: The Pandemic.
"In hindsight it feels like a blur…at the time I wasn't signed to a major promotion, so I was left in the dark for months. I'll never take this sport for granted ever again…but ultimately, I'm very stoic and I had to focus on what I could control."
So that's exactly what he did; finding positives amongst the negatives, using the time without access to the gym to sharpen his mental and physical tools at home. He would even empty his bank account on a punchbag that was rigged up on some scaffolding provided by one of his sponsors.
With his pro career underway and the pandemic easing up, McEwan eventually found himself strapping on the famous yellow gloves.
It was a move that had seemingly always been on the cards.
"He (Dean Riley) said to me, "If you want to be the best in the world, you need to go through Cage Warriors and be their champ to get to the UFC." That was my mind made up and my path laid out, I never thought about any other promotion."
It wasn't just guidance 'Wolverdean' passed down though; the CW veteran gifted McEwan his last set of fight worn yellow gloves.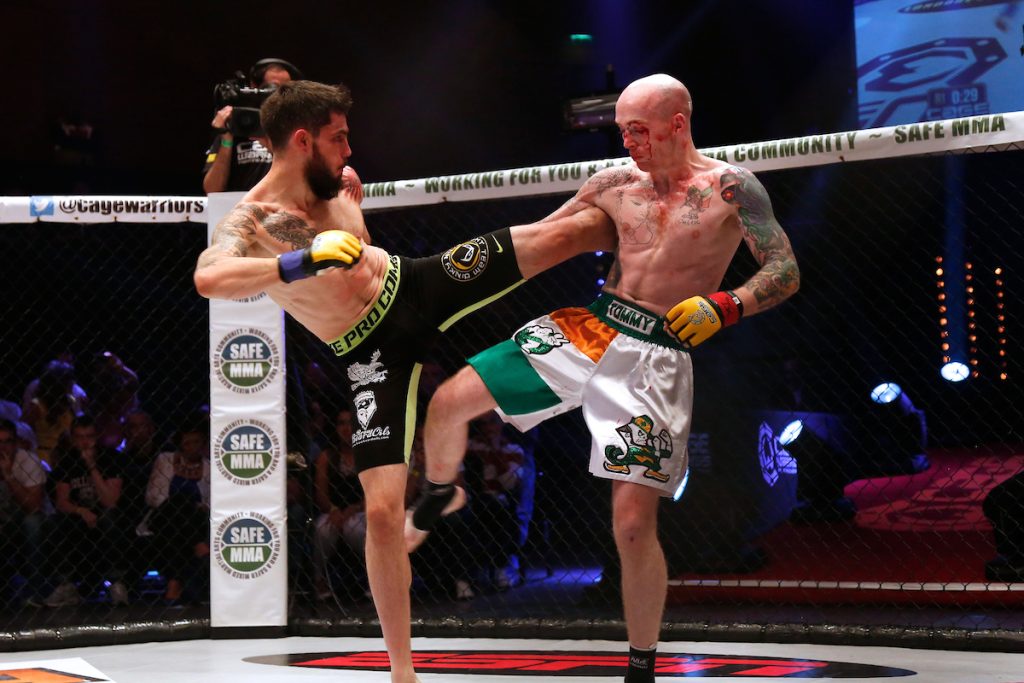 "I put those gloves in my memory box, I told myself that when I turn professional, I'm going to wear those Cage Warriors gloves in every professional fight that I have until Cage Warriors sign me and I get a pair for myself."
"After my professional debut I got my hand raised and I pointed to the gloves and said, this is where I'm heading."
If you've ever attended a McEwan fight, you'd be forgiven for thinking you'd stepped off the train in Scotland by mistake. An army follows the Greenock man wherever he goes, and it's a phenomenon he's always appreciated.
My fans have to travel hours, book hotels, flights, take away their weekend…for them to do that when they could be watching on UFC Fight Pass…it's very, very motivating. I'm very glad it's getting noticed now…obviously the more fights you have, the bigger the stage, the support is going to grow but I think the incredible thing for me is that the support has been incredible from the very beginning."
It's not just his fans McEwan draws upon for inspiration. There's Muhammed Ali ("He stood up for what he believed in and he didn't care about the consequences…"), Conor McGregor ("He was so focused on achieving what he wanted, and he wasn't scarred to put his goals out there…"), his partner Christy ("She believed in me when she had no right to do so, and she's been my biggest supporter since…")…and of course, his mother.
"I was always inspired by my mum, the way that she's always put her family first. She's backed me and lead by example my whole life. She's been such an amazing parent."
"Unfortunately, my dad passed away when I was eight years old, so she's had to have the role of a mum and a dad her whole life. I've always tried to apply myself as much as I could to be the best human I can for her."
There isn't a whole lot of downtime for McEwan, even when he's not in full fight-prep mode. Outside of the cage, when not making up the time with his better half, he's an ambassador for a mental health charity, and busy promoting Conatum (Latin for 'endeavour'), his own brand of coffee.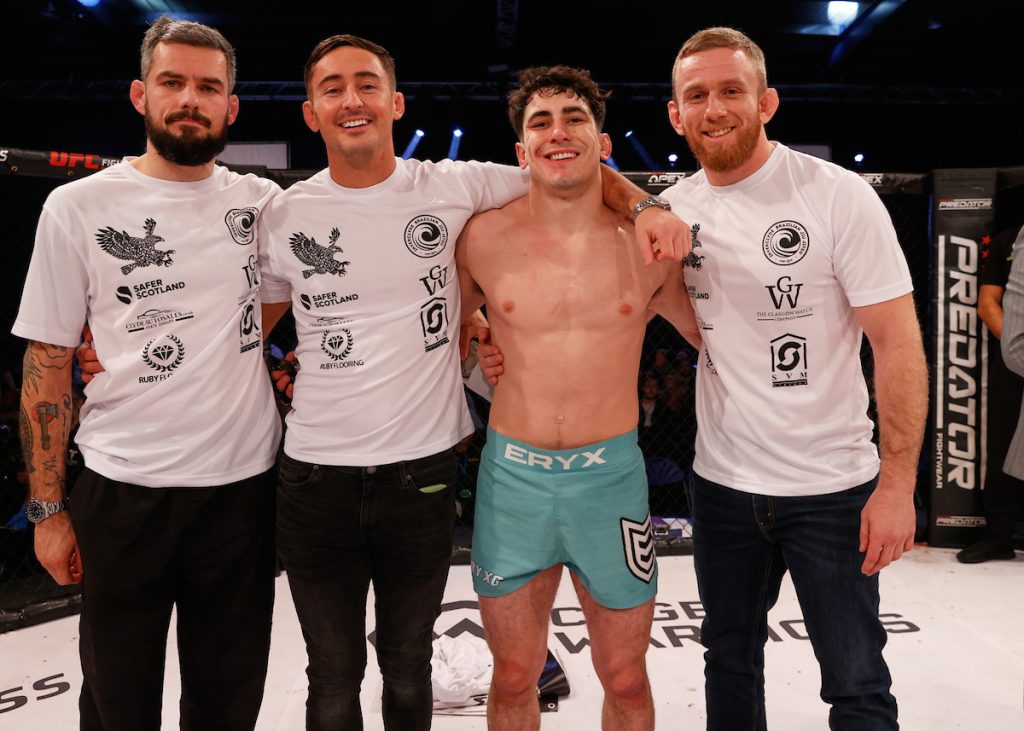 There's also the passion for coaching and passing on the knowledge and opportunities he's acquired to a younger generation. While largely focused on his own career at present, McEwan is quick to note the desire to pay it all forward long term.
That's for the future though, in the short term, his goals are clear as crystal. "Win the Cage Warriors bantamweight world title…and become the first Scottish bantamweight signed to the UFC."
Reece McEwan will be in action at CW 156 on July 1st at the Vale Sports Arena in Cardiff, Wales. Tickets are available here.