The rapid growth of Italian mixed martial arts is set to accelerate with the long-awaited arrival of Europe's leading organisation in Rome later this year.
Cage Warriors is to stage CW 144 at Fiera Roma on Friday October 7th.
Following a sustained clamour from fans on social media for the organisation to schedule an Italian debut, the event is expected to generate enormous interest locally.
Some of Italy's biggest MMA names are in line to feature, with the likes of Carlo Pedersoli Jr, Dylan Hazan and Micol Di Segni all earmarked for the card.
An Italian champion could also be crowned, as home favourite Michele Martignoni has been booked for a bantamweight title shot against reigning champion Dominique Wooding.
Furthermore, popular French star Morgan Charriere (pictured) – the former CW featherweight champion – will make his eagerly-anticipated return to action.
CW 144 will take place a fortnight after another Cage Warriors show in San Diego, where the organisation has enjoyed considerable success since its inaugural visit to the California coast last year.
"It's been a long time coming, but I'm delighted that Italy will become the 15th country to play host to Cage Warriors when the doors open at Fiera Roma on October 7th," said CW president Graham Boylan.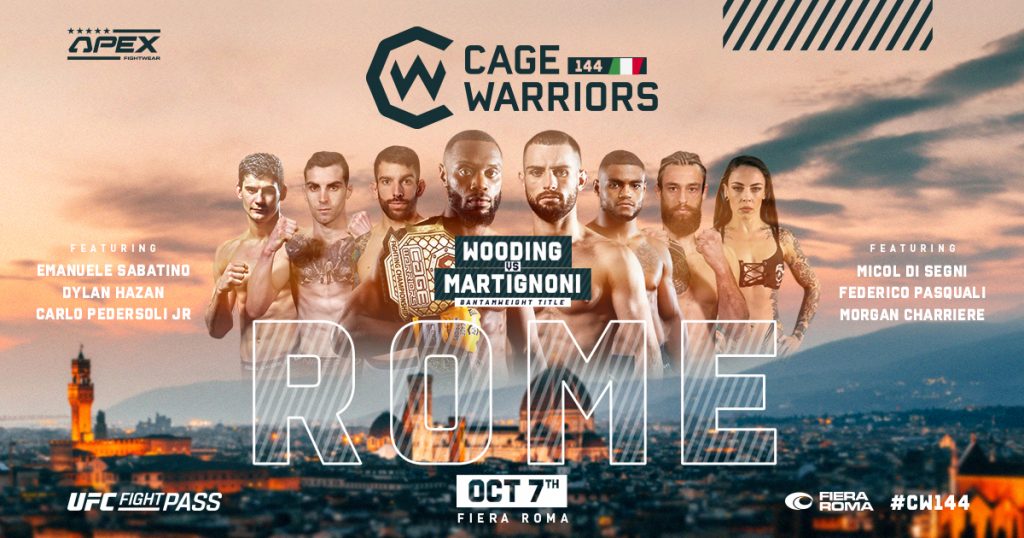 "We have been absolutely inundated with messages from Italian fans in recent times, so it became very clear to us that there's a huge appetite there for Cage Warriors.
"That increase in popularity has occurred in tandem with the significant progress being made by Italian fighters, who are now among the elite across several of our divisions.
"We've experienced some incredible atmospheres in the past in places like Liverpool, Dublin and Cardiff, but I have a feeling that the fans in Rome could surpass any of those. This is a show I cannot wait for."
Tickets for CW 144 will go on general sale on Monday September 5th. Follow us across social media for updates.