With three events in three countries, July was a huge month for Europe's Leading MMA Organisation.
We saw the lighting-fast Cage Warriors debut of Jimmy Quinn, a KO of the Year contender at the hands of Omiel Brown and some stunning submission victories from the likes of Harry Hardwick and Jordan Vucenic.
The action didn't stop there though; CW 157 had more madness to offer and CW 158's return to Rome provided its own share of marquee moments.
CW's resident Play-by-Play man Brad Wharton takes a look back at even more highlights in Part Two of the July Rewind!
Click here for tickets and information for all upcoming CW events!
It's an old cliché, but there really are levels to this game.
MMA is littered with the distant memories of prospects who looked like a million dollars in their first handful of fights, only to be left wanting when the competition became that little bit more fierce.
Luke Riley isn't one of them, quite the opposite in fact.
The Next Generation man turned professional on Cage Warriors during the pandemic era, which in itself is akin to being thrown straight into the deep end.
Yet as the level of his competition increases, so does the aura around him.
He's being tested in new and interesting ways with each outing, and he's passing with flying colours.
Speaking of people who are going places, CW 157 would end up being the Last Pirate's final voyage in the Famous Yellow Gloves.
Morgan Charriere was firmly in control of his fight with rival Diego Silva for the duration, and when he finally cranked up the heat in the third round, the Brazilian had no answers.
Check back soon for a career retrospective as we say au revoir to one of Cage Warriors' most charismatic stars in recent years.
CW 157's main event had a lot riding on it; would it be revenge and a title defence for Mick Stanton, or repeat and a second reign for James Webb?
All questions were answered in fast and furious fashion when the pair locked horns in the evening's headliner; a blood-splattered thrill ride of a one-rounder.
For a moment it seemed as though Webb had it sewn up, hurting the champion to the body.
Stanton had other ideas though, rallying back to finish his challenger with a flurry of strikes with just over half a minute remaining in the round.
Revenge it was.
From London we move to the Eternal City, and it didn't take long for the home fighters to get the crowd fired up with some scintillating performances in Rome.
Take the debuting Emanuele Tetti, for example, who put his kickboxing experience to good use as he opened his MMA account with this stunning first round knock-out.
Putting in an early bid for 'Fight of the Night' on the prelims were Sam 'The Mighty Mole' Kelly and Italy's Gianluca Scottoli.
It was a brutal brawl between two bantamweights looking to leave a serious mark on the division, and by the final bell both had left more than a few marks on each other.
Both had to dig deep at various points to make it to the final bell, but make it they did to the delight of the crowd.
You can experience the whole bloody affair for yourself on the CW YouTube channel.
Leon Hill looks like he might just be the next big thing in the Cage Warriors lightweight division.
After coming up short in a late notice promotional debut, he's since rattled off an astounding six victories, all within the distance, in a twelve-month period.
His CW 158 submission of dangerous finisher Dumitru Girlean might just be 'The Professional's best work to date.
Capping off the prelims in style, Aurora MMA's up-and-coming Emanuele Zaccaria was on the hunt for his third win in the yellow gloves.
He'd face a substantial test in the form of former title challenger Sylwester Miller, eventually locking off a rear naked choke with a huge squeeze in the second round to send his man to Sleepy Town.
On to the main card then, where a battle of undefeated all-violence prospects had the hardcore MMA fans talking long before bell time.
James Power and Michael 'Sniper' Pagani left nothing to the imagination in their three round brawl, and as per the old saying, somebody's '0' had to go.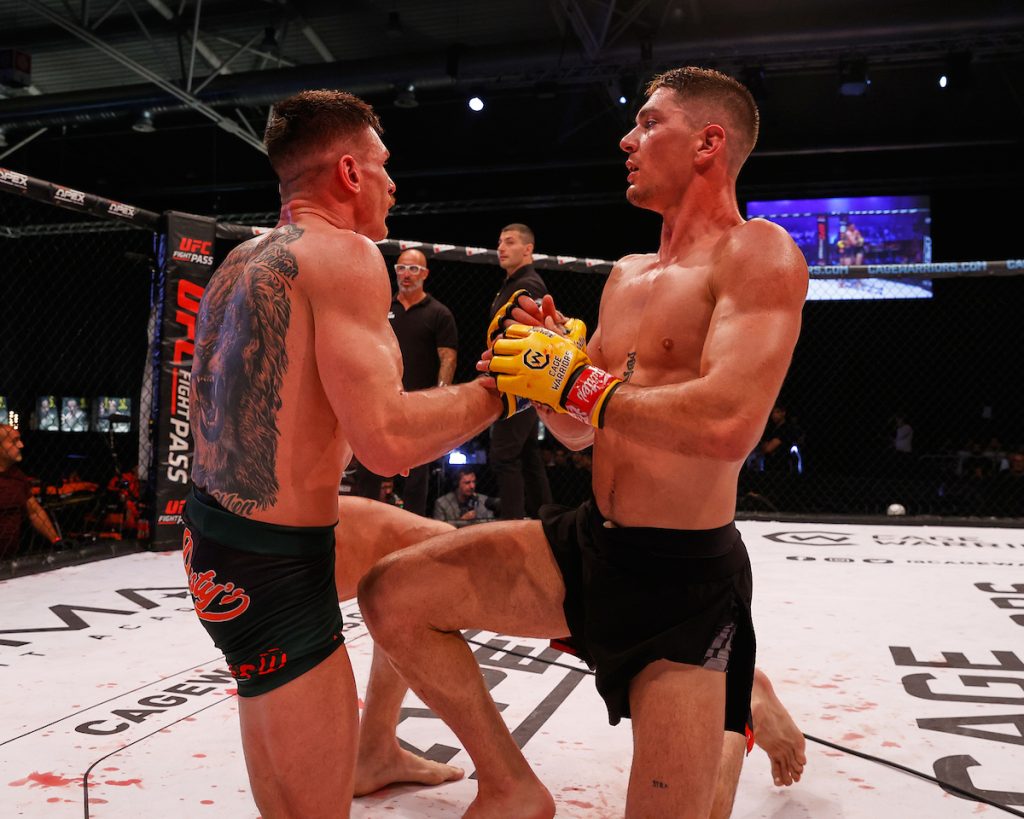 CW 158 also played host to the return of a Cage Warriors legend, the 'Double Dragon' of the light and welterweight divisions, Mason Jones.
He faced rugged brawler Alexandre Ribeiro and while the Brazilian endeavoured to give as good as he got early on, he learned like so many before him that trading with Jones is a roll of (loaded) dice; the house always wins.
With the likes of Emanuele Sabatino and Dario Bellandi also bringing home big wins for the home team, all eyes turned to the main event as Italy's Michele Martignoni looked to repeat history by claiming a second CW title on home soil.
Standing in his way was champion Shaj Haque, a man many argue is the best in Europe at his weight outside of the UFC.
'Superman' removed all doubt with a masterful five-round performance.
Fought at a blistering pace, the fight initially seemed closer than it was but in truth, Martignoni struggled to put a hand on the champion.
With Haque forcing an absolutely relentless pace and somehow not looking like he'd got out of second gear, the champ took 12 of the 15 rounds scored for a unanimous points victory and an emphatic title retention.
The Summer of Fun may be in our rear-view, but Cage Warriors returns in September with a pair of events in San Diego and Manchester.
Keep it locked to our social channels and CageWarriors.com as fights are announced in the coming weeks!