It's generally accepted in the MMA world that Cage Warriors + London = A Good Time. With the promotion set to return on July 21st as the first leg of a double-header weekend with the UFC at London's O2, it's time to look back at some of the greatest triumphs of CW 157's leading lights in the Big Smoke.
Tickets for UFC London are available now!
Lone'er Kavanagh: Real-Life Superhero
You could throw a dart at Lone'er Kavanagh's Tapology page and struggle not to hit a highlight reel performance: It's all he knows how to do.
Wowing fans with silky-smooth performances and jaw-dropping finishes has become par for the course for the GB Top Team prospect, and he'll have another opportunity to shine on July 21st.
There's never a bad time to check out Lone'er Kavanagh highlights, but as he prepares to return to action against fellow highlight-reel content machine Shawn Da Silva, why not relive *that* KO against Ryan Morgan at CW 134?
Morgan Charriere: Burying the Pandemic
One of the biggest stars on the CW roster, arguably in the entirety of Europe, Morgan Charriere has been on the comeback trail since coming out on the wrong side of a pair of razor-thin decisions against Jordan Vucenic and Paul Hughes.
Having notched up a decision victory against Daniel Bažant and stopped Pedro Souza in a spectacularly violent display in April, the Frenchman will look to make it three in a row on July 21st.
Before he does, its worth looking back at one of the most emotionally-charged walkouts in CW history, as Charriere's pirate army boarded the good ship York Hall for the first event open to fans post-pandemic; consigning the memories empty arena shows to history in emphatic fashion.
Jordan Vucenic: The Comeback Continues
London has been a place of triumphs and tragedies for Corby's Jordan Vucenic. He beat Paul Hughes and Morgan Charriere at York Hall during the pandemic, defended his title against James Hendin at The indigo at The O2, and returned for an epic rematch with Hughes last year.
With the sounds of his iconic Chase & Status walkout blasting through the PA, 'The Epidemic' made a triumphant comeback against Italian prodigy Tiziano Ferranti in March.
James Webb: Going for Gold
Always well supported, anytime James Webb fights even remotely close to home you'll hear it before you see it.
With victories over the likes of Jason Radcliffe and Paddy McCorry under his belt in London, not to mention a pair of wild brawls with Nathias Frederick, Webb will look to add another Big Smoke highlight to his ledger when he faces old foe Mick Stanton in the CW 157 main event.
He wont just be looking for a repeat of his victory over Stanton though; he'll also be looking to replicate his title winning performance against Thomas Robertsen in the same venue at CW 102.
Mick Stanton: A Northern Star Down South
London has been something of a lucky charm for Liverpool's Mick Stanton; the capital is home to what are arguably his two greatest professional victories.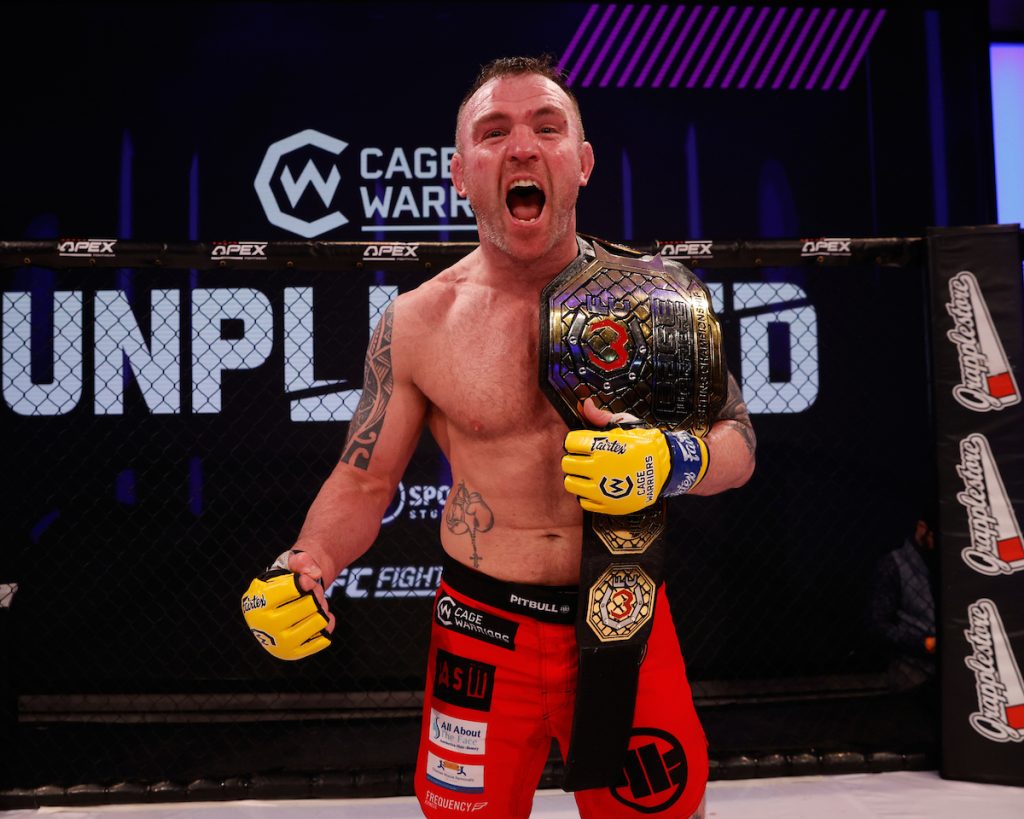 At CW 141 last July, Stanton upset the odds to out-grapple UFC veteran Darren 'The Dentist' Stewart over three hard-fought rounds. The win catapulted 'The Huyton Hammer' into a domestic title bout, and from there back to Cage Warriors to compete for the biggest prize in European MMA.
London was the destination and surging upstart Will Currie was the opponent: What followed was five of the most compelling grapple-heavy rounds of MMA you'll see this year, with Stanton ultimately getting his hand raised.
You can rewatch the whole fight – plus over decade's worth of Cage Warriors action – on UFC Fight Pass!