"THERE'S a saying about people where I come from," explains Jordan Vucenic. "They either have to be good at fighting or good at running."
Since his impressive Cage Warriors debut against Konmon Deh in October 2019, Vucenic has compiled a substantial body of evidence that vouches for his preference for confronting challenges instead of fleeing from them.
The approach is no different to the one he chose during his formative years in Corby, Northamptonshire.
Vucenic is a proud ambassador for Corby and its people, yet he offers a searingly honest appraisal of the town he calls home.
"It's just one of those places that's well-known for being quite rough, although it's gotten a lot better over the years. When I was younger, people thought you must be a bit of a nutter if you're from Corby.
"I knew from the very start that I needed to be able to look after myself. If there was any trouble as a kid when you were with your mates, I was always the one they looked to when things kicked off."
Despite his proclivity for impromptu street skirmishes, Vucenic was on the cusp of adulthood when he first considered the prospect of engaging in competitive combat.
Captivated by some YouTube footage of former UFC heavyweight champion Junior dos Santos that he stumbled upon, his curiosity coaxed him into a local mixed martial arts gym.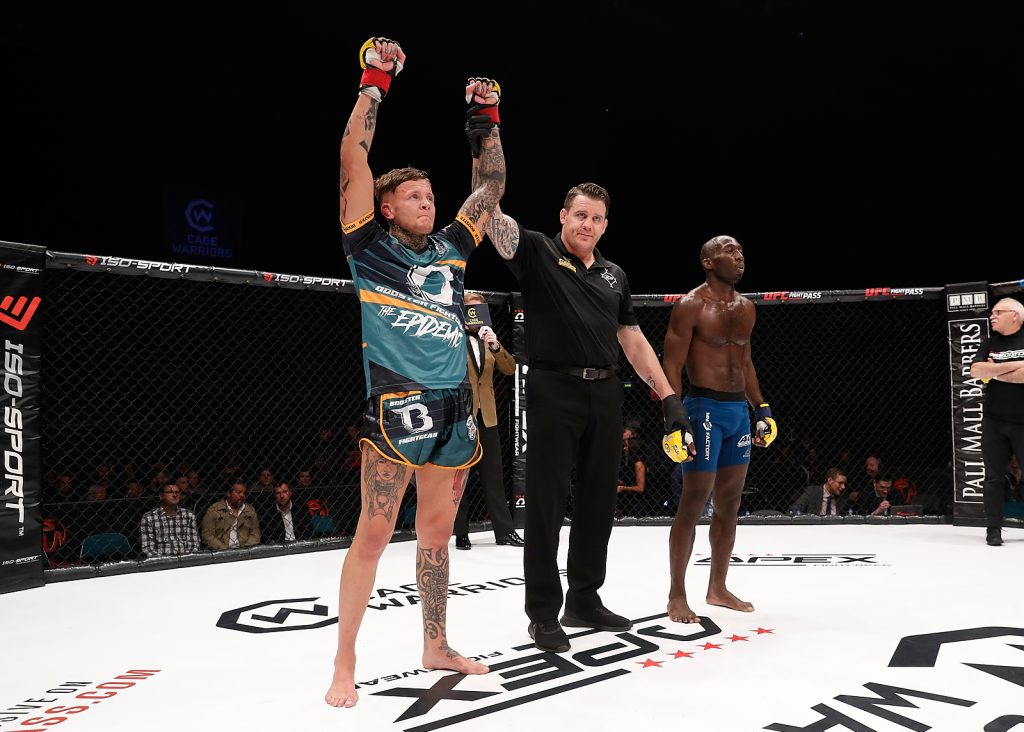 Vucenic, who was only a week shy of his 18th birthday, had taken the first step on a journey that would yield a victorious professional debut by the age of 21.
"Even though I was getting into a lot of fights when I was younger, it was never anything technical," he explains. "I was always quite good at other sports, but when I started MMA it was like I found my passion. I was hooked."
Vucenic immersed himself in regular training, embracing the valuable lessons in discipline and respect that accompanied his newfound purpose in life.
For many, the fight game also provides an education in dealing with adversity. In that regard, however, he had already learned far more than someone of such a tender age should ever have to.
He was too young to retain any memories of his father, who died by suicide when Vucenic was three years of age. Just a few months later, his seven-year-old brother was killed after being hit by a motorcycle.
"Everybody would always be feeling sorry for me and my family," says Vucenic, who was born the youngest of three boys. "You'd hear stuff like, 'oh, that's the family that had those tragedies so close together' and stuff like that. For me, that was just the reality of how I grew up. I didn't know life to be any different.
"Everyone has a different story and that one happens to be mine. It's part of my past, but I think it has helped to shape me into being as mentally strong as I am now. No matter how down or hurt I might be in any situation, I always believe I can come out the other end of it.
"Take the first round of the Paul Hughes fight as an example: many a man would have given up after it, but I came out and won the second and third rounds. That's how I am with everything. Adversity is not something that scares me one bit."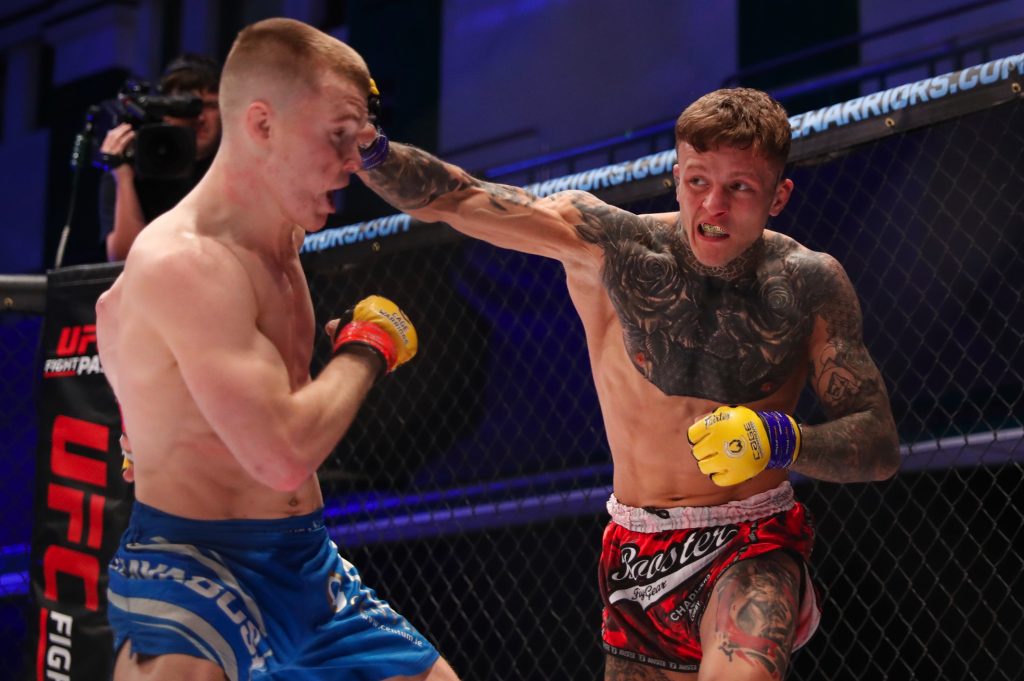 The December 2020 win against Hughes earned Vucenic a featherweight title shot against Morgan Charriere. Once more there were contrasting verdicts from the judges, but again Vucenic did enough to have his hand raised.
A unification bout against interim champion Hughes was put on ice last March due to an injury sustained by his opponent, so Vucenic instead welcomed a new challenger in James Hendin.
In the triumphant aftermath of a second-round submission win, the champion was joined in the cage by his partner Reagen, who was just a few weeks out from giving birth.
From acing his first defence of the Cage Warriors title, to becoming a father to a beautiful baby boy named Gray, it was a special time in the life of Jordan Vucenic.
Admitting that the tragedy which befell his own upbringing will have a "massive" impact on how he intends to raise his son, Vucenic's top priority now is to do everything within his power to ensure that Gray enjoys a happy and healthy childhood.
Much more than just a mouth to feed, he's a child to whom the 26-year-old fighter vows to provide the kind of paternal guidance, inspiration and protection that he had to go without.
"I'm going to do absolutely everything I can for that boy," he says. "I used to be selfish, wanting everything just for me. Now I want it all for him. I want him to grow up and for his mates to be envious of him.
"He was already in the cage with me before he was even born – when he was in his mum's belly after the Hendin fight. He's with us now, so from here on in I'll be doing it with him by my side. I'm just so determined to be the best possible role model for him and to give him everything he ever needs."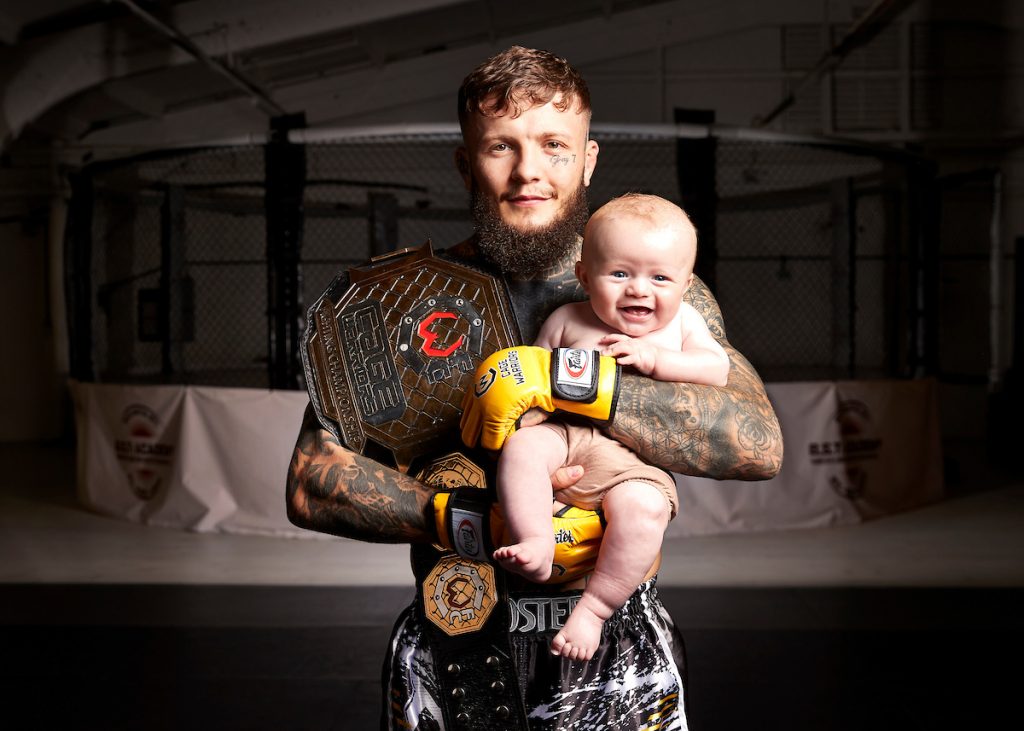 Having afforded himself some respite following the birth of his son, Vucenic's burgeoning MMA career is back at the forefront of his thoughts as he bids to reaffirm his UFC credentials by winning the biggest rematch in Cage Warriors history.
If the pace of ticket sales for the aborted bout earlier this year can serve as an indicator, expect Vucenic-Hughes II to be declared a sell-out long before the doors at London's Indigo at TheO2 open on November 4.
While Hughes has a score to settle, Vucenic has a point to prove – and he's adamant that he'll do so by keeping the judges out of the equation with a statement stoppage of his old foe at CW 145.
"When a lot of people get into this sport, the first thing they say is 'I'm going to make loads of money from this some day', whereas for me it was always: 'I'm going to be a UFC world champion.'
"That's the ambition I've always held onto and it's what enables me to train as hard as I do. I know I'm getting closer to being there so I can't stop now, I've got to keep going.
"Winning a Cage Warriors title was one of the things I set out to achieve – and I've done that – so why would I pay attention to anyone who thinks I can't push on and do that in the UFC?
"I'm not going to do what some other people do and market myself in any sort of forced way either. If I start calling people out and taking the piss out of them, that would just be false.
"My time will come – trust me – and I'm going to do it my way."