Two decades since its first imprint was left on the mixed martial arts landscape, Cage Warriors is finalising preparations for an event that's on course to be one of the most spectacular in its decorated history.
For Europe's leading MMA organisation, it all began in July 2002 when the likes of Paul Jenkins, Rosi Sexton, Alessio Sakara and Jean Silva featured at London's York Hall for CW 1.
Having staged more than 150 events across 14 different countries since then, the journey continues a few miles down the road this Friday night for CW 141 at the Indigo at TheO2.
For the 20th anniversary celebrations, esteemed matchmaker Ian Dean has put together a stacked card worthy of the occasion. Some of the biggest names on the CW roster will display their talents, with a pair of title bouts taking centre stage.
Home favourite Sam Creasey defends his flyweight belt against undefeated Italian Dylan Hazan, and a new lightweight champion will be crowned when England's George Hardwick meets American Kickboxing Academy product Kyle Driscoll.
"This organisation has been producing the goods for two decades now, but this card has the potential to be the most exciting one we've ever assembled," said Cage Warriors president Graham Boylan.
"Every single fight is going to be unmissable, and the unique, intense atmosphere of the Indigo will make for the perfect setting for an event that you'll be hearing about for many years to come.
"With a UFC show taking place 24 hours later, MMA fans in London are going to be absolutely spoiled with the amount of talent on show this weekend."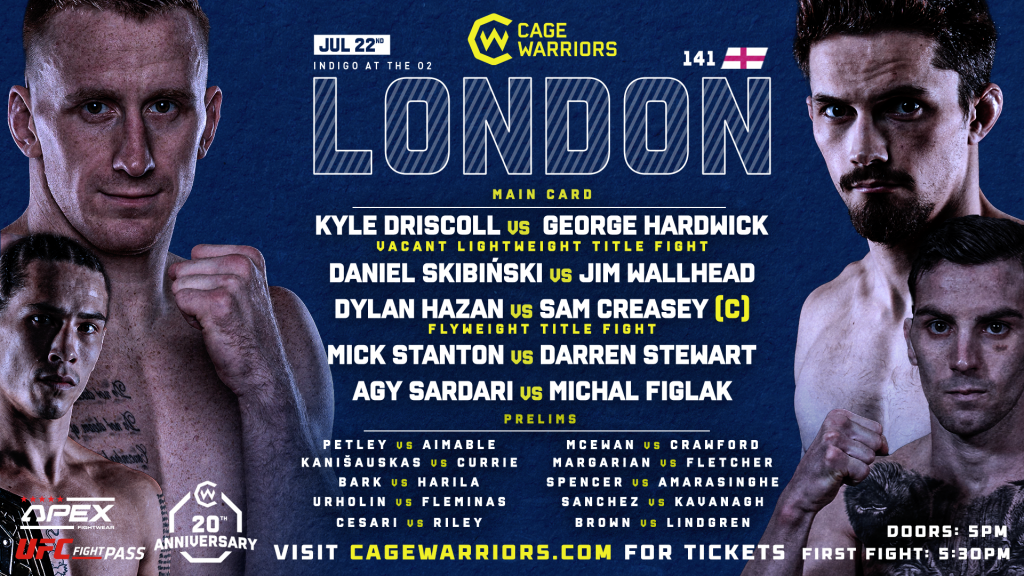 The pivotal role played by Cage Warriors in the development of MMA in Europe will also be in evidence at TheO2 on Saturday, where nine former CW stars – including Molly McCann, Paddy Pimblett and headliner Tom Aspinall – will be in action at UFC Fight Night 208.
"It's fitting that we're celebrating Cage Warriors' achievements of the past by shining a light on the bright future that's in store, because a quick glance at Friday's card will tell you that our roster has never been in better health," added Boylan.
"We've already added over 50 athletes to our stable of exclusive talent this year, as well as strengthening our full-time office staff with several new hires. That rate of expansion is only going to accelerate even further from here, so these are exciting times for Cage Warriors."
Cage Warriors 141 | LIVE on UFC Fight Pass
Main card – 9pm (BST)
Kyle Driscoll vs. George Hardwick (lightweight title)
Jimmy Wallhead vs. Daniel Skibiński
Sam Creasey (c) vs. Dylan Hazan (flyweight title)
Mick Stanton vs. Darren Stewart
Agy Sardari vs. Michal Figlak
Prelims – 5.30pm (BST)
Jeremy Petley vs. Steve Aimable
Reece McEwan vs. Kingsley Crawford
Naglis Kanišauskas vs. Will Currie
Nathan Fletcher vs. Araik Margarian
Tobias Harila vs. Samuel Bark
Sam Spencer vs. Adam Amarasinghe
Jesse Urholin vs. Madars Fleminas
Ander Sanchez vs. Lone'er Kavanagh
Kevin Simon Cesari vs. Luke Riley
Alexander Lindgren vs. Omiel Brown