A domestic MMA champion, training out of Liverpool's vaunted Next Generation and sporting what might just be the best nickname in European MMA… Cage Warriors' Brad Wharton caught up with new signing Matthew 'The Squid' Camilleri to talk fighting, ambition and representing an entire nation on Europe's biggest stage.
Upon discovering MMA when WWE superstar Brock Lesnar crossed over to become UFC heavyweight champion, Matt Camilleri knew that he'd found his path in life.
Watching Lesnar's chaotic UFC debut against Frank Mir back at UFC 82 (and their UFC 100 revenge match) lit a fire in his belly and started a journey that led him to the hallowed ranks of Cage Warriors.
The path wasn't exactly typical, but nor is the responsibility he carries as Malta's favourite fighting son; one of just over fifty (mostly amateur) athletes listed on most leading MMA databases as representing the Mediterranean republic.
"It's a big thing to represent Malta, it's not a weight on my shoulders but I have to do my best. I've always tried to do the best for myself, but now I try to be an inspiration for the Maltese fighters. I tell them, "As I did it, everybody can do it. We're all the same."
"I'm not a special person, I'm just a person that kept grinding…when people tried to put me down I said 'No, I'll keep trying my best' and now I'm successful at it!"
Upping sticks and moving to a new country in pursuit of your dreams is no small feat, so having a great base in the UK would be a vital piece of the puzzle for Camilleri.
He found one at Liverpool's Next Generation.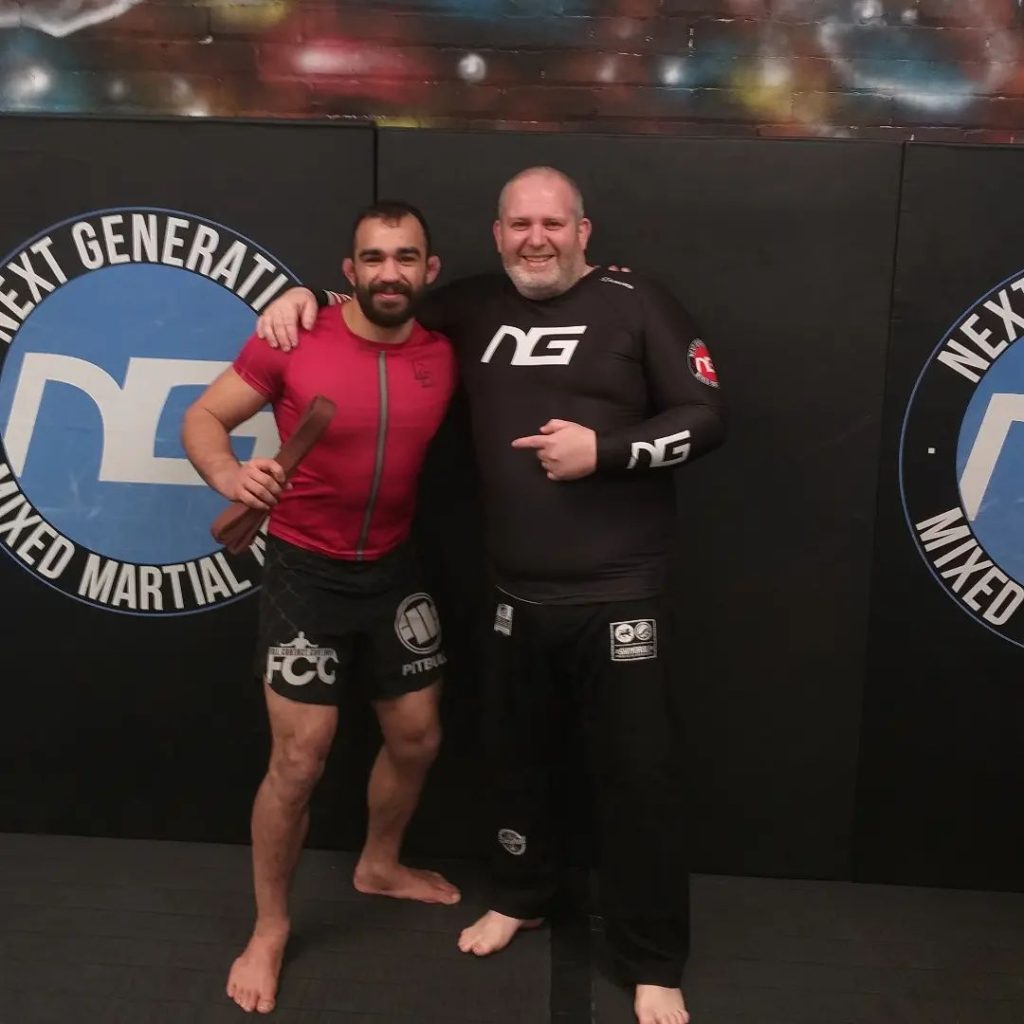 "Moving from Malta to the UK was a big decision, because I had to leave my home country. But for me, it was the future. Malta isn't known for MMA and doesn't have that many MMA gyms, so instead I chose the best gym in the UK, which is Next Generation."
"I knew them already, but when I started training with them I said 'I wanna stay here forever and represent you guys for the rest of my career!"
It was a move that paid dividends for the 27 year old, and now he looks forward to contributing to the wave of momentum started by his teammates.
"The atmosphere in the gym is great! Most of my friends are in Cage Warriors, and everybody said that I'm going to be there (too). Now it's finally happening and I'm joining them on this stage."
"There's been multiple (Next Gen) world champions…Matt Bonner, Paddy, Chris Fishgold when he was with us…I'm looking forward to getting that featherweight strap as soon as possible next year!"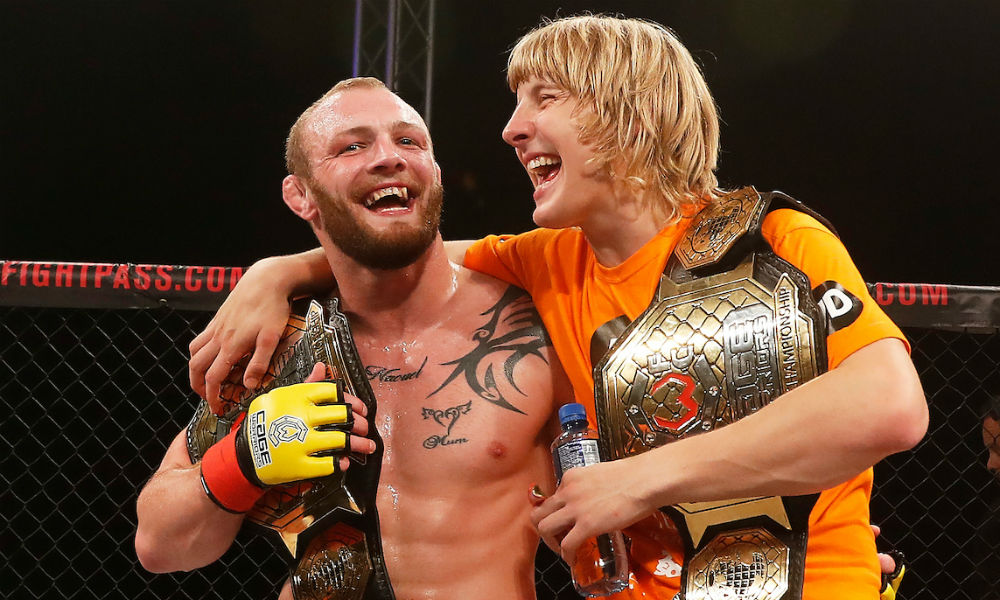 Following a series of amateur bouts and seven professional contests on the Maltese and UK domestic circuits, Camilleri knew there was one logical next step; strapping on the famous yellow gloves.
"Signing with Cage Warriors…that's why I came to the UK. It's based in the UK so I said, 'At least I'll have a better chance'. It's the best organisation in Europe and everybody is looking at it. That's where the road is, to get to the UFC."
It's all well and good getting to the dance, but now the real work starts for 'The Squid'.
Thankfully, he already has a plan in place for the next two years.
"My ambitions for my time with Cage Warriors…I'm going to win this one, then I'm going to do a call out for one of the fighters I really like to watch, actually I have two in mind, they're so great, so I want them, then after that, hopefully I get the belt!"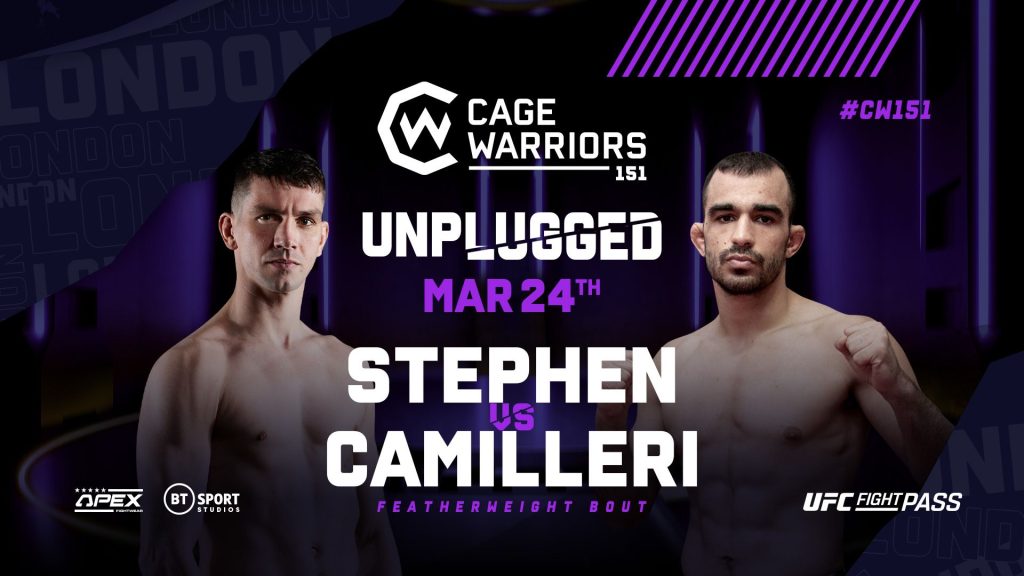 Camilleri's first test under the CW banner comes at CW: Unplugged against the returning Aidan Stephen (9-4), a stern one, no doubt.
The Scottish ground specialist counts wins over the likes of Kingsly Crawford, Edward Walls and Emrah Sonmez on his ledger, and has only dropped bouts to the upper echelons of the featherweight division.
While it may be a trial by fire, the debutant is quietly confident that he'll have the measure of the eight-fight CW veteran.
"I see it going my way…every time I fight I plan to win. Hopefully it'll go the way it always does…domination! That's what I like to prove, I don't like to lose any rounds."
"For me, the most important thing is to win every round in dominant fashion so there's no dispute…I'll win every round, and hopefully get the finish!"
CW 151: Unplugged is an exclusive, invite only event at the BT Sport Studio, airing live on UFC Fight Pass and international broadcast partners.