Zac Pauga made quite the debut at CW 126, where he clinched a decision win over former WWE developmental wrestler turned MMA fighter, Terrance Jean-Jacques, in front of the sold-out crowd in San Diego.
It wasn't all smooth sailing for Pauga though, as he was dropped in the first round by Jean-Jacques and had to come from behind on the judges' scorecards.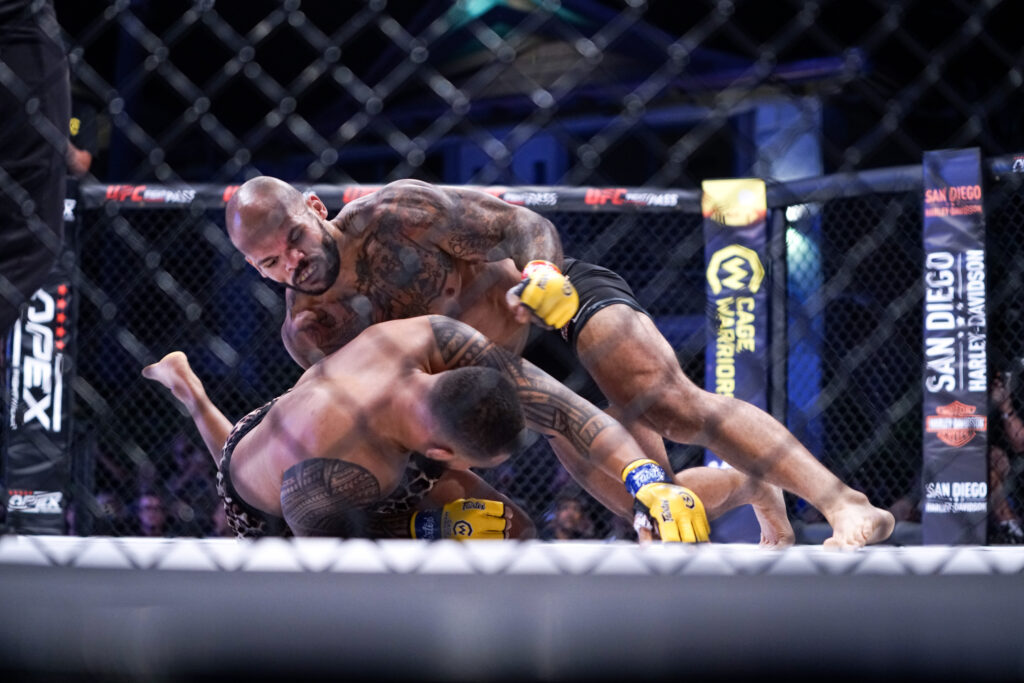 "I came out, I took him down and I was feeling really confident." says the former Rugby player; "Then I walked right into that jab that dropped me.
"I had to go into survival mode.
"I'm actually pretty comfortable off my back so I'm glad the referee didn't get too angsty and let it play out.
"I feel like I won the beginning and the end of that round and that it was just in the middle where he got me."
Pauga's attempt at a leg lock allowed him to get the fight standing again by the end of round one before he put on a striking clinic in round two.
???? From being knocked down in round one to putting on a striking clinic in round two, Zac Pauga's fight with Terrance Jean-Jacques at #CW126 was incredible! pic.twitter.com/gfwfQEwbdY

— Cage Warriors (@CageWarriors) August 5, 2021
Between rounds, Puaga's corner team of Cody Donavon and UFC heavyweight fighter Curtis Blaydes, reminded him to stick to his game plan.
"We weren't going to do anything crazy and go big, we had a game plan and we knew what we were going to do.
"We knew I was faster and stronger than him (Jean-Jacques) and that I just had to stick with (the gameplan), I just made a mistake in the first round by getting caught."
Before the fight Pauga had made a huge change to his lifestyle by leaving his career as a Senior Criminal Investigator in the District Attorney's office, in order to fully commit to his MMA career.
"It was scary to be honest with you." says Pauga when talking about leaving his previous role; "My family is what drives me and that job helped me take care of them.
"But this game is too hard to just try and do it part-time.
"I had to really commit to it full-time and that meant walking away from a full-time career."
CW 126 marked the first occasion Pauga had ever fought in front of a crowd, with his previous three fights taking place behind closed doors.
The former Houston Texans running back is now looking forward to CW 130, which will take place in San Diego on October 17th.
"I definitely want to be on that card, I want to fight for Cage Warriors again.
"CW 126 was such a great card and it was a great fight to be a part of.
"I don't have a name in mind but I do know that the Cage Warriors light heavyweight title is vacant.
"I want a shot at the Cage Warriors light heavyweight belt!"