Cage Warriors returns to Manchester on Saturday night, as a new generation of MMA superstars look to leave their mark on the sport, their fans and each other!
Twin Titles Top Manchester Bill
No less than two CW titles will be on the line to cap off a scintillating night of action in the UK's second city.
In the evening's main event, newly minted middleweight champ Christian Leeroy Duncan (6-0) makes the first defence of his title, as he faces the challenge of Bulgarian powerhouse Marian Dimitrov (10-2).
Duncan is thus far unbeaten as a professional and holds an extensive, international amateur record to boot.
Competing exclusively under the Cage Warriors banner since making his leap from the amateur ranks, CLD has run riot through the middleweight division, having finished all but one of his opponents to date.
Under the tutelage of UK MMA legend Mark Weir, Duncan captured gold in just his 6th professional contest, by way of a devastating flying knee against Frenchman Djati Milan.
Hoping to end CLD's reign early is promotional newcomer Dimitrov, a sambo stylist known for his hyper-aggressive style.
After dropping his first two professional bouts, Dimitrov has been perfect through ten contests, with the vast majority of his wins coming by way of stoppage.
17 years after his CW debut, 'Judo' Jim Wallhead (32-11) goes for Cage Warriors gold against young, hungry up-and-comer Mateusz Figlak (7-1) – You can check out the full, in-depth preview here.
Debuts, Young Guns and the Next Generation
Andrew 'The Vice' Clamp (11-1) makes his long-awaited CW debut in a mouth-watering light-heavyweight contest on CW 146's main card.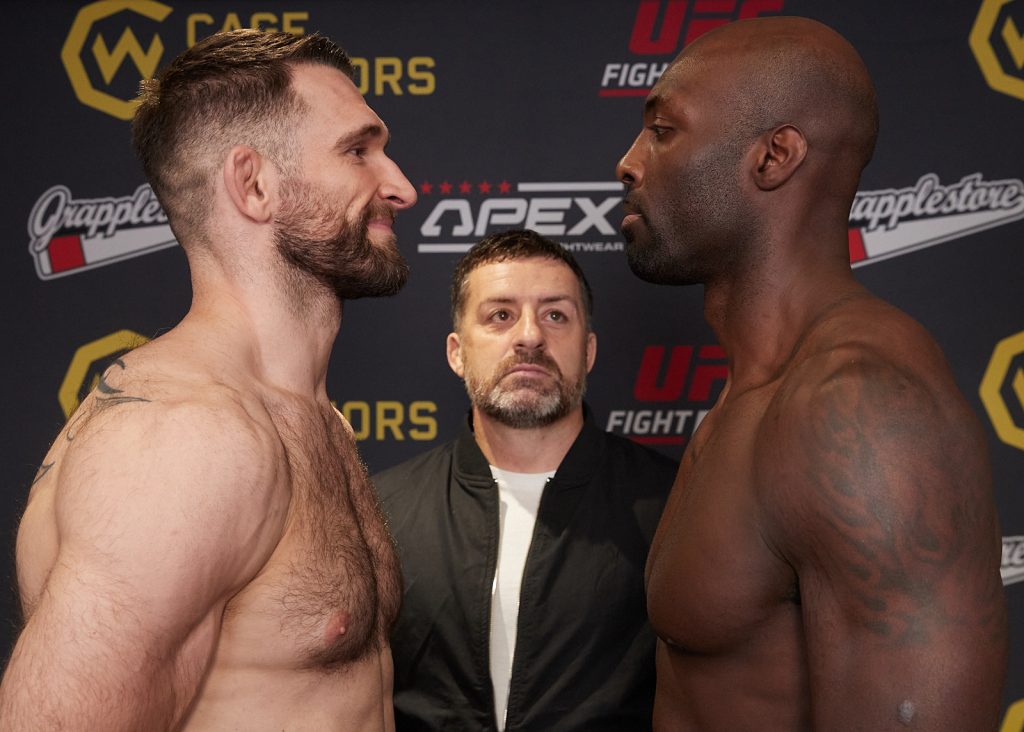 The ground-fighting specialist takes on American Chuck Campbell (4-1, 1NC), who comes into the bout unbeaten in his last three contests.
The clash will provide CW fans with a sneak peek of December's NYE USA vs Europe Supercard at London's Indigo at the O2.
Top-ranked flyweights Aaron Aby (13-5-1) and Stipe Brčić (10-3) throw down in a bout with huge ramifications for the 125lb division.
With Brčić looking to bounce back from a title challenge that was over before it started and Aby ready to mount a second run at the gold, the winner will no doubt have his eyes on next week's Sam Creasey/Shaj Haque flyweight championship bout.
Leading the charge on what looks set to be a big night for Liverpool's Next Generation – with former CW champ Molly McCann competing in the UFC and three fighters strapping on the yellow gloves in Manchester – is submission wizard Adam Cullen.
Perfect at 5-0, the rear-naked choke specialist will look to make it six when he moves up to the welterweight division to face France's Martin Causse, his fourth French opponent in a row.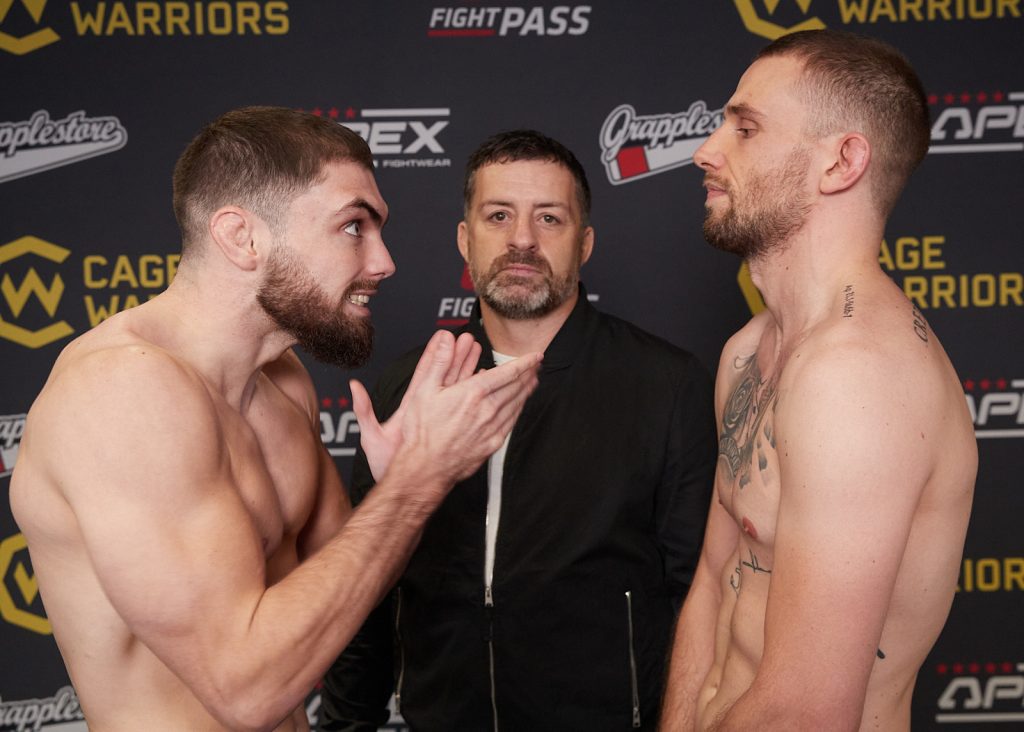 Cullen's teammate and fellow surging prospect Luke Riley (4-0) aims to continue his meteoric rise in Saturday's featured prelim.
The versatile striker meets his toughest test to date in the form of Poland's seasoned Karol Kutyła (6-4).
Rounding out the Next Gen contingent is CW fan favourite Liam Gittins.
Gittins (8-4), who was originally scheduled to compete last week in London, draws Faisal Malik (5-0), who also lost his opponent at CW 145 after a frustrating year of cancelations.
The pair have agreed to move up in weight to face off in a short-notice featherweight contest.
In what some are dubbing 'The People's Main Event', two men with a reputation for stunning knock-outs meet in a bout that is sure to give the judges a well-earned break.
Manny Akpan (4-1) shocked the world with his spinning wheel kick KO of Conor Hitchens in April of this year, while Samuel Bark (5-1) turned the CW featherweight division on its head when he drove a crushing knee into the jaw of Tobias Harilla.
In a battle of young prospects, Sam 'The Mighty Mole' Kelly (3-1) makes his CW debut against former CW Academy champion Jack Eglin (2-1).
Eglin, who has been getting rounds in with 'Suga' Sean O'Malley ahead of the bantamweight tilt, will be looking to erase the memory of his debut defeat to Luke Riley at the expense of Kelly's grand entrance.
Reece McEwan (5-1) finds himself fighting a little closer to home than originally planned, albeit a week later and in a different weight class.
The Scot, who earned a 'Performance of the Night' bonus last time he fought at the BEC Arena for his come-from-behind win over Sam Spencer, will be gunning for his third straight victory in CW, a feat that would surely move him to within touching distance of the 135lb title.
Former title challenger James Hendin (6-2) will no doubt have had a close eye on last Friday's thrilling featherweight title bout between Paul Hughes and Jordan Vucenic.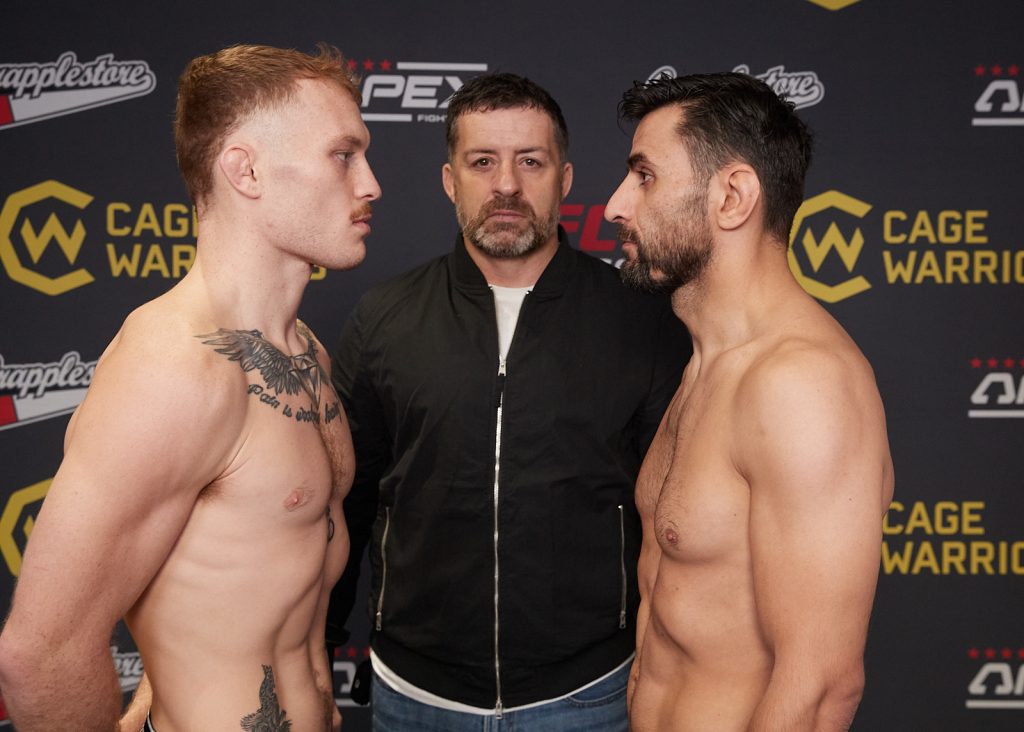 'The Honey Badger' starts his second push for a CW title against experienced Frenchman Araik Margarian (25-11), a man with over four times his MMA experience.
Local favourite Aaron Johnson (7-2) will face his biggest opponent to date when he takes on the notoriously gritty Łukasz Kopera (10-7).
The Polish fighter debuted in a thrilling brawl against George Hardwick earlier this year, but needs to rediscover his form against Blackledge MMA's Johnson, who has been victorious in six of his last seven.
Milad 'The Baddy' Ahady's (4-1) CW debut couldn't have gone more to plan, as the Team Fish Tank fighter took a points victory from the notoriously tough Antonio Sheldon in a glorious, blood-splattered brawl.
He'll face another relentless scrapper in Tom Mearns (9-7), who has turned his career around over the last 13 months with three huge wins.
All the action from Saturday's sold-out show streams live on UFC Fight Pass and international broadcast partners, kicking off with the prelims at 17:30 GMT and a special, early main card start time of 20:30 GMT.