When a fighter arrives on the scene and proceeds to run through an entire division, it's common to refer to them as 'going on a tear'.
For George Hardwick that's true in more ways than one. Yes, he's torn the Cage Warriors lightweight division to shreds since making his 155lbs debut in the famous yellow gloves in the summer of 2021, but in the more literal sense, he's stood out from the back by tearing up his opponents' bodies and livers in a series of sublimely violent finishes.
In Mixed Martial Arts at least, it's felt like body-snatching has become something of an ignored art form, but in boxing, not so much.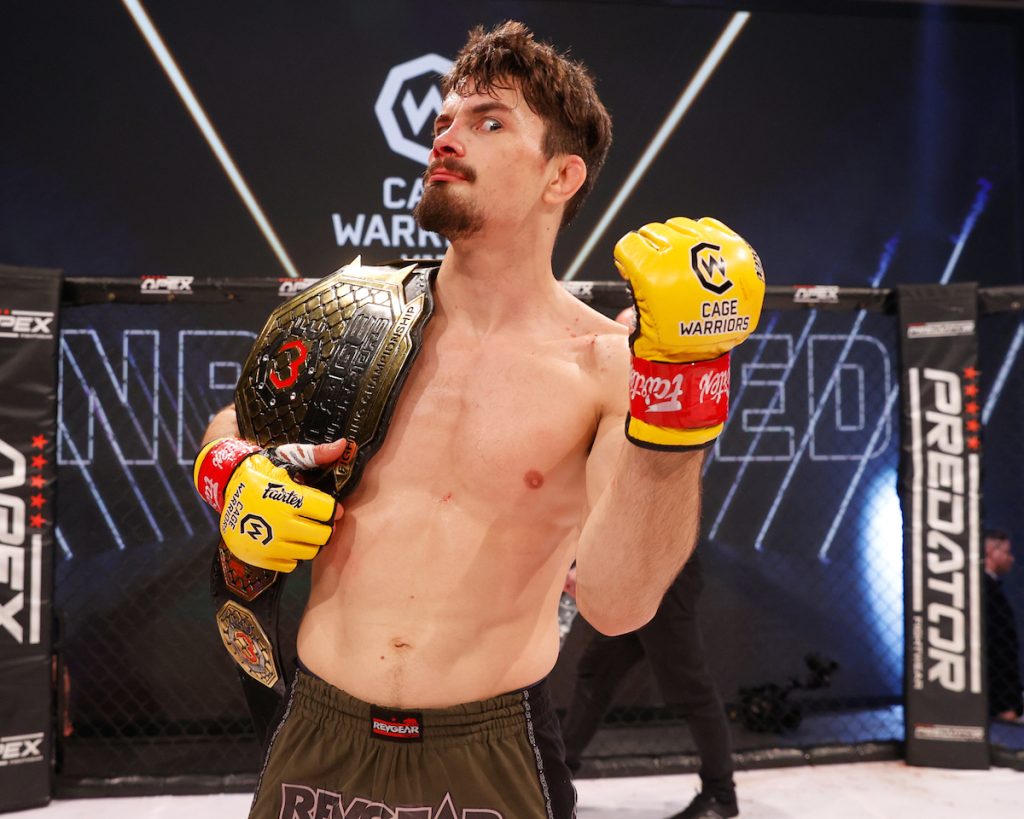 'The Fighting Blacksmith' Bob Fitzsimmons, long considered one of boxing's all-time greats and among the sport's most formidable power punchers, was a natural middleweight. Despite the fact, some of his greatest triumphs came at heavy and light heavy, becoming boxing's first recorded triple crown winner in the process.
A big part of Fitzsimmons' game, especially in the higher weight classes, was his bodywork. Unable to go toe-to-toe with men sometimes 70lbs heavier, while many smaller boxers would choose to stick and move, 'Speckled Bob' (as he was known for his freckles) took a different tact; getting up close and personal and smashing the body with his ungodly power and accuracy, breaking opponents down from the engine room up.
By 1897 Fitzsimmons had earned a shot at the heavyweight title, facing unbeaten champion 'Gentleman' Jim Corbett at the Kansas City Race Track.
Once again fighting a bigger man, the challenger endured tremendous punishment, controversially surviving a knockdown in the sixth due in no small part to a long count. The referee had shown a little leniency due to the presence of Wyatt Earp (no, seriously) and a number of other armed gunslingers in each corner to 'keep the peace'.
Regardless, Fitzs endured and the contest continued as a war of attrition. Slowed to a crawl by the 14th round, Corbett walked into a crushing left to the body and failed to answer the count.
It was a landmark victory and became the blueprint for body punchers in the years to come. Rough and ready brawlers like Jake LaMotta would beat the fight out of their opponents on the inside. Julio Cesar Chavez was famed for snapping off body blows with speed and accuracy.
It's really been the last decade that body punching has become popularised in MMA, with students of the game like Jose Aldo bringing it to the forefront.
Hardwick, it seems, is cut from similar cloth.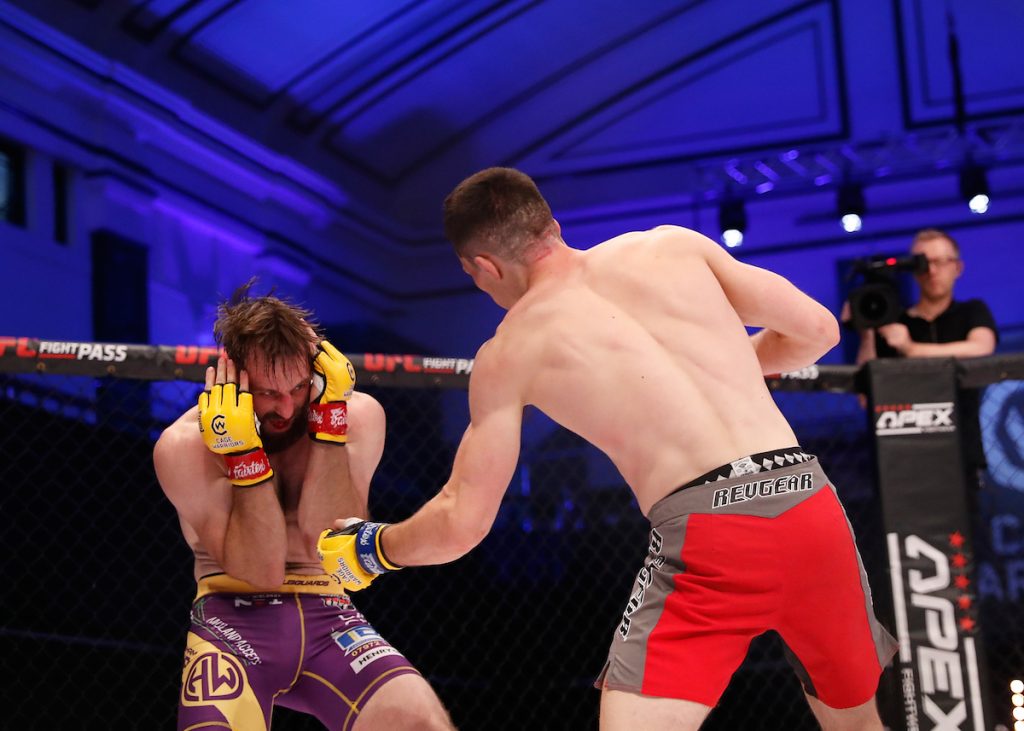 Of his recent five-fight run, the champ has won three by body-snatching.
Meeting former champion Dean Trueman in his 155lbs Cage Warriors debut, Hardwick put his man down halfway through the second with a pinpoint left above the waist-line.
A nifty guillotine over the highly touted Jakub Dohnal followed by a gritty punch-up against Lukasz Kopera made it three stoppages in a row, putting the big gold belt within touching distance.
Kyle Driscoll would prove to be Hardwick's toughest test to date. Riding an eight-fight winning streak including a victory over Dinis Paiva on Dana White's Contender Series, the Oklahoma-born, California-based 'KD' was primarily known for his wrestling.
Whether he'd seen something in Hardwick others hadn't, or simply in a bid to throw the home fighter off, Driscoll eschewed the grappling almost completely in favour of getting into a good, old-fashioned fist fight.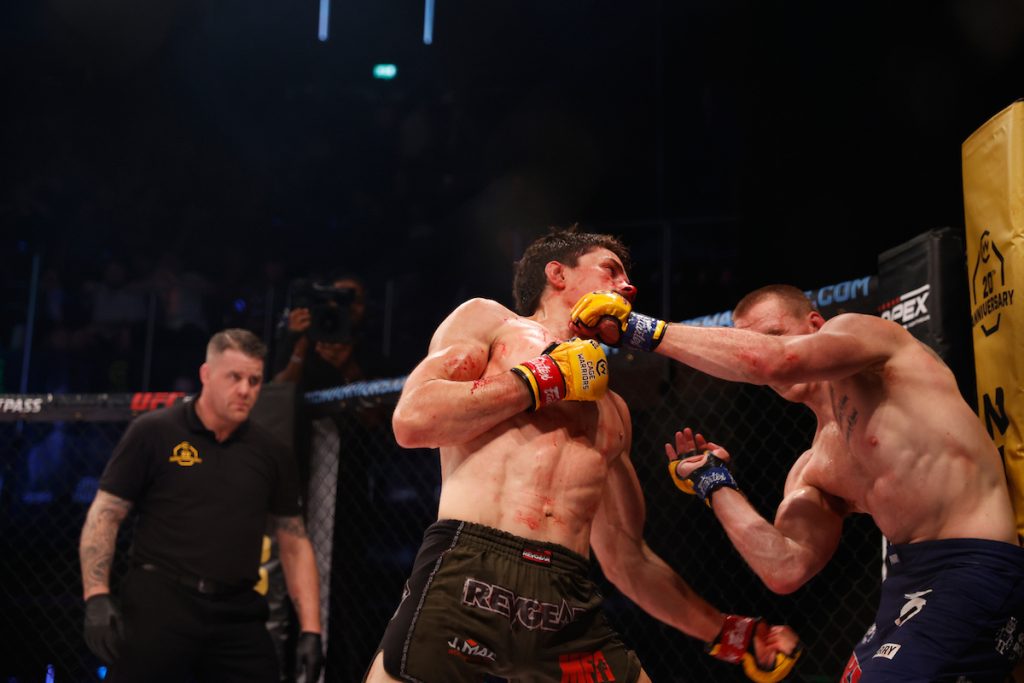 What followed was an epic sixteen minutes and a change of fighting. Both men got their shots off, both men took their licks. By the start of the fourth round, both knew they were deep in the trenches.
The left to the body had already landed for Hardwick in the third, but Driscoll was able to weather the storm and hit back, staggering him. There was still everything to play for, and everything to lose.
Sitting behind a snug guard, George went back on the hunt, marching through heavy fire to bury a blistering left hand into Driscoll's breadbasket.
The American folded, and a few follow-up shots were all the referee needed to see, calling a halt to the contest barely a minute into the round.
Cage Warriors had a new champion, and the division was put on notice.
For Hardwick, competition comes first. The Middlesborough man is the definition of a fighting champion; Saturday's main event will mark his second defence of the belt he won just last summer.
His first, against Chris Bungard at last November's CW 151: Unplugged at the BT Sports Studio, was also a clinic in body punching; a gritty affair that lasted just a shade under two rounds.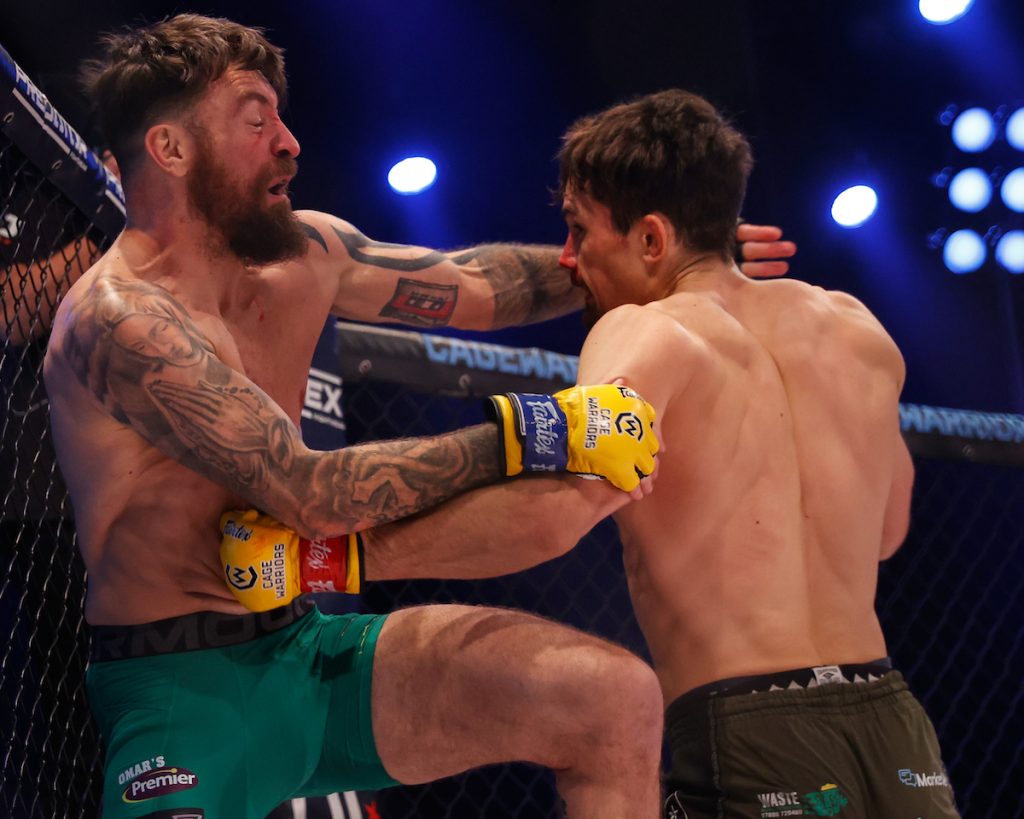 Against Yan Liasse, he'll take another step up in competition against another completely different style of opponent.
A hard, almost karate-style kicker with a deep-seated ability to neutralise an opponent's offence, Liasse has a wealth of high-level experience under his belt and crucially, hasn't been finished in a 24-fight career across the amateur and professional ranks.
If beating Liasse would be a feather in Hardwick's cap, finishing the Luxembourger might just make him a peacock.